Is this the capitulation phase of a stealth bear market that's already wreaked havoc on portfolios? One thing is for sure from going into yesterday's session, the market has taken it on the chin big time. There have been no safe havens; all the S&P sectors are down double digits, mostly in bear market territory.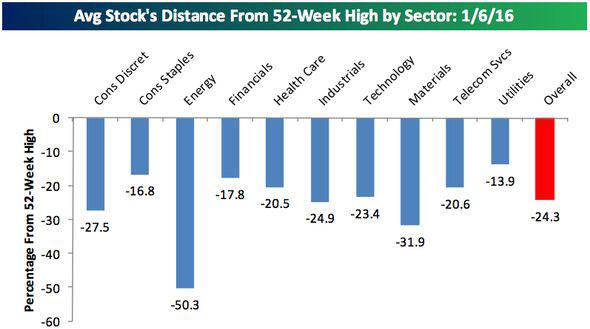 In fact, even utilities have taken it on the chin, which is worrisome. The continuous crash in transportation stocks has raised the biggest red flag for me, with respect to the economic backdrop. Yesterday saw a downgrade of trucking names, countering a strong earnings report from rail operator Greenbrier (NYSE:GBX), which opened more than a dollar higher before collapsing down more than 16% from the intra-day high.
How could crude oil be this low and transportation be so weak? The dynamic is not only perplexing, but it also casts a shadow about the economy that cast a shadow over the stock market.
Panic & Rotation
The bond trade has largely worked for 28 years, so calling for it to fade has been a fool's errand; yesterday, the ten-year yield was conspicuously muted.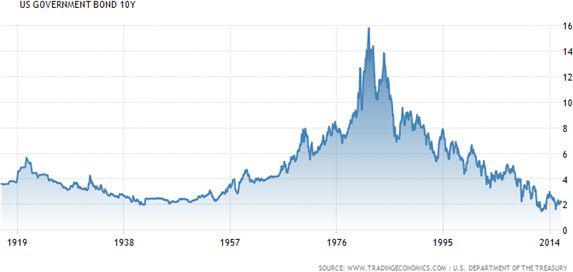 Consider the 400-point drubbing of the Dow and the money on the move and around the globe; I am really shocked that the ten-year yield didn't budge. When a trade has been a winner as long as ten-year bonds have been, investors aren't going to bail until long after the fundamental proposition has eroded. Most bond mavens expect the ten-year yield to re-test at 1.6%- it should have made a big move in that direction on Thursday.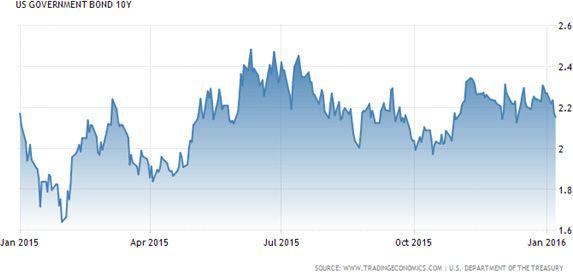 So, where is all the cash going?
Gold Bounce
Although gold has fetched a bid this week, the strength isn't as much as it once would have been if the world were not engulfed in geological fear and in economic uncertainty. We have a gold hedge on, but I am not going to pound the table until it clears $1,182 an ounce.
Meanwhile, the likelihood of the Fed hiking rates in April is collapsing as fast as the stock market. In a way, that's good news; however, remember we need the Fed to hike rates because the economy is gaining some traction.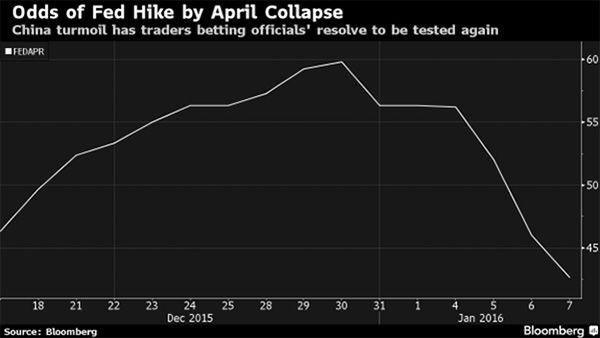 Conclusion
It's a cliché to say 'stay the course,' but there is truth in some clichés. There are unanswered questions and legitimate fears. The market isn't set up as the overvalued time bomb it's been in the past, but there are other aspects that make it vulnerable, some known, and some unknown. I have spent the entire week underscoring the known issues that focuses largely on the leadership crisis.
Unknowns include:
China
Global economy
Domestic economy
Geopolitics
Deflation
Investor psyche
Moreover, I want everyone to be cool for now. If you are an investor you will be fine, although some fundamentals stories will be impacted from the China crisis, and if the stock market spooks Main Street too much. Keep in mind as the stock market made its implausible rally out of the abyss of March 2009, it never could spark a virtuous cycle outside of the richest of enclaves.
You have a right to worry and I urge everyone to speak to their rep, but my biggest worry is about the future; six months from now when profit alerts go out, and people have already sold those positions at a loss or never bought in the first place. Stocks in general are looking very inexpensive, but the dark clouds of doubt, which haven't given way to absolute fear, are thickening as well.
Today's Session
China held up last night and the jobs report has come in much better than the consensus estimate.
Mostly the report was good news, save for wages, which edge a penny lower month to month and up only 2.5% from a year early. This was the most important part of the report offsets, otherwise it was upbeat and hopeful results.
December 2014

Jobs Report

Highlights

Total

292,000

Private Sector

275,000

Construction

45,000

Retail

43,000

Professional

73,000

Temp

34,000

Manufacturing

8,000

Labor force

+466,000

ages

-$0.01
For the moment, we've dodged a bullet, but the market is skittish enough and any hints of weakness could trigger selling.