Dreams of making millions in the stock market can come true but becomes more and more improbable because of investor psyche. There is too much trading, particularly at losses, creating the kind of gyrations we experienced last week. There are lots of reasons for this including the lingering impact of two big stock market crashes, and dare I say, the media (too many hot trading shows focused on scalping a couple bucks or stopping out simply because a stock is down).
Last week we also saw shares of Smith and Wesson (SWHC) hit an all-time high. If you bought the stock on October 31, 2008, you would have been up 1176%. That's a dream, and it's a stock everyone has heard of, but the fact is today's "investor" wouldn't have been in for the long term ride. Take a look at that the chart- looks like an easy buy and hold. Not so.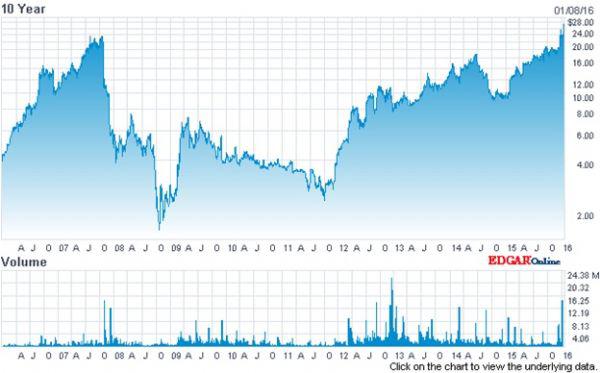 To get to that October 31, 2008, entry point, the stock had come down 90% from its new most recent high. So it's unlikely a lot of individual investors got into the stock, or even considered it. But, I'm sure 99% of investors would have closed positions during any of the swoons mentioned below.
Boom & Bust

Crashes in SWHC

March 2009

August 2011

-69.9%

March 2012

April 2012

-18.3%

June 2012

July 2012

-24.2%

August 2012

December 2012

-23.3%

April 2014

December 2014

-67.7%
There are a ton of stocks that are going to be multiples of 100% higher over the next few years, and even some this year, but how does an investor hang there?
Today's Session
Equity futures are slightly higher, but there is a tremendous amount of angst in the air. Obviously, there are a lot of values out there, but timing is an issue. When the bottom falls out of any asset, predicting the bottom becomes folly. There's talk of crude oil hitting $20, and while the charts backup that number as a worst case scenario, unless the planet was in a massive depression, the idea it would stay at that price more than a nanosecond is unrealistic.
But how does it all turn around?
The intangible of Saudi Arabia is a wildcard. In America, I'm still concerned about the lack of wage inflation. It's so important, and yet remains elusive. For this week, it is still about the China meltdown.
Last week finished with a thud, even after China removed circuit breakers and its market didn't crash further. Friday saw a US stock market rally fade in an orderly manner, but beneath the supposed calm, there continues to be serious damage. The notion investors have ever been irrationally exuberant during the run-up is completely wrong. So, it makes one wonder how much of a pure panic we'll see on the downside. To put it into proper perspective, how tough the market has really been is depicted by the breadth of winners and losers.
(Bad) Breadth

Close January 8, 2016

New Highs

New Lows

NYSE

15

511

NASDAQ

15

302
Overnight, China and crude oil were hit again. Equity futures, however, have been in the plus column all morning, perhaps because China could have been a lot worse. China is down 15.5% for year, and the People's Bank of China (PBOC) is fighting a losing battle in a currency market that could change focus with cheaper lending rates. China held at key support right above 3,000 but if it fails, how much more downside is there?
Shanghai

Let's see if the market can open higher and find a way to rally into the close. Earning season is beginning with Alcoa (NYSE:AA) tonight, which doesn't give investors a lot of comfort. But maybe we can see if earnings estimates are low enough for a positive surprise, but we aren't betting on it.