, CEO & Principal Analyst
2/1/2016 6:16 AM

The market climbs higher for the second consecutive week; January was one for the record books.
Worst first week in history
Worst first two weeks in history
Fifth worst January in history
The Dow soared on Friday that tilted the week to the green in a big way. There were several things to consider about last week's session. First, the market held each time to slip around 15,900 (Monday, Wednesday, and Thursday). Another development was a series of higher highs all of which point to upside momentum.
If you are looking for conviction, then consider the two top volume days of the year.
| | | |
| --- | --- | --- |
| #1 | Jan 15 | -391 Points |
| #2 | Jan 29 | +397 Points |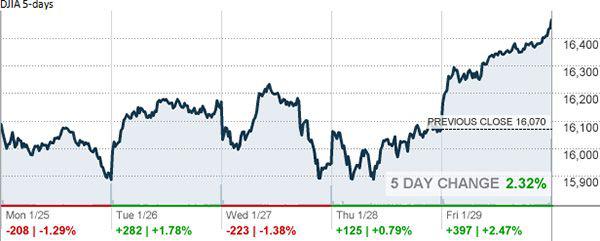 Pulling back to a wider picture, we've seen just about a perfect double bottom for the Dow Jones Industrial Average. Now, there's resistance around 16,500 and the big breakout point is 16,750.
Sector& Stock Watch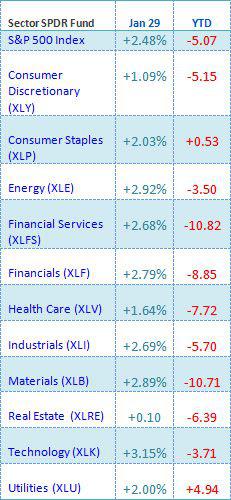 It's still been a tough year for the majority of stocks in the market as most are in correction, even in bear territory. The only sector in the plus column is utilities. Even last Friday, utilities held up nicely underscoring the cautious return of cash into equities.
The trends also reflected in market breadth, where blue-chip names found more buyers than the rest of the market that resulted in the first session with more than 52-week winners than losers did. In fact, the overwhelming majority of movers on the NYSE were advancers.
| | | |
| --- | --- | --- |
| Breadth | NYSE | NASD |
| New Highs | 57 | 30 |
| New Lows | 43 | 100 |
| Advancers | 88% | 77% |
| Decliners | 11% | 20% |
We'll watch tech (GOOGL earnings). The action in utilities will also tell a story about fear and anxiety levels.
With the jobs report at the end of the week, there's a chance that more Fed officials will get in front as John Williams to moderate their stance or their fixation with four-plus rate hikes this year. The data doesn't nearly support such a move.
Today's Session
While we wait for corporate earnings, and a slew of economic data, capped off with jobs on Friday, today's session will be most influenced by China. China Manufacturing PMI came in at a read of 49.4 from 49.7, landing at the lowest level since mid-2012. Non-manufacturing PMI slipped to 53.5 from 54.4, which was a 16-month high reading.
China continues its monumental battle on several fronts and some of the biggest names in finance are making huge bets the house of cards folds - this time. It's going to be an epic battle.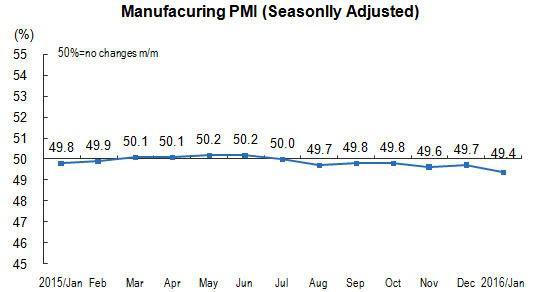 There's also pressure on stocks coming from lower crude oil prices, which made a big move last week in part to a lot of scuttlebutt that has not come to fruition.
The extreme volatility is here to stay, but it's the perfect environment for true price discovery, as stocks become oversold