It was an interesting session for the market yesterday, which gained traction, but never conviction. I think the big misses on pending home sales and Chicago PMI pushed back on the idea of the Fed hiking rates next month, and that sent stocks higher.
But, it wasn't enough, and as much as everyone hopes for common sense from the central bank, this market needs good news to be good news. Maybe, that happens on Friday with the jobs report. In the meantime, the market needs to find a way to hold on until the jobs report and maybe even go into Friday with momentum.
Dow Jones Industrial Average One-day

The rise in gold, which keeps moving higher and is now on the cusp of a major breakout, is something of a canary in a coal mine. A very small canary as there are several reasons for gold moving higher including it being undervalued, an indictment on global leadership, plus questions about the global economy.
The next resistance point for gold is $1,294.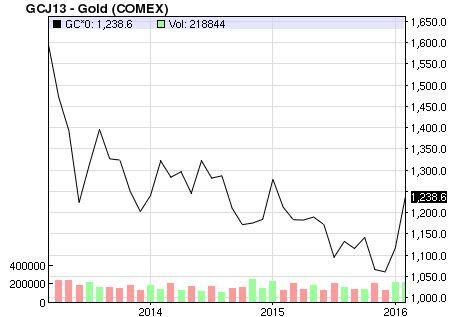 Today's Session
This morning miners look compelling, continuing a stealthy trend that is becoming more visible and newsworthy. When does it become more than a bounce and more of a harbinger of where things could be in a year? I'm not sure, but there is a message there that includes suggestions the future could be better.
I like the way the market acts this morning. I also like auto sales numbers, but we have to look under the hood (pun intended) to see the quality of loans driving (pun not intended) the numbers that are out this morning.