Yesterday, the Consumer Price Index (NYSEARCA:CPI) came in a little hotter than expected that sent the stock market lower with the Dow losing more than 100 points shortly after trading began. But there was more to the story than the headline.
The CPI tells a story about the economy, but when drilled into that story breaks out into chapters about policies. One thing the Federal Reserve has communicated is the notion they're doing all the lifting while the administration is actually pushing against them. (This was truer under Ben Bernanke than Janet Yellen, although she's fretted about this in more subtle ways.)
Helped By Strong Dollar& Central Banks

Consumer Price Index

Y to Y

M to M

Gasoline

-21.8%

-13.4%

Air Fare

-1.8%

+0.1%

Televisions

-15.0%

-1.4%

Major Appliances

-5.7%

-2.1%
The Obama administration policies, including Obamacare and the lack of confidence means that people are paying huge medical fees and are stuck as apartment-dwellers.
Hurt by Obama Policies

Consumer Price Index

Y to Y

M to M

Prescription Drugs

+3.4%

+0.9%

Hospital Services

+5.1%

+0.5%

Health Insurance

+6.0%

+1.3%

Rent

+3.3%

+0.3%

College Fees

+3.25

+0.35
It's hard to believe Americans were promised that the healthcare cost curve would go down as premiums and deductibles moved lower. The exact opposite has happened, in addition to losing our doctors.
This is why so many Americans feel let down by the government; although oddly less upset at those that promise the most, deliver the least. On top of it all, more and more insurance companies are walking away, and there's a chance every single co-op will eventually fold.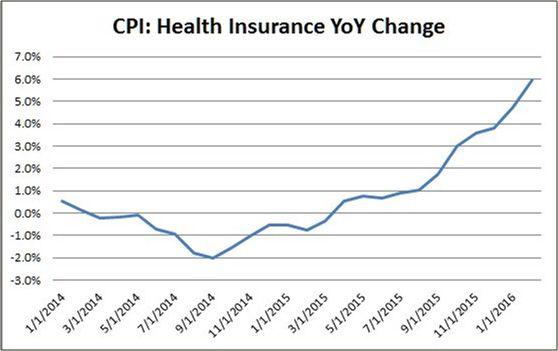 There are signs of pockets of economic improvement, resulting in more people moving and hotels raising rates.
Signs of Economic Growth

Consumer Price Index

Y to Y

M to M

Moving & Storage

+12.3%

+3.1%

Hotels

+4.2%

+0.9%

Watches & Jewelry

+6.9%

+5.1%
However, some things have crossed the line such as eating away from home. This climbed 2.6% year-to- year, in part to a more dynamic on the run economy that some say is the result of policies that force everyone in the home to find a gig. Even the 3.9% year-to-year spike in child care is a similar story.
Connecting the Dots
"Outlook has not changed much since December" -Janet Yellen
The Fed connected the dots and decided that the economy was not so robust that it must commit to four rate hikes this year. Apparently, the outlook has changed a lot with some of the reassessment clearly a concern for the global economy and wages in America. The Fed's move yesterday was the closest to a mea culpa from December's disastrous rate hike. Now, the dots suggest no inflation and few rate hikes. (By the way, it looks like Braille to me, but the experts say it means slow growth, no inflation.)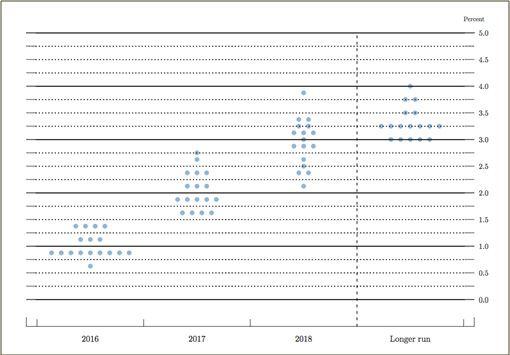 So, Main Street developments are finally reaching the ivory towers of the Federal Reserve, which cut its rate hike commitment in half to four. Stocks took off on the news, but closed off the high, as it was sobering to think how poor this recovery has been. It's a difficult catch-22, where the market has limited upside on things like 'green shoots' that once were heralded as strong economic growth.
Commodities Breaking Out
Gold soared and oil is on the cusp of a major breakout.
Oil
Oil broke out last month; it is now on the cusp of clearing a huge hurdle. Moving through $40 would be big, and the start of chatter about the next leg higher, lifting Texas Tea to $50.00. I'm sure there would have to be adjustments to supply and demand to make that happen. There are reports of 15 OPEC and non-OPEC oil producers gathering soon, perhaps that is when it will happen.

Gold closing above 1,300 would be a huge breakout (we would adjust our target) and spark a rally that would lift price to $1,400 quickly.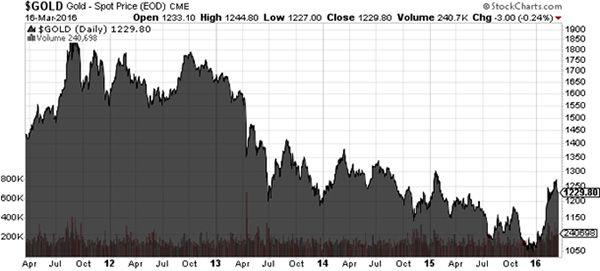 Today's Session
The Philly Fed report sees the first positive number in seven months with a dramatic rebound in general business driven by new orders and higher shipments. It's a good sign, but one that we take with grain of salt as the chart underscores how much more traction we need to see to model macro manufacturing changes.
But it is good news, and seems to be helping the stock market, which was in greater freefall before its release.