It was just one of those days. It could have been that snow dusting in the northeast; it forced many to dig into their closets for their coats, which threw everyone off. The good news is that despite the tightest trading range of the year where the Dow was down 42 points, rallied 51 points, and then closing up 21 points, the market found a way to edge higher.
This meandering is fine, considering how far the market has come in such a short period. The big test on the upside for the Dow is 17,720.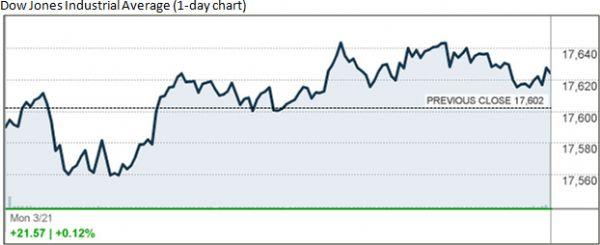 However, the hawkish and somewhat illogical comments from Dennis Lockhart anchored the market on Monday, but today, known monetary dove Chicago Fed Reserve President Charles Evans speaks at 12:30. That might add some oomph to a market struggling for a catalyst.
Free Cuba
Yesterday, President Obama made an ill-advised trip to Cuba ostensibly to promote the notion of friendship as a diplomatic tool rather than tough sanctions and ostracizing the brutal regime of the Castro brothers. Even as Cubans watched Air Force One from their shanty homes or if they were lucky enough to drive to the capitol in a 50-year-old car, Mr. Obama basked in the glory of his "historic" trip.
Still, the arrogance of Raúl Castro stands out as the highlight of the trip. Annoyed by questions about political prisoners and lack of freedoms, he actually had the nerve to brag that Cuba has no income inequality among the sexes. It is true that men and women earn an average of $0.115 an hour. That's shared misery; only a dyed-in-wool socialist and dictator could see that argument making sense.
This trip is a reminder of America's greatness and the reason why we must fight to keep it in place. This is a central issue of the current race for the White House. Yes, there are issues with our economy, but the notion of dumping the foundations of our greatness from taking advantage of global trades, sky- high minimum wages, and erasing 'want' are moving in the wrong direction.
Study the history of China and Japan for great lessons on isolationism. Both countries closed the borders and trade with the world when they were at the peak of their abilities, and soon found that other nations passed them by on every level. Sadly, these were humiliating lessons for both nations, it explains Japan's role in WWII and China's current determination to leapfrog each nation that it had to beg during the Boxer Rebellion.
Pulling oneself up by the bootstraps is the most American of traits and should be a wellspring of pride. The current notion that all criticism is bullying and that there should be no winners and losers is diametrically the opposite of how we became the greatest nation in the world. We still believe this, but it is not to the degree we once did and that's worrisome.
President Obama's trip played up the economic angle for American businesses; however, he should have forced more human rights concessions before making the trip and extending the olive branch. Furthermore, he should have set into motion freedoms for the Cuban people. Freedoms that even Americans are forgetting about these days.
Real freedom in life is the freedom to lose
Real freedom in life is the freedom to choose
Real freedom in life is a life without limits
Real freedom in life is the freedom of opinion and rights to express them
Today's Session
It's all about terror, after another horrific and deadly attack in Brussels. The impact of terror on markets has been negligible but one has to wonder if that changes as the frequency of these attacks gets closer and closer.
Historic Market Reaction to Terror

1 week

1 month

1 year

Iran Hostage

11.4.79

-1.0%

+3.2%

+25.9%

Beirut Bombing

10.23.83

-1.6%

+0.5%

+0.9%

Pan Am

12.21.88

-0.2%

+3.3%

+23.6

Kenya Bombing

8.7.98

-1.7%

+0.1%

-19.6%

USS Cole

10.12.00

-1.7%

+0.1%

-19.6%

Madrid

3.11.04

0.0%

+1.4%

+7.6%
Brussel Jewish Museum
5.24.14
Dow +69 points sames session
Dow +407 points July 22
Paris Charlie Hebdo
1.7.15
Dw +212 points same session
Dow +704 points Mar 2 (all-time high)
Paris Bataclan
11.13.15
Dow -203 points same session
Dow +643 points Dec 1
San Bernardino
12.4.15
Dow down 159 points same session
Dow up 118 points two sessions later
I'm not panicking and neither should investors or the nation.