In this age of insurrection from the current rage among voters for the Washington DC elite, to the upheaval and disapproval of many other large institutions including education and religious, it should not come as a surprise that there are rumblings at the Federal Reserve.
What's happening more and more at the monetary policy-making body are independent voices going against committee sentiment and against the words and promises of its Fed Chair, Janet Yellen.
However, it's fine that everyone has a voice, but if the idea is to exude confidence in their decision-making, then verbal sabotage isn't the answer. Yet this week alone the resurrection was on full display. Janet Yellen is losing control or has lost control.
So, what does this mean for the economy and for the stock market?
This week alone, Fed officials have poured cold water on the notion of only two rate cuts and nothing next month.
"The Federal Open Market Committee's "patient approach" in keeping its interest rate target unchanged last week made sense, but the Federal Reserve could hike interest rates as early as next month." -Dennis Lockhart, Atlanta Federal Reserve President
"Although recent declines in inflation compensation do give me some pause, I think the evidence indicates that inflation expectations remain well-anchored." -Jeffrey Lacker, President of Richmond Federal Reserve Bank
"Cautionary pause in the rate normalization path is about assessing risks and just being careful. The continuation of a 'wait and see' monetary response is appropriate to ensure economic growth continues, labor markets strengthen further, wages begin to increase more." -Charles Evans, President of Federal Reserve Bank of Chicago
"You get another strong jobs report, it looks like labor markets are improving, and you could probably make a case for moving in April." - James Bullard, President of Federal Reserve Bank of St. Louis
Janet Yellen speaks next Tuesday and it's clear she should convey a message that not only makes intentions clear to the market, but also those in the Federal Reserve.
Why Hike Rates?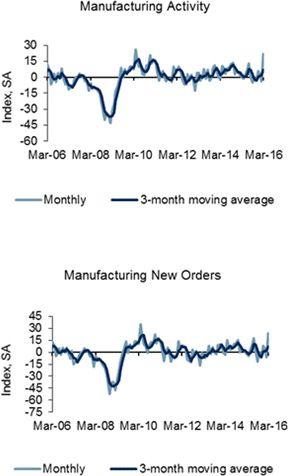 On Monday, the Richmond Federal Reserve released its update on the state of manufacturing in the area, and it was a shocker.
The report generally doesn't draw the kind of attention as the Philly Fed or Empire State report; if it did, the market might have taken a major hit.
That said, it obviously got the attention of economists and Fed members, and set the stage for severe knee-jerk reactions that was missing from this news.
Headline 22 from -4
New Orders 24 from -6
Employees 11 from 9
Wages 20 from 10
The headline number was the third highest on record (only March 2004 (24) and April 2010 (26)) were the highest in two decades.
For me, it was wages coming in at the highest point since May of last year. There was also a read of 20; before then, you have to go back to June 2000 when it came in at 24.
Higher wages would spook the Fed into rate hikes, even though Main Street would prefer a couple years of higher wages to begin to catch up. I would like the Fed to go away; until that happens, stop blowing it!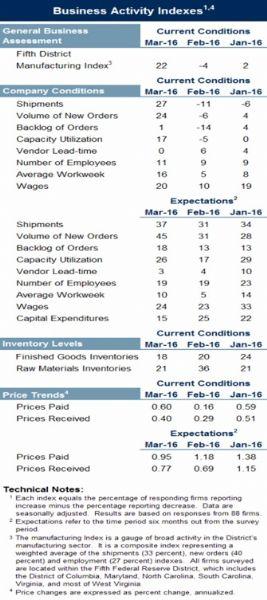 Today's Session
Stocks set to open lower after the first back to back losing sessions for the Dow all month. Earnings were mostly beats including KB Homes (NYSE:KBH) and Accenture (NYSE:ACN).
Durable Goods was -2.8%, the street was looking for -2.9% because of the recent rebound in the dollar. But non-defense capital goods ex-aircraft declined -1.8% after climbing +3.1% in January (revised from +3.4%).