1Q16 GDP Model
March Adjustments

March Date

Data Source

Estimate

1

ISM Manufacturing
Construction Spending

1.9%

2

Light Vehicle Sales

1.9%

3

ISM Non-Manufacturing

2.0%

4

Jobs Report

2.2%

9

Wholesale Trade

2.2%

10

Monthly Treasury Statement

2.3%

15

Retail Sales

1.9%

16

Housing Starts

1.9%

21

Existing Home Sales

1.7%

23

New Home Sales

1.6%

24

Durable Goods

1.4%

28

GDP
Personal Income & Spending

0.6%

Atlanta Federal Reserve
Whoa! For some time, the Federal Reserve has been behind the curve when it comes to modeling and gaming things like the health of the U.S. economy. In fact, Wall Street has been much more aggressive.
Yesterday, after Goldman Sachs (NYSE:GS) lowered its first quarter 2016 (1Q16) Gross Domestic Product (NYSEMKT:GDP) estimate to 1.7% from 2.1%, the Atlanta Fed moved, too. It was one of the more aggressive moves that I have seen in a long time.
The Atlanta Fed now sees the first quarter Gross Domestic Product growing at just 0.6%. Of course, that could change with all the data releases scheduled for this week, including the jobs report.
On that note, however, it's clear that the Fed is not only concerned about wages, but consumer spending as well. Or, I should say 'non-spending.'
The last time the GDP estimate stumbled this much was the disappointing Retail Sales report on March 15th (see table). If wages are improving, folks are reluctant to celebrate with increased spending.
Meanwhile, savings edges up each month from 4.9% in November to 5.4% in February.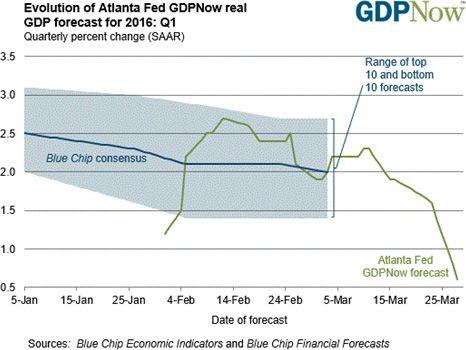 The increasing angst about growth is beginning to pressure bond yields again after an impressive rebound. The 10-year opened at 1.92% and finished at 1.88 %, under its 50-day moving average. This is a critical support point that must hold.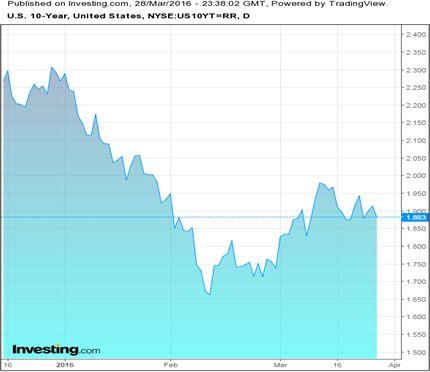 Today's Session
The market looks to open lower as crude is under pressure and nail-biting increases over what Janet Yellen may say today when she speaks at the Economic Club in New York. The anxiety of investors is reflected in the continued strength of blue chip names, where 82 stocks hit fresh 52-week highs yesterday compared to only 14 slipping to new lows. Still, advancing stocks are only slightly above declining; again, this echoes a sense of owning few names even among stable large cap names.
| | | |
| --- | --- | --- |
| Breadth | NYSE | NASD |
| New Highs | 82 | 31 |
| New Lows | 14 | 42 |
| Advancers | 55% | 42% |
| Decliners | 41% | 54% |
The earnings report of the morning comes from Lennar (NYSE:LEN), which posted solid numbers, underscoring a healthy home buying market.
Gross margin was lower, although SGA costs were the lowest for any first quarter- cost of land sent cost of homes up 25.7%.
Backlog +135
Backlog Value +19%
Average Selling Price $366,000 from $326,000
This stock isn't going to lift the market at the open, but the news is worth considering as we open under pressure.