It was a very impressive session given the decline in oil and the spike in the Japanese Yen before the opening bell. The Dow Jones Industrial Average climbed above 18,000 for the first time since last July and while that's an important psychological barrier there are bigger upside tests at 18,100 then when the index forms a double top at 18,351.
The problem for the Dow Jones Industrial Average is there's not lot of support until 17,540.

Once again I'm pleased with the cautious nature of the rebound which saw buying focused on blue chip New York Stock Exchange names especially those that are already winning. There were 138 new highs on the NYSE versus only six new lows. After the close, bellwether IBM (International Business Machines) posted earnings that beat the Street, initially sending the shares higher- but then turned lower.
| | | |
| --- | --- | --- |
| Breadth | NYSE | NASD |
| New Highs | 138 | 60 |
| New Lows | 6 | 22 |
| Advancers | 70% | 62% |
| Decliners | 26% | 33% |
Oil
Now what? The big oil meeting is over and it was a dud. Well, crude could rally higher if there is evidence of less supply and more demand. It doesn't have to be dramatic, but signs of Economics 101 could replace schemes.

Election Night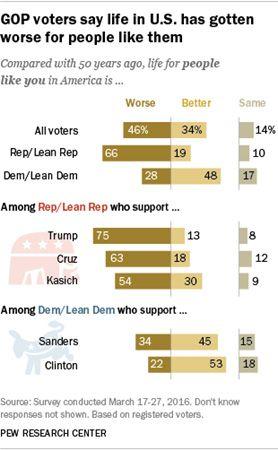 New York goes to the polls tonight, and it should be victory for the GOP and Democratic front-runners; the only question is the degree of victory.
For Donald Trump, a sweep of all 95 delegates makes the possibility of avoiding a contested convention much more realistic, although it's still a close call.
For Hillary, winning would put to bed the notion of Bernie having all the momentum, although the socialist candidate isn't going away and will make a lot of noise at the convention.
As we begin to look toward November, the challenge will be how to make people feel like their particular groups (people like them) are going to get a fair shake.
For me, there's a simple formula. It helps all people because it sparks the economy, but longer-term, it does become more complicated.
How do you give people job skills they don't possess or bring back jobs that could never pay what it used to back in the good old days?
We can't have past glory at the expense of a golden future.
How to Counter Slowing Revenue
It has been a tough year for ISIS, which has suffered major battleground defeats in Iraq and Syria. The amount of territory controlled declined by 22%. Recent strikes on oil producing facilities and distribution lines have also taken a toll. The result is a major decline in revenue. The terror group has decided to use higher taxes, fees, and tolls to counter slowed revenue.
| | | |
| --- | --- | --- |
| ISIS Hits | 2015 | 2016 |
| Population Rules Over | 9,000,000 | 6,000,000 |
| Monthly income | $80,000,000 | $56,000,000 |
| Oil Production | 33,000 B/D | 21,000 B/D |
Despite the rhetoric of the virtues of dying for ISIS, the reality is the terror group has paid handsomely for a lot of its success. Not only are fighters paid more than average Iraq soldiers and Syrian public sector employees, but also receive major purchases from cars to televisions as subsidies. Those monthly wages, cut to $400 a month from $600 in January.
Because of the cash crunch, here are just some of the new measures to raise funds:
Taxes on satellite dishes
Tolls on truck drivers
Cash in lieu of corporal punishment
Payments to leave cities
Fees, inability to answers questions on Koran
The progressive plan to deal with slower revenue will make life even more miserable for ISIS, and I would hope this is the time the west makes its move to destroy this scourge once and for all.
Today's Session
Lots of corporate earnings were released last night and this morning, including Big Blue which beat on earnings but saw revenue down for 16th straight quarter. The company posted its lowest revenue in 14 years reflecting some of the business divestments but also slower integration and execution of new businesses including the 19 new takeovers in past year that cost company $9.0 billion.
I'm still in the camp that the company needs to make a huge acquisition to be a major cloud player overnight rather than billions more in share buy backs. The stock is a hold as I think the reaction is a little excessive, but the urgency factor has vanished again.
The stock is weighing down Dow Jones Industrial Average by 46 points with its pre-opening decline, and yet, the market is indicated to open higher.
Goldman Sachs also posted mixed results that initially sent shares much lower, but now the stock is almost unchanged. The quarter was the worst one since 2011 but more telling is the average compensation per employee has tumbled to $298,110 from $431,956 in 3Q13. The only thing worse than howling shareholders demanding better performance are screaming employees considered the smartest on the street looking at dwindling paychecks.
HOG
Badass Harley, perhaps the most politically incorrect of all products, is the best living example of the best political approaches and policies.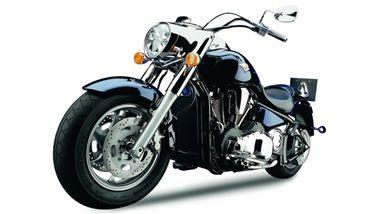 Years ago, Harley Davidson was going through one of its periodic sales slump and management made a decision to widen its customer base. That strategy paid off handsomely.
Management focused on being a big-tent company making efforts to promote hogs beyond its traditional and aging customer base. The move also meant finding buyers beyond the United States.
Company statement says it all:
In America for the eighth straight year, Harley-Davidson was the number-one seller of new on-road motorcycles of all displacements to:
Young Adults ages 18-34
Women
African Americans
Hispanics
Caucasian men ages 35
Back in the 1980s, President Ronald Reagan implemented tariffs to slow the rapid growth of Japanese motorcycles that threatened to put Harley out of business. A few years later, Harley asked for those tariffs to be removed because it needed to grow abroad without reciprocal tariffs. Today's earnings release underscores why the company would likely never want a trade war in the motorcycle space.
International sales +4.5% while domestic -0.5%
US -0.5%
Canada +16.35
EMEA +8.8%
Asia +6.6%
I like that the market is opening higher in part to names like United Health.