The markets and the presidential race are going to be tied into the same sentence more and more as we approach November; it's inevitable that business will take sides and root for one candidate over another. It seems a no-brainer that business and Wall Street would be rooting for the billionaire businessman; however, that notion turned on its head in a survey of trade organizations. They emphatically say Hillary Clinton is the best candidate for business.
So, how does this happen?
Let me point out that these are 53 Washington, D.C. -based trade associations, of which 16 lobby for 100,000 businesses that do a combined $3.5 trillion in annual sales. Considering that Trump is talking about trade wars and individual punishment for companies that outsource manufacturing jobs outside the country, it's not a surprise those businesses that are growing via trade and open borders would have the most anxiety.
| | | |
| --- | --- | --- |
| Business & Race for White House | Best | Worst |
| Clinton | 50% | 12% |
| Trump | 25% | 24% |
| Sanders | 0% | 53% |
| None | 6% | 6% |
| Can't Decide | 6% | 5% |
I will say I was confused Trump didn't get a larger vote of confidence on taxes; his 15% business tax is perhaps the most enticing part of his economic platform.
Immigration: 71% Clinton, 6% Sanders
Trade: 63% Clinton
Taxes: 31% Trump, 25% Clinton
Small Businesses
I would like to get a handle on how small businesses feel about Donald Trump's economic policies and rhetoric. I am sure they would appreciate less trade (although cheap parts drive down their costs) and more domestic manufacturing even if it means lowered margins for the big boys.
Here's the dilemma for small businesses. They overwhelmingly have created the most jobs over the past decade, and yet have no voice in Washington D.C. They would benefit the most from lowered tax rates and the removal of the Dodd-Frank Act; certainly, things like the new overtime pay rule is a much larger economic issue for them as well.
Business Employment Growth

Very Small
1-19

Small
1- 49

Mid-Sized
50 to 499

Large
1,000+

Current

31.4 million

51.1 million

43.7 million

18.6 million

One Year Change

2.0%

2.1%

1.8%

2.4%

10-Year Change

9.9%

9.3%

7.9%

0.2%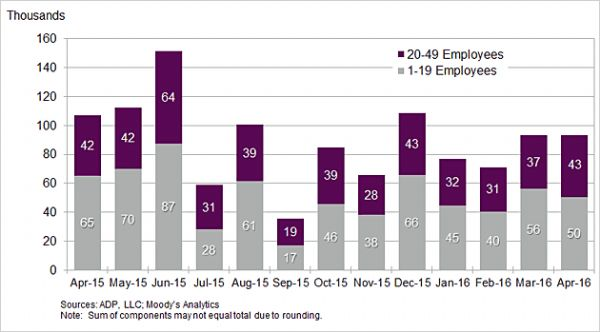 When it's all said and done, Hillary Clinton and Bill Clinton have made a fortune from big business and are seen as pragmatic. Maybe that's why she can't close the deal for the Democratic nomination as that party continues to drift farther left and toward socialism. It should be noted that big business saw President-elect Barack Obama as pragmatic, too.
The Fed's Jawbone
"Most participants judged that if incoming data were consistent with economic growth picking up in the second quarter, labor market conditions continuing to strengthen, and inflation making progress toward the Committee's 2 percent objective, then it likely would be appropriate for the Committee to increase the target range for the federal funds rate in June."
The Federal Open Market Committee (OTCPK:FOMC) Minutes
This is the statement that took the Dow rally of 106 points, and momentarily turned it into a rout before the index closed unchanged.

Make no mistake; the Street knows there is more pressure on Yellen to keep Fed hawks at bay - one even voted for a rate hike in the last meeting. Now Fed funds are pricing in a 30% probability of a 25 basis point hike in June; a month ago, it was only a one percent probability.
June Fed Rate Move

+0.25 bps

April 16

May 16

May 17

May 18

Probability

1.2%

15.0%

18.8%

30.0%
Even though the market was jawboned lower after the release, there are obstacles to a rate hike in June or July, including:
Not enough time for strong data to materialize
Growing risk, things like Puerto Rico (PR) bonds and commodity price increases
UK potentially voting to leave the EU
China's exchange rate issues
The bottom line is that the economy is too weak and spending too inconsistently to move the Fed needle. Moreover, the stakes are simply too high. Nonetheless, I do find it intriguing that the market sees the chance; albeit still slim, of 50 basis points and even a 75 basis point rate hike in September.
July Fed Rate Move

+0.25 bps

April 16

May 16

May 17

May 18

Probability

19.5%

30.0%

35.1%

42.4%
Sept Fed Rate Move

+0.25 bps

April 16

May 16

May 17

May 18

Probability

31.2%

38.8%

41.1%

43.8
Sept Fed Rate Move

+0.50 bps

April 16

May 16

May 17

May 18

Probability

3.9%

9.7%

12.2%

17.2%
Sept Fed Rate Move

+0.75 bps

April 16

May 16

May 17

May 18

Probability

0.0%

0.8%

1.2%

2.2%
The market isn't afraid of a 25 basis point rate hike, it's afraid of the Fed acting irrationally. In fact, I think this market has been looking for leadership and is ready to treat good news as good news.
Market Outlook at Close
There was great action in banks (the only one I would buy is Goldman Sachs (GS)), biotechnology, and high technology. Biotech has an inherent risk, but it is oversold and technology acts like it is ready to rally higher.
After the bell, evidence shows that the consumer isn't completely dead with earnings beats from American Eagle (AEO) and Urban Outfitters (URBN), while big tech names such as Cisco (CSCO) and Salesforce (CRM) both beat top and bottom and offered higher earnings guidance.
Today's Session
There's a major push-pull to this market with major earnings beats, including Walmart WMT crushing consensus on the top and bottom line and offering guidance above the street. The stock will gap open more than 8% for the first time since 1991, and it could have the best session since Oct 2008.
Comp stores +1.0% (sixth consecutive quarter positive)
Neighborhood Market +7.1%
International $31.6 billion constant currency
The American consumer is wobbly to be sure, but there are signs people are spending money for stuff they really want and need but must be lured in by value, service and experience.
This has become a manic-depressive market where some winners are strongly rewarded while losers are more severely punished. Let's stand back and see how things shake out this morning.