Yesterday was a tough session with the market tumbling out of the gate and getting slammed early. The reaction was delayed because trading was closed on Friday. There was pent-up angst, but I have to say still was no sign of panic. Of course, I'm not sure how much longer that's going to last. The session could have actually been portrayed as a positive, but the daily intra-day rebound started too early and ran out of steam with half an hour left in the session. Once it faded, sellers made their move. I actually think if the market closed at 4:30 instead of 4:00, we could have seen the Dow shed 200 points.
I find many experts to be blasé over the jobs number, and that's really odd considering we should be seeing 300,000 jobs a month, not 200,000, and definitely not 120,000. With that in mind, the market might have thrown a tantrum to force the Fed's hand. But now investors have to brace for the next round of earnings that officially begin this evening with the release of earnings (or lack thereof) from Alcoa. I really hate that AA kicks off earning season. The company hardly ever beats and never has anything positive to say about its fortunes to mitigate embarrassment. And to deflect, all too often, it tries to throw the entire economy under the bus, too. The company posts results after the close.
No Driver's License, No Ambition, Nothing Much Matters
So I'm at the gas station the other day, and a guy stops to talk to me about the economy and regulations. We talk about working your way up through hard work and determination and about crumbling values and appreciation for achievement. The guy was born in Patterson, New Jersey and attended Eastside High School, depicted in the moving "Lean on Me" with Morgan Freeman playing the role of Principal Joe Louis Clark. This guy saw the decline of the school and town firsthand but began to pick up property there with a few other buddies. Now they manage buildings they own in several towns, having sold most of their Patterson holdings. This guy is the epitome of the American success story and also the target of the campaign to punish the rich.
By New Jersey standards he's not rich, but his company does well, and he would be in the eye of higher tax wishes by the administration. I asked him about hiring and specifically about young people after mentioning the debacle in Washington D.C. where they can't find 1,000 people that can pass a three-part exam and drug test to drive buses and subway trains. He told me his problem was with people (young and old) that don't have a valid driver's license. In fact, he told me only one out of twenty have a valid driver's license. My mouth dropped. What the hell is going on? I grew up in Harlem when a car was a rare luxury and almost everyone took subway trains. I was jealous of those kids in Jersey that got their license at 16 and drove to high school.
But what this guy was telling me goes beyond young people not driving and more to the point that so many people lost their driving privileges or simply were too lazy to go down to the DMV. I never knew there was such a problem as adults not having driver's licenses or other forms of valid identification. I've seen the campaign to stop states from requiring valid identification in order to cast votes. Seems like a reasonable tradeoff and not some nefarious plot to hold back certain voting blocks. In fact, the bigger problem is why don't millions of people have ID's? It's unacceptable and the responsibility of the would-be voter and would-be worker. It's really strange and disheartening.
Great Warriors to Great Businessmen to Grass Eaters
Beyond the fact grown men and women can't get or haven't bothered getting a driver's license, there is another troubling part of the story. In the past I've written about the grass eaters of Japan. It's a phenomenon that began a few years ago and set off alarms among those that understand that the Land of the Rising Sun needs modern day warriors to help against the tide of outrageous debt, a rapidly shrinking population (slowest birth rate in world), and an aging population (oldest in the world save Hong Kong). Instead of warriors, there is a new tribe called Soshokukei Danshi or Herbivorous Boy.
These are the grass eaters.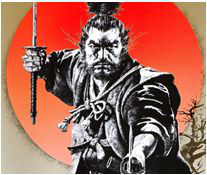 Known for spending time in the beauty salon while eschewing gyms, their appearance can best be described as androgynous. They prefer afternoon tea or champagne breakfast with female friends and lack any of the aspirations of prior generations. The term was coined in 2007 by a commentator that saw this movement of young men that bore no resemblance to male groups of the past century: soldiers and their peacetime offspring, corporate warriors.
These young men certainly don't resemble past warriors like Musashi Miyamoto, known as "the God of Sword" who fought his first duel at age thirteen and went on to become a legend. Far from being fighters, grass eaters don't want to be lifelong company men, spend time with business colleagues or take care of wives and children. According to one critic when asked what they want, the typical answer is "nothing much." Outside of the salon trips and afternoon teas, these guys aren't interested in material gain and are known for frugality. But, many experts believe their hesitation to enter the workforce or push for a successful career has led to the slow rate of marriage and anemic birth rate.
A market research firm says 60% of Japanese men 20 to 34 have at least some herbivorous tendencies. Despite the lack of material aspirations, this group has a distrust that government will be able to provide for them or their elderly in the future. But it's hard to know how these young men will be able to provide for even themselves with their reluctance to become corporate warriors. In some ways, I've seen this mindset before in kids from poor neighborhoods where their parents worked hard for little income and in the end died broke and broken. Japan has been in a two decade slump that's washed away that legacy of greatness, the warrior spirit and competitive determination.
American Buffalo
I suspect if America was following in the footsteps of Japan we might take to calling young men buffalo or bison or some domestic grass eating mammal (Of course we have some young men that like to spend time in the gym and beauty salon ex. Jersey Shore). I can't help but think of scenes at movie theaters where kids aren't paying attention to what's on the screen and speak to each other via handheld devices. Our marriage rates are plummeting and birth rates are in decline. And kids are dropping out of the job market. Heck, these young men aren't even hitting the road like prior generations and that has always been an American rite of passage.
Young American men aren't getting their license like they once did in part because they aren't driving. A couple of reports out recently underscore this trend. One report points out that from 2000 to 2012, those in the age bracket of 16 to 34 now drive 20% fewer miles. Sure, high gas, high unemployment, and new licensing regulations make it tougher to drive but there is also another element. There is the social media element that is also driving the trend. It's the same kind of social media trend that is the underpinning of the grass eater boys of Japan. We have to get these kids back into cars, back into society and back on the American dream.
Today's Session
As bond yields soar in Spain and other European nations, yields are plummeting on US debt as the 10-year was off more than 6% yesterday. This flight to safety might upend the notion of the "Cult of the Equity" that makes stocks so much riskier than the bonds they must outperform. Of course there is a pocket of money that's mobile and shifts back and forth with ease. The big challenge is getting that sideline money back into the market. Some of it has been settled out of equities so long it's going to take a bit of prying. In the meantime, investors have to have strong conviction about positions as we enter this bumpy phase that in similar times in the last couple of years sent many into bunkers and hills.
As Europe stumbles again there is also concern about China, which had economic data we would die for but these days isn't good enough to deter speculation of a hard landing.