Question of the Day
In a discussion with Rob Taub on my radio show, he talked about obesity and diabetes and the negative impact of social media. He wondered how society would view Mark Zuckerberg 100 years from now. So, I ask you the question, how will the Facebook founder be viewed in 2112?
Click here to post your answer and let Charles know what you think. He will air some on TV- Fox Business at 2PM EST and on Payne Nation radio show.
Check me out Hosting 2PM show on Fox Business TodayTalk of China's demise has been greatly exaggerated although there is still more than a scent of a power struggle that could upend the economy (see sidebar). If the market continues to rebound by the end of the week many will credit that surprisingly strong earnings report from Aluminum Company of America (NYSE:AA), but that would only be partially correct. Within that earnings report, which came in with results well above consensus estimates, were strong numbers out of China. While I don't doubt China does manipulate its numbers, perhaps just as much as our government data has more fingerprints from bureaucrats than accountants, but when companies in the United States and Australia corroborate the results, the sentiment is hard to ignore.
And so I think this is what powered the market higher yesterday, more good news on China, dispelling scuttlebutt of some kind of crash landing (Just think if we could get our economy to budge 8% or more).
Yesterday the stock market stumbled off the gate over worries about the jump in initial jobless claims and a hot core PPI reading. It looked like anxiety that slowed the rally on Wednesday would anchor the action but then all of a sudden stocks took off like a rocket. Interestingly, it took a while before anyone talked about the news out of China and instead the initial reaction to the bounce was a second response to the trade numbers. The numbers were hopeful but were out when the market opened under pressure. Maybe as the street sifted through the data, there was a great sense of relief as several firms revised first quarter GDP estimates higher. Those moves took investors back to the mindset that the US economy is ready to rock and roll.
Making the day even sweeter were comments from two Fed officials that suggest the Fed is going to stick to its word and stay accommodative into 2014. Their confirmation was needed as voting member Kocherlakota is becoming a growling hawk. It's probably a good thing nobody can pronounce his name as his push to hike rates gets less play on the local news.
These things were great, make no mistake, they are the one-two punch that is at the heart of the rally but always lingering this year has been the possibility that China could implode and knock the stuffing out of our economy and stock market. China has been the straw that's been stirring the global economic drink, and it's critical it continues to play a role. Yesterday's report on March lending was significantly better than expected. Chinese Yuan loans leaped to 1.01 trillion Yuan ($160.1 billion) from 711 billion Yuan in February. The consensus estimate was 798 billion.

China's first quarter GDP came in at 8.1%, the street was looking for 8.4%, not a disaster.
The news was welcomed for those worried about a housing-led implosion in China. The government, which had been trying to engineer a soft landing, seems desperate to pump up the volume once again. It allows discounts up to 30% for first time homebuyers and most banks took them up and offered 10% discounts, although Citibank and Agricultural Bank of China offered 15% discounts last month. Additional Positive Signs in China:
* China is making serious efforts to mitigate the role of black market banking, and that means they'll have to force private lenders to push loans that are riskier than offered currently.
* Earlier in the week Shanghai Disney successfully raised $2.0 billion for its theme park.
* Iron ore prices climbed above $150 a ton for the first time in six months this week as demand picks up in post New Years in China.
* Brazil's Vale is moving ahead to commission more than 100 giant Valemax ships. These are enormous ships and quite controversial. Apparently, they can make four trips a year from the largest iron ore producer in the world to China carrying loads that weigh 1.5 million tons. This is an amazing investment and could only come amid supreme confidence the Chinese market will not collapse.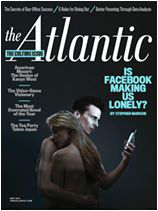 The World is (still) on Fire!
I feel like I'm the only person out there talking about how sizzling hot the world economy is when you aren't so myopically focused on Europe and America. Yesterday, Wabtec, also known as Westinghouse Air Brake Technology, offered updated guidance for the quarter and year. Citing the global freight rail market, the company now sees $1.20 for the quarter and $4.80 for the year (Wall Street consensus coming into the session was $1.02 and $4.37). I couldn't help but notice that a rail player was talking up its numbers and global demand. As it turns out, this has been one of the best stocks on the NYSE over the last ten years. The company has survived and changed its model since it was founded in 1869.
I'm worried about American manufacturing trying to compete on price and about cheap currency, but it's pretty clear this company competes around the world based on its great products. I couldn't get a read on how much of total sales will come from outside America this year, but I bet it is more than half.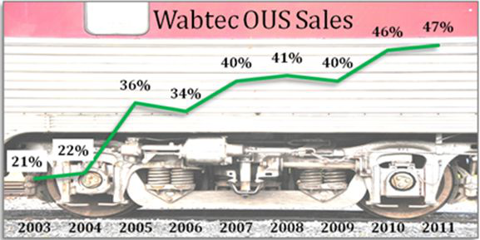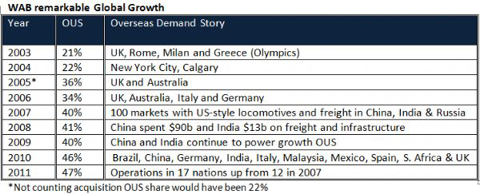 Westinghouse is a great American story, but these days the company would be accused of shipping jobs offshore and maybe told they are too greedy. With unions representing less than 30% of its workers, it seems management will be able to continue to grow the company without it getting tripped up in strikes and money-grabs.
The best thing we can do in this country is to position or allow our businesses to position themselves to make money from the determination that the entire planet has to get what we just might voluntarily give way.
Today's Session
There will be a lot of talk about Google, which posted earnings of $10.08 versus consensus of $9.65, but issued an odd stock dividend that actually increases the power of company founders Larry Page and Sergey Brin. The split was unanimously approved by the board. In the meantime, the company still hasn't dissuaded critics of its plans or made everyone comfortable with its acquisition of Motorola Mobility. The stock bounced around a lot in the aftermarket.
This morning the Street is worried about, China but I think it's bogus, stocks are actually higher in Shanghai, on hopes of more stimulus. On that note, earnings from JP Morgan and Wells Fargo might have been too good. This is the brave new world in which we live, if the numbers are too good then no more Fed free money. Ben Bernanke speaks today and that could be the ultimate decider on how today's session plays out.
Nothing this morning makes me want to panic, but I'm not going to force the issue. Instead let the market air out and then let's make our move-which might be no move at all.