The rain in Spain stays mainly in the plains.
Used for years as a pun or aid to learn English these days it should be tweaked to "The pain in Spain is moving beyond the plains."
I've often written and talked about the cautionary tale unraveling before our very eyes with the crisis in Greece, but what's happening in Spain is a great reminder that government spending isn't the answer. Although President Obama has begun to talk about his administration as fiscally prudent, the fact is he's the classic tax and spend politician that only a week ago was proud of that moniker. Be that as it may, the solution of building more airports, ports, bridges, and tunnels isn't what's hurting the economy even in places like New York/New Jersey where there are days I would love an extra tunnel or bridge.
In addition to rampant government spending, Spain enjoyed a housing boom that put America's bubble to shame.
Trojans of the South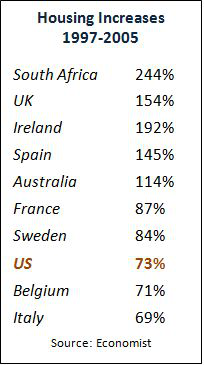 At one point fully 25% of growth in the euro zone was coming from economic development in Spain including its sizzling housing market. Spain was in its second economic revival, the first happening from 1959 to 1974. The country essentially came in from the dark as electricity demand grew from 3.6 megawatt hours in 1940 to 90.8 megawatt hours in 1976. This second boom was all about spending, not investing, and that's why it was doomed. In 2007 construction was 13.3% of overall employment in Spain while it was 6% in Germany and 8.5% in the UK. The year before building began on 800,000 homes in Spain, more than Germany, France, Italy and the UK combined.
The boom between 1996 and 2007 was like a beacon to the world, when 4.2 million immigrants entered the nation and foreigners were huge buyers of those homes. It was a great time but now it's over although the hangover seems to only be getting worse. In the meantime the thing about sharing a currency is that national wealth can vanish fairly quickly and that's what's happened as money has bolted Spain and other nations to find new homes in Germany, Netherlands, Finland and Austria. Now Spain is asking for that money to come back in the form of bank bailouts. But it's not going to be that easy.
After the bell the ECB stated it wouldn't go along with a scheme to give money to Bankia's parent company after the bank injected it with €19.0 billion of holdings. There is a way to do this and the ECB, which controls the Euro printing press, wants it done the right way with the right commitments and not to breach an EU ban on "monetary financing." But Spain is serious about fighting this tooth and nail, pointing to bailouts of Ireland, Greece and Portugal as precedence. It wants the ECB to restart a government bond-buying program and for the European Stability Mechanism to become a bank bailout fund.
Spain poses a much larger problem than Greece and appears to be spoiling for a serious fight.
"The rain in Spain stays mainly in the plain" was made famous in the musical "My Fair Lady," the story of Henry Huggins, professor of phonetics, to turn a cockney flower girl into a duchess for an evening. The movie comes from the play from George Bernard Shaw's "Pygmalion," which comes from Greek mythology.
Pygmalion was a sculptor whose ivory statue of woman was so beautiful he asked Venus to bring her to life. That wish was granted and he eventually married the woman and had a son. The people of Greece and Spain must break out of rigid lifestyles that are dooming their future and become human which means taking the pain that is in Spain and will spread beyond its borders.
There doesn't have to be mythical intervention or divine help but outside help will make the difference. An offering was made for the help of Venus. An offering will have to be made to the ECB, Germans and others involved in helping peripheral European nations come back to life.
Spain took great pride in carrying Europe and the Euro for a few years when they were the Trojans of the south so look for them to put up a good fight. I think everyone is smart enough to find a solution beyond the Greek drama that never goes away.
Losing Face
It is official, Facebook (NASDAQ:FB) is the worst large IPO in the past decade and many are saying it's the worst ever. The stock is down 23% from its IPO in seven trading days, closing down $3.01 or 9.6% yesterday. The stock is trading a gazillion shares a day and yesterday puts began changing hands. A total of 73,000 puts traded with the June 30s garnering the most attention with 12,417 contracts. I still don't think this is the worst IPO in history, yet the worst in my mind doesn't ever get mentioned.
The global stock market was on fire when a hot Internet IPO came public and for me destroyed the myth and exposed what kind of mindless money-grab was going on at the time. The reason few people know or talk about this IPO is because it occurred in Europe. In fact, it was in that stock market hotbed of the Netherlands.
There were many parallels to the Facebook deal including the hype factor, valuation assumptions and immediate disappointment. Yet for all the controversy surrounding Facebook this IPO lost face for everyone involved and sealed the fate of the Internet rally.
The World Falls Apart
World Online was an up and coming Internet portal that aimed to compete with America Online, yet it wasn't even the biggest player in Europe. Nonetheless, when the deal came public there was hysteria.
The IPO
> Largest European IPO
> 21 times oversubscribed
> €12.0 billion valuation was 187 times revenue
> 1.9 million subscribers valued at €6,500 each (Facebook would be valued at €58.5 trillion)
The stock traded as high as €72 in the London Gray market before the offering, opened and rallied to €50 before closing the day at €43. The stock plunged each day after, and a week later the company was valued at just €5.0 billion. The company went public on March 17, 2000, the same day the Dow enjoyed its largest single-session point gain of 499. Having peaked at 11,722 on January 14 the Dow was becoming more volatile and would trade in a range for the rest of the summer but the game was over.
The IPO party for World Online was festive and exciting, but apparently you could hear a pin drop when CEO Nina Brink nonchalantly told someone she had sold all her shares in a private transaction before trading began. The prospectus said she had transferred her stock. At that point I think everyone felt like suckers and even though it didn't make headlines you know institutional investors had their wakeup call (Goldman and ABN were lead underwriters). There were all kinds of investigations and legal maneuvers, but I think Ms. Brink got away with her windfall and now lives in a tax haven.