The market got hammered yesterday in part to a call to short the S&P 500 by Goldman Sachs and also in anticipation of a massive downgrade of banks by Moody's. What's really nuts about this is the rationale from Goldman wasn't new and Moody's said it would take this action back in February and banks have been down a lot since then. It really was one of those snowball sessions that gained speed to the downside after violating the 50-day moving average. I suspect part of the move was to shake a few people out of the market but the real target was pressure on the Fed and others to get off the dime.
You need to see more economic damage before the Fed powers up the money printing machine, so then how does a 250 point drubbing of the Dow move you? There are negative consequences from these giant moves lower and strong moves higher for the dollar. Instead of blaming it on Rio or the dollar, we have to brace for missed numbers and earnings warnings based on the greenback. Once again I question the wisdom of the Fed, Congress, the President and every major player in Europe outside of Angela Merkel. Are they all so gutless that even the easy way out takes so long to decide.
I think there will be an anti-climactic feel to the Moody's news now that it's official but it was a convenient weapon for the shorts. Those that understand the real powers are always powerless without a push.
Arnold ... Eat Your Heart Out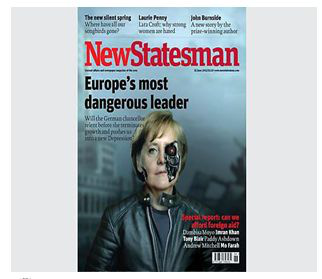 In the past week, we've heard how the European crisis was caused by America, austerity and those stingy workaholic Germans. The June 25 issue of New Statesman magazine features Angela Merkel as some kind of cold-blooded robot not unlike the killing machine in The Terminator.
Of course she has had ice water running through her veins and I suspect her goal is to either stop the lazy work habits of other European nations or jettison the entitlement mentalities.
These beggar nations have exhausted all sources of cheap funding and now expect Merkel to fork over German taxpayer funds. When Jose Manuel Barroso, President of the European Commission had the nerve to blame America for the woes of Portugal and Europe, President Obama should have remembered what Spike Lee said about "going off" sometime. Of course he couldn't because Barroso was using the Obama hymn sheet, blaming Wall Street and American capitalism for all the world's woes from economic to environmental.
But, there is one leader fighting back and she is the only thing between the western world plunging finally into a permanent welfare state or facing up to realities and getting back to work. Still the slings and arrows don't stop. A piece in Reuters hinted at a sinister Germany being a threat to Europe, much as it was twice since 1914. That was a low blow and completely off base. The greatest threat to Europe is thinking they can sit around and bask in some ancient bravado and watch the world go by from a beach.

Mr. Barroso's Portugal is in a mess of its own making. Look at these debt levels:
178% of GDP non-financial company debt
107% of GDP public debt
121% of GDP household debt (71% in mortgages)
A couple of weeks ago the Economist took a shot at Merkel and now others are banging the same drum. It's not unlike the notion that people who do not work in America e not only have disdain for those that do but also have the nerve to demand an even larger cut of the earnings. Circumstances are difficult for many people and most Americans want to work despite the pitch that says food stamps and unlimited unemployment benefits are a better way to go. Yet, there is a growing tide, stoked by the media and the administration that thinks somehow they are owed a great life in America as a birthright, without earning it.
Stop Scheming and Looking Hard
The alphabet soup of saviors, ECB, EU, IMF, and Fed are like deer in stuck in the middle of the road gazing helplessly at the headlines barreling ahead at breakneck speed. While Europe and the world wait for them to get their act together, it's time to dig in and do the right thing so these bailouts don't become annual events.
Work- it's time to go to work in Europe.
Labor- reform that favors the private sector, innovation and risk- time to stop public sector income inequality over private sector.
Learn- it's time to step up and create smart workforces to compete in the global economy.
Retire- later- amazingly even when life expectancy was as much as seven years shorter in 1970, the effective retirement age was older than it is currently.
Pay Taxes- I'm sensitive on this because too much of my paycheck goes to taxes, but I'm obligated to pay them. Phony austerity that was only tax hikes was doomed from the start. That said, however, these folks have to pay basic taxes.
Save- more money and stop spending like it's 1999 ... in the third quarter last year the savings rate was 11.6% versus 18.3% for Euro Zone.
Sacrifice- like crazy to pay down debt, it's the only way children will have seed money to change their world.
And it's time to stop the finger-pointing, is unbecoming and a waste of time. Italy is in its fourth recession since 2001; how does kid-glove austerity that's a few months old account for that?
Bulking Up For Longer Life
While I'm preaching to Europeans that have lounged on the Mediterranean for a long time, we must take stock at home, too. The latest study from Boston College's Center for Retirement Research shows less than half of US workers having enough money to retire at age 65. Of course this is with social security. The fact is that to retire the way most want, less than 10% are ready, but be that as it may, this report points out why most Americans will have to work until 70.
If you earn $65,000 a year now and retire at 62 you'll get $1,236 a month but if you work until 70 your check will swell to $2,253 a month. Considering the average 55 to 64 year old 401K has less than $100,000, it means working longer. The good news is a recent survey says 80% of older workers want to scrap mandatory retirement and 75% want to work longer out of enjoyment and sense of purpose. But, what about people less than 55 years of age and their efforts on saving?
People are saving to go to the mall today or simply to have liquidity instead of for education, retirement and owning homes.

Bezos and Building Real Company
Yesterday Bed Bath & Beyond was hammered in part because of expenses associated with buying its online presence. I think that's smart business but Wall Street isn't impressed with that investments. I ran into Jeff Bezos and shared an elevator with him. Told him to stay the course on building the company (NASDAQ:AMZN) and worry about the stock later-he agreed and that's still his game plan. It's really amazing how silly the stock market and stupid investors have become over the past twenty years.