The market is marking time, sure the bias is to the downside, but there isn't panic. Heck, there isn't even frustration. Maybe this is like the final stage of death, or maybe it's a lazy summer with little hope outside of Fed intervention. Still, for the second consecutive session that seemed as if we'd witness a disastrous finish, buyers emerged. Not a lot of buyers, but enough to turn the tide from disaster. I'm not sure if it's the release of consumer credit in May, which came in more than twice as high as expected with credit card debt edging higher along with non-revolving.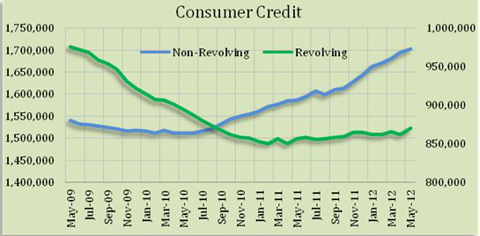 I'm still smarting over the latest shot across the bow of true middle class Americans-those that have achieved household income above $250,000, but well below a million dollars a year. It was the basis of our question of the day, which elicited a tidal wave of responses and nobody thought that was the magic number denoting rich.
* $250,000 is not rich
* No. I'll bet many of us just reaching that income level still have student loans to pay off, making that income much lower in perspective
* With mortgage payments, taxes, children, insurance(s), college, food, fuel, utilities and the unforeseen, $250,000 seems paltry
A Flood of Nonsense
The $250,000 bush tax cut offer is just the latest in a string of Obama comments that go from odd to giant fibs. Last week, it appeared President Obama was grasping for straws, disrespecting successful Americans, and bragging about the auto bailout. Through his very friendly treatment by the mass media, the idea that somehow there would be no automotive jobs in this nation without government intervention is taken as gospel-but it's a lie.
Before getting into details on all the odd statements made, one of the more curious was:
"What happened in Toledo can happen in cities like Cleveland, it can happen in Pittsburgh, it can happen in other industries," Toledo has an unemployment rate of 7.6, which is higher than Cleveland's 6.7 and Ohio's 7.3% (May). Moreover, Pittsburgh is considered the blueprint for how to revitalize a city. After years of decay and unemployment near 20%, Pittsburgh reinvented itself. Now, the former symbol for urban squalor and plight is called "most livable city" by Forbes magazine.
Pittsburgh took up the challenge of a world of declining manufacturing and manufacturing income. One example is a 48 acre US Steel mill that sat abandoned for years and was turned into a technology center that now generates $1,000,000 in tax revenue each year. The city is home to 33 colleges and universities and is also becoming a major hub in the bio-tech industry.
It would be crazy, insane for Pittsburgh with its 6.6% unemployment rate to become Toledo. As for the bailout ... I don't think it's worked. Check out the real truth about the great GM bailout story.
* Taxpayers own 32%
* Stock has to hit $53.00 before we get back the more than $30.0 billion owed
* Company has largest unfunded pension in America
* Stock is below its IPO price of $33
* Company sales are mostly driven by fleet, which is largely government (36%) versus 8% retail in most recent report
* Company is losing market share to Japanese and European rivals
Alcoa Hits it out of the Park?
I typically fret when earning season begins because it begins with Alcoa, a perennial loser and underachiever, but not last night. The company beat the street by a penny and offered strong guidance that also suggests the global economy isn't dead. Global demand for aluminum this year is expected to be up 7%; China will grow 11%.

Today's Session
Just as President Obama has decided it's a good thing raising taxes on successful small businesses the NFIB has released its latest on optimism. This line from the report says it all: "there was no good news in the June survey."
I hate that the media is trying to paint the message as a tax cut for the so-called middle class when this is solely about higher taxes. Optimism was down 3 points to a 91.4 reading, which erased gains from earlier in the year.