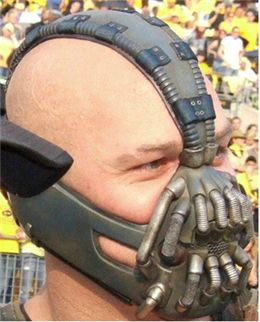 The presidential race is heating up with the focus on Mitt Romney and his work at Bain Capital. I really find it amazing that after all the whining about having to show a birth certificate and never showing college documents, the president and administration are going all in on Bain and when Romney left the firm. For my money, it shouldn't matter except that Bain is a very successful business and that has helped to propel the American economy as a net job creator.
This battle is very critical because the Romney camp must not be psyched out and somehow end up indicting capitalism. This is the true war and true decision of November. Government can't substitute the private sector when it comes to creating jobs, responsibility, innovation, and economic freedom. It is time Romney said this more forcefully.
By the way, despite the media running confusion and interference for the administration not a lot of people have heard of Bain Capital, but come next Monday morning everyone will associate Bain with evil as the latest installment of Batman begins what should be a run that breaks all Hollywood money records. It will make for a lot of material for comics and word game players. There is no way Hollywood could have planned this well in advance, is there? After all they just gave us a string of turkeys including John Carter. Be that as it may, Mitt has to pull off the muzzle and rip into the true job destroyer.
Investor Class and Their Silly White Flag
All day long we speak to people that would be considered part of the investor class, and all day long we hear how they are waiting to get into the market after the election. This is the stupidest and most backward approach to stopping the move of socialism. You want to save capitalism and stock market by not participating. The lack of involvement leads to more volatility and vulnerability. The sad irony is when the dust settles there is a chance American businesses will be made to be part of the public domain. I'm not talking of public investors but people decidedly not in the stock market. Profits attacked and divvied up for solar plants, union contracts, business bailouts and giant government on all levels to control lives and collect from the dwindling ranks of workers.
Yes, I'm so fed up with smart people cowering and thinking that abstaining from the market will somehow keep them safe.
While I'll admit that investing has changed, it also has remained the same. There is a lot more volatility with big chunks taken out of stocks unjustifiably. But investors should get back to being investors and not weak sisters spooked out by nonsense or hanging on the sideline thinking it has virtue. Buy and hold is dead but it's also alive. Wal-Mart is changing hands at an all-time high even after the stock was abandoned by a lot of investors over the past five years because of the strength of super discounters and a periodic earnings report that didn't wow the street.
It is true you could have waited for the recent breakout to ride the current leg higher,but realistically how many people are going to do that?
Investors have to find core stocks to own and on occasion actually buy them when they get smacked not flee them in a bit of rage. I've found myself recently trying to explain to a few people that McDonald's isn't going out of business which is what they must have felt from the shear panic in their voices and emails. It's so silly. Yes, I'm very concerned about this election and I know a second term would be a day to day fight to allow great businesses to thrive at home and abroad. Yet, the big boys have armies of lawyers and lobbyists and probably will survive the onslaught.
Small businesses on the other hand wouldn't survive. Americans dreaming of being extraordinary would see an uphill climb with barb wire of regulations and harsh rhetoric from the government on high. Yes, the overall economy would stink like it stinks today. What it does to the stock market I'm not sure. Nobody thought the major indices would double after inauguration day. That happened because there are great Americans companies doing business all over the world and a Federal Reserve that pumped in billions of dollars. All I know is that sitting out this dance has been a horrible mistake and those that continue to do so are hurting their cause.
You Aren't Pulling a John Galt
Holding back investments may seem prudent except it hasn't been and over long stretches of time never been wise. It's been a tough decade but at some point investors will look around and see the market at all-time highs and wonder how that happened and where were they when this was all happening.
Of course if that doesn't happen in the next year many would-be investors hoping one day to be able to be owners of great companies same businesses will have to share in the blame. Yes, you are aiding and abetting the very cause you say you abhor in the first place.
Speaking of Strikes
This morning's retail sales report underscores two things. The first is that Main Street has a kind of instinct that economists never develop. Despite the pullback in gasoline that was said to add a billion a day to the economy, shoppers played it close to the vest and played it cautiously.
This isn't a buyers strike in the sense of a business strike as imaged by Ayn Rand or the investing strike by those worried about socialism, but a commonsense reaction to the idea Washington will get its act together. It's also a reality that the economy isn't up to snuff. I guess we can blame it on Bain or Bush but for most people it doesn't matter, they would like to see job growth and a positive aura.
Today's Session
With retail sales coming in flat, it hikes up anticipation Ben Bernanke will give the sign investors have been begging for when he speaks this week. Of course the street kills itself when it gets too far ahead on stuff like this as the Fed has no problem dragging its feet (remember the start of the economic meltdown, I think the Fed was reading charts upside down). The good news comes from CitiGroup continuing the string of good news from the nation's super banks. It's crazy but it could be argued America's banks are now the strongest in the world.
One has to wonder when they'll be strong enough to start lending money.
I'm not forcing the issue this morning but still excited about Friday's session and the potential of the market given the right catalyst. There is the right amount of pessimism out there to catch a lot of people off guard and see the market heading back toward all-time highs. I'm just not sure if its fundamental news that gets us through or money-printing.