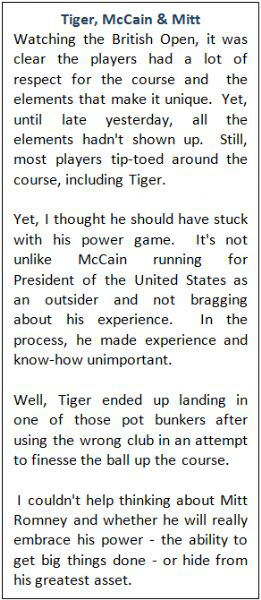 I'm not a golfer, but I hear those addicted to the game always talk about its connections to life and how it measures things like integrities, determination and guts (non-golfers might throw in the role of a bit of luck, too). I didn't watch the entire final, but got home in time to see the last hole in what many are calling the most epic breakdown in the history of the majors. Adam Scott has the looks of a matinee idol, and until the last four holes even the swagger, but bogeys on each led to a surprise victory for Ernie Els.
Els is considered one of the nicest guys in the sport so nobody was sad to see him win but it hurt watching victory lost that way.
I remember tweeting that Els should have been given a special invite to the Masters earlier this year when he failed to qualify on the course. A lot of people shot that down, and Els himself said he hadn't earned it. Imagine that - someone taking accountability for themselves. I was thinking he had enough goodwill to get the nod. Be that as it may, he had a victory for the ages. Then there was Tiger's epic single hole meltdown that cost him a shot at completing his return to greatness. Again, I'm no golf expert but think he over thought the whole thing (see sidebar).
But there was another story at the Open that wasn't discussed much over the weekend because the person wasn't there. David Duval missed the cut - again. Duval has missed more than 130 cuts over the past few years but he continues to grind. Once ranked number one in the world after 13 PGA wins from 1997 to 2001, his game completely disappeared.
When he was winning many fans consider him cold, aloof and just a spoiled athlete. Yet, he was mostly a guy so focused on winning from an early age. At nine years old, Duval's older brother Brent was dying from cancer when David donated his own bone marrow. Brent died from an infection after surgery. It's when David moved closer to his father, a former PGA pro with some success (they actual won tournaments on the same day on the PGA and Championship tours). Now, Duval sightings on the leader board bring cheers and hopes of resurgence in his game.
But reading an article last week, it would seem David Duval is at peace with himself now with his happy family. Make no mistake, he still talks of winning and even said of his play at the Open, where he missed the cut: "I know I'm playing beautifully." What caught my eye in the article were his comments about being an "entirely different person" eleven years ago. He said back then it was all about "me and all about golf." He talked about working maybe too hard; incurring a number of injuries, which eventually derailed his game. Yet, he insists that he's still working hard so that his children, that have never seen him win one, can watch him holding a trophy.
I think it's admirable to want to win for your kids but the way the article was written it made it seem like it was a bad thing that Duval wanted to win for himself back in the day. It fits a narrative that dovetails with the massive campaign to belittle hard-earned success as superficial or worse. So many people that haven't achieved financial or professional success like to tell themselves that the rich aren't happy. But even that doesn't go far enough to assuaging the green-eyed monster. So there is often rooting for the mighty to fall. Once they have fallen, they often embrace the narrative that losing is better than winning or losing has more dignity.
We're hearing this kind of stuff already in the election campaign where it has been suggested that rich people don't have morals or values (and to give themselves an escape clause, President Obama and others have stated the "middle class" is a state of mind). It is true that achieving success can have a singular feel to it, and certainly the government doesn't help, never a shoulder to cry on or even words of encouragement. But the fruits of winning are always spread around, even if those winning don't like to sign autographs. I'm hoping David Duval can find the magic again and be rewarded for all his hard work that he's still putting in.
I would feel the same even if he was single and said his mission to raise a cup or trophy was something he wanted to do for himself.
The article stated David Duval, now ranked 775 in the world smiles more than he ever did when he was number one in the world. That might be so but it doesn't making losing cool or admirable. I can only hope the nation rejects this philosophy but I have to say it comes at us every day in all kinds of mediums. America can never become content with living beneath it skills and abandoning its competitive nature.
There is a time for finesse but you should never abandon your strengths. I think for Ernie Els it was just that he's a nice guy.
Merger Monday
Tons of deals today, including Geoeye (NASDAQ:GEOY) receiving a premium in a merger with DigitalGlobe (DGI). This is a name we got crushed in but I always knew was undervalued and even this morning's deal price looks cheap. There are deals in energy, rail and the big international deal has China taking over an upstream gas company in Canada for $15.0 billion, or 60% more than where the shares closed on Friday. China is running circles around this administration which wants to go into a trade war over glass panels and keeps using China as an excuse for plowing billions of taxpayer money into solar and wind.
Those deals aren't enough to offset worries about Spain this morning where the ten year has surged to 7.5%. Stumbling out the gate seems to be the norm each week and that's where we are this morning.