Every few years it happens again, to be precise about four years into a bull market, which is the typical average length of a bull market cycle and also the length of the presidential cycle. Right now we are right at that point again. We are in the fourth year of the stock market rise that started in 2009 and at that point commodities typically show some weakness while the Baltic Dry Index finally recovers. In the chart below you can see commodities in black, the S&P500 in green and the Baltic Dry Index in orange and the previous times when we reached a similar state in the market are shown in red vertical lines.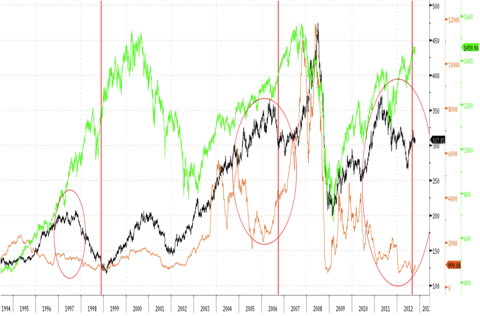 The same thing happened in 1999 and in 2006. The stock market went on a strong bull market run before it finally built a top and could not advance any further while commodities still had a strong rally in 2000 and 2007 at a time when stock markets already began their long descent.
The bottom in the Baltic Dry Index now seems to have put in place because capacities are being taken out of the shipping market and at the same time commodities keep showing weakness while the stock market keeps making new highs.
This should also be once again a good indicator for a stock market top down the line. Once the stock market starts to go sideways or down while commodities start to rise again, then the end of the current cycle is near.
Disclosure: I have no positions in any stocks mentioned, and no plans to initiate any positions within the next 72 hours.