In the following chart you can see the 8 years leading up to the dot.com bubble (Nasdaq in blue) and in comparison the silver chart (in red) over the last 8 years until today. As you can see silver is at a point where the Nasdaq in 1999 consolidated for a brief period of time before starting the last acceleration up on an even steeper slope. In a little more than 4 months the Nasdaq managed to rise by another 40% at the end of 1999, beginning of 2000. Silver could do a similar thing since it has done so before in 1980. Similar is also that liquidity in 1999 had gone wild after the fed left rates too low for too long and that semiconductors as a sector were leading the way (that's happening again for the first time since then). 
So stay alert as the rally in silver may not be over yet, as a matter of fact it could get ready for one final leg up in a blow-off top move, which would then most likely be followed by a sharp sell-off in a very short period of time.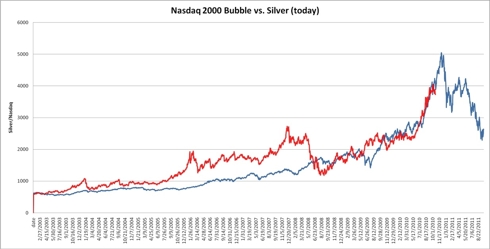 Disclosure: I have no positions in any stocks mentioned, and no plans to initiate any positions within the next 72 hours.