In the last few weeks several art auctions did not go as well as many experts had expected. Both Christie's and Sotheby's had seen a few disappointments at their most recent art auctions. Most recently the auction houses are working with the sellers to lower their reserves (the undisclosed minimum price a seller is willing to accept), which is a clear indication that the art market begins to soften again. 
As I highlighted in a previous article on SeekingAlpha, Sotheby's (BID is the ticker) has been an excellent indicator to spot bubbles early in the past.
Sotheby's sold off early in all bubbles since 1988( the Nikkei Bubble, the Dot.com bubble and the recent Mortgage Bubble) which was the year it was listed on the New York Stock Exchange.  
Since its earnings announcement on Monday Sotheby's stock price (see attached chart) is in a free fall and perhaps it was once again an indication that a bubble is bursting, which would mean that there is a lot more downside in these markets left than many want to believe.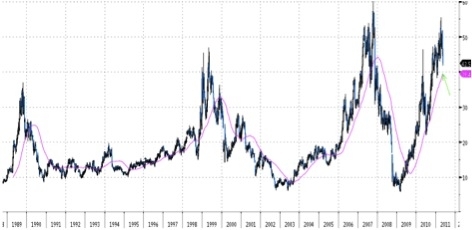 Disclosure: I have no positions in any stocks mentioned, and no plans to initiate any positions within the next 72 hours.