After Japan reached for the stars in the 80's no one could have believed that two decades later Japan would still be in a downward spiral suffering from asset deflation and a post bubble trauma. Japan seemed to have risen like the Phoenix from the ashes of WWII and after what the country had to go through after having been the only country to date that suffered from an attack with atomic bombs, it seemed only fair that they would experience such an economic miracle. The Nikkei went in 40 years from 40 to 40,000 points and reached its peak in 1990.  But 20 years later the Japanese can look back on two 'lost decades' during which the Nikkei halved almost exactly every ten years (losing around 50% from 1990 to 2000 and again almost 50% from 2000 to 2010). Japan is the master showpiece for economists that deflation is a bad thing, sending shivers up economist's spines when the word 'Deflation' is mentioned. 
Having said all that things could still get worse if Japan does not come up with a solution soon or a different plan than what they have been using for the last two decades.
The most important chart to consider in this context is probably the Japanese government debt to Interest rates. Below you see a chart of the Japanese government debt in Billion Yen (pink line) and the Japanese 10-year government bond yield (blue line) from 1987 until today.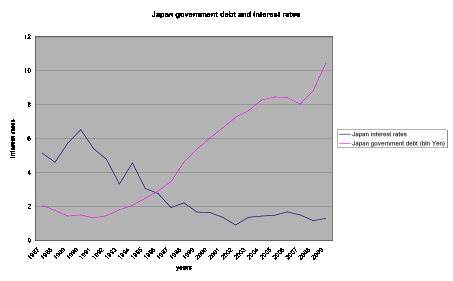 Of course Japan is not the only country that is in trouble but a 172% Debt to GDP ratio (2008 est.) surely limits the options. There have been examples in history that such a burden relative to GDP can be sold off, Great Britain several centuries ago was one of them but it limits your options and Great Britain at the time was the world's superpower. Under the following link https://www.cia.gov/library/publications/the-world-factbook/rankorder/2186rank.html you can find the entire list published by the CIA of public debt as % of GDP as of 2008. Japan ranked second behind Zimbabwe.
While Japan has the advantage of a pretty high savings rate the real problem for Japan is that we are just now facing the beginning of a new 60-year interest rate cycle. Japan's interest rate payments could very quickly reach half its government's annual budget if interest rates would double from today's rate. At that point Japan would face a crisis. Even now they are in a real dilemma because in reality they need several years of low to no interest rates to get out of this situation. That however is an entire problem in itself because you cannot generate growth without interest rate increases at some point. On top of that if the Japanese government's credit ranking would suffer then the interest rates would go up even higher and the Yen would weaken making the Japanese debt situation in US dollars even worse. So far none of that is reflected in the Japanese Credit Default Swap Rate but as you know that can change very rapidly.
Japan is caught in an interest rate trap and the carry trade will soon start a renaissance because of Japan's lack of real options. Of course if Japan got into real trouble then it would also cause interest rates to rise in the US as Japan, as second largest holder of US treasuries, would be forced to sell them. Therefore to keep interest rates low is important for the survival of Japan. Long live the carry trade!
Disclosure:
no positions!