A gauge of growth in the manufacturing and service sectors points to economic resilience, but the trade war continues to take a noticeable toll on the overall business outlook, according to IHS Markit.
The preliminary IHS Markit PMI (purchasing manager's index) showed an increase in both manufacturing and services growth in September, with the manufacturing PMI at a 5-month high. Despite this, the services industry is seeing job losses for the first time in years, pointing to the trade war's spill-over effects on composite PMI.
The PMI for manufacturing recovered slightly at 51.0 in September from 50.3 in August. The new reading is the highest since April, but among the lowest since 2016, according to Markit.
The U.S. services PMI increased to 50.9 from 50.7 in August, but showed the slowest growth in new U.S. service industry work since 2009, and job losses for the first time since 2010. Markit's Williamson said firms have become more risk averse and increasingly eager to cut costs.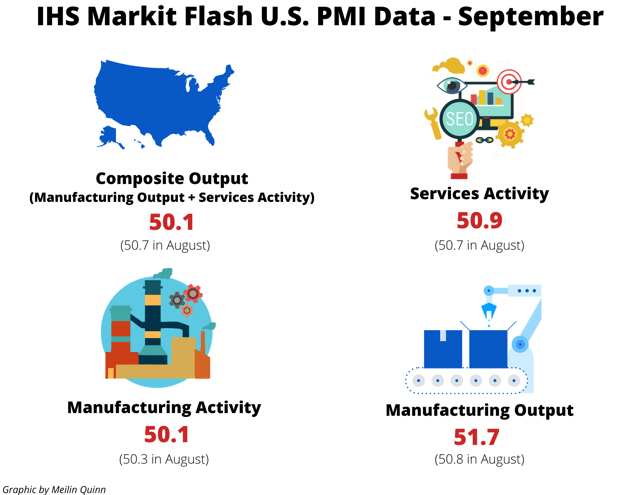 Any PMI reading above 50 indicates an expansion in activity, while readings under 50 indicate a contraction.
This report is an initial estimate for September. Markit will report the final figure on Oct. 1.
"The survey indicates that businesses continue to struggle against the headwinds of trade worries and elevated uncertainty about the outlook," Chris Williamson, Chief Business Economist at Markit said in a statement Monday.
September's reading comes after the ISM (Institute for Supply and Management) reported a contraction in manufacturing in August. ISM numbers sent the S&P 500 down as much as 1.2%. The 10-year Treasury yield fell to a 3-year low.
This fresher data shows that exports have dropped for the fourth time in the past five months. Meanwhile, rates of output and new orders received by manufacturers has increased enough to boost manufacturing PMI, according to Markit.
Manufacturing makes up only 11% of the U.S. economy, but there are fears that low PMI levels are filtering through to the rest of the economy.
"Key to the recent deterioration has been a further spill-over of the trade-led slowdown in manufacturing to the service sector," said Williamson. "A ray of light comes from manufacturing reporting some easing of headwinds, though factory conditions likewise remained among the toughest since 2009 to underscore the broad-based nature of the current lassitude."
Federal Reserve economist Albert Queralto says the U.S. and China trade war tariffs only apply to manufacturing goods, thus directly affecting the manufacturing sector. But the job losses in the services sector could potentially signal that the trade war is weakening the broader economy, says Queralto.
"I would still characterize the U.S. economic data as strong, despite this slight blip. Now, we will see if it turns into something more worrying, but for now I wouldn't worry," says Queralto. "Unemployment is still at all time lows. Growth is still positive and relatively strong, so I wouldn't say that this signals a recession."