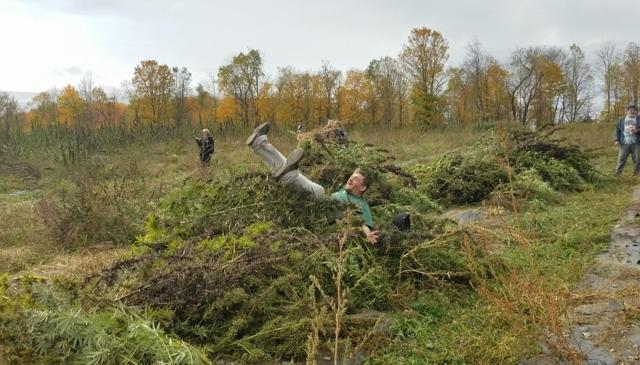 Clouds of cannabis smoke moved through Knarich Family Farms last weekend. As every gust of wind carried away another puff of pot, something distinct lingered: a pungent air of extraordinary enthusiasm.
The annual 'NY Harvest Festival & Freedom Fair,' which has brought together cannabis activists for 22 years, took place on a legal hemp farm for the first time ever. The excitement that filled the festival signals a new-found optimism among grassroots pot activists as legislation continues to move towards legal weed.
Festival organizer Rob Robinson says, "We're the largest, longest-running private cannabis legalization event, and this is the first time we're on a hemp farm. This is the first time we ever could do this."
Knarich Family Farm planted their first hemp crop this summer after the 2018 farm bill legalized hemp cultivation. Festival attendees could help to harvest the hemp, which the farm processed into CBD.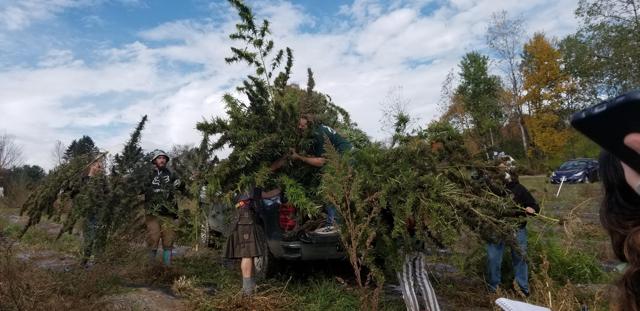 "The times they are a-changing!!!!," reads the festival's website. People who once feared imprisonment for their link to weed are now proudly discussing how they can take part in the budding industry, said festival attendee Kurt Shotko.
Shotko, who has been attending the festival for 16 years, says he has watched the festival change dramatically. He says the discourse has evolved from general social activism, to excitement about cannabis, to discussing the plant as a cash crop.
"This kind of festival is so ancient and essential to humanity," says Shotko. "And now the hippies are winning. The way cannabis has completely gained traction in the public's mind, our agenda is spreading. Finally, we're here."
At least 33 states have legalized cannabis for some purpose. While New York State permits the production and sale of medical cannabis, the state is still in talks about legalizing recreational cannabis after a proposed bill fell through in June.
Pravin Mehta, co-owner of the hemp farm, says there is a lot of progress to be made as far as recreational cannabis. "But I think communities are ahead of the law. They know what the plant is bringing to them," says Mehta.
Mehta says cannabis is now becoming a business. "I have traveled around, and there are places where you can smell on the roadside that people are growing lots of cannabis," says Mehta.
"People are all very enthused about the plant. I have never seen this kind of passion - this year in particular. There is something that ties people together. People know that this is a national product that can be of help to many, many people," says Mehta.
Festival attendee Zack Howard says that there are many different uses for cannabis, between using the stalk for hemp rope and smoking the buds. Howard says, because of this, the economic prospects of weed are endless.
"From the people who are growing it to the state that's collecting taxes from the sales of it, everybody benefits," says Howard.
Howard says there is no reason why the industry should be limited to rich people. A central topic of the festival was how the budding industry can maintain its "hippy roots."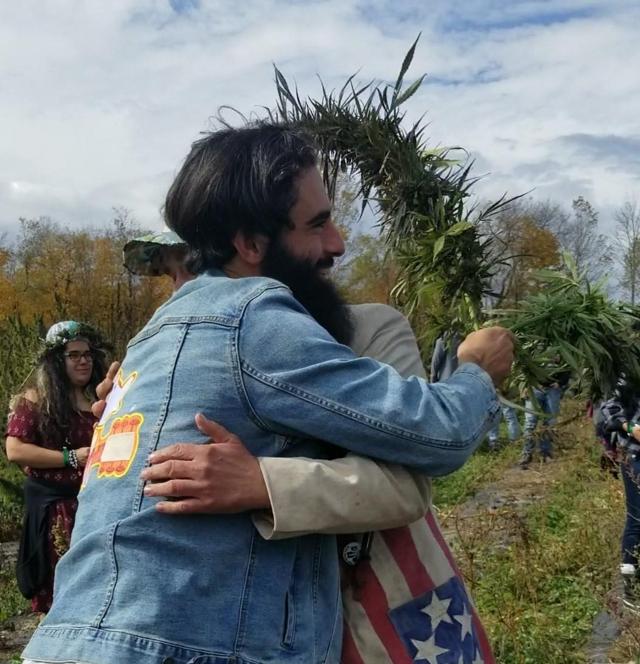 "When I worked at a dispensary in Colorado, I would see a lot of these corporate-grower companies come in and try to take over everything," says Howard.
Howard said these companies are vertically integrated, so they own everything from the growing and manufacturing facilities to the dispensaries. Whereas horizontally integrated industries allow companies to specialize in different aspects of production. Howard says vertical integration drives away small farmers, and he hopes the industry can be horizontally integrated.
Of the 33 states that have cannabis programs, 12 states - including New York State - require that their local cannabis businesses be vertically integrated. Vertically-integrated businesses are known to be easier for states to regulate. States don't have to keep track of different growers, manufacturers and sellers.
"Vertical integration kind of eliminates a lot of the processes along the way; the people who grow this and make that. Vertical integration is oftentimes a state regulation, but it's a regulation that comes from these big lobbyists - from those corporate companies that are saying, 'We have the labs, we have the money,'" said Howard.
Gov. Andrew Cuomo's failed recreational marijuana proposal included a measure to establish separate licenses for cannabis growers, manufacturers, and retailers. The bill sought to ban growers from also owning retail shops
Cumo told WAMC that he plans to unveil a new proposal in January to legalize adult-use marijuana in New York State.