Ben, over at SureDividend, publishes a spreadsheet that gives vital statistics for the current 51 dividend aristocrats. He does a great job laying out all the information to help you make a good decision on purchasing the right dividend-paying stocks for your portfolio.
As a way to further screen the aristocrats, I've taken it one step further and ranked each company based on the criteria Ben laid out. I assigned a point value (equally weighted) for each category. Those categories are:
Dividend Yield %
5 Year Beta
Payout Ratio
Dividend Growth Rate
Total Return
Forward P/E Ratio
10 Year Historical P/E
Modified PEG
For example, AT&T is ranked #1 for dividend yield % and so it was assigned a "1" for that category. I then assigned rankings for each category on the list based on Ben's spreadsheet.
Here's the modified spreadsheet showing the stocks ranked. The lower the number, the higher the rank. I've highlighted the top ten for each category in green. The ranking totals are shown in the far right column: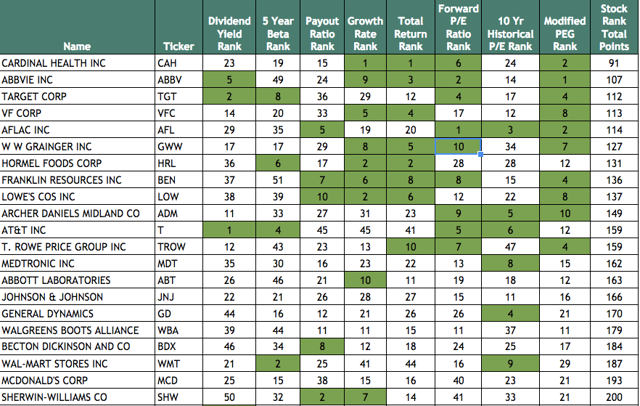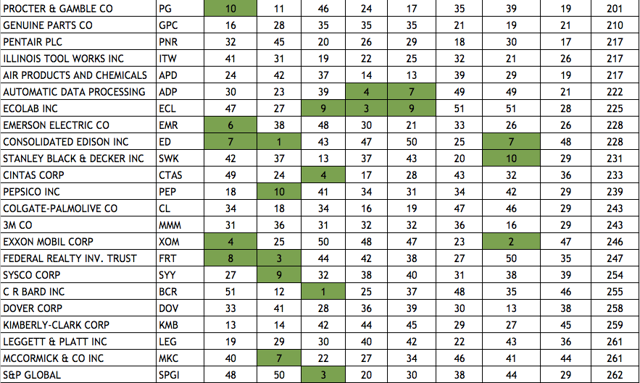 Source: (Modified Chart) from SureDividend.com
When it comes to the results, Cardinal Health (NYSE:CAH) comes out as the clear winner. It placed 1st in dividend growth rate and total return as well as 2nd in modified PEG. It also placed 6th in forward P/E.
Here's the top ten and how many top ten places they had:
Cardinal Health - 4
Abbvie (NYSE:ABBV) - 5
Target (NYSE:TGT) - 4
VF Corp (NYSE:VFC) - 3
AFLAC (NYSE:AFL) - 4
WW Grainger (NYSE:GWW) - 4
Hormel (NYSE:HRL) - 3
Franklin Resources (NYSE:BEN) - 5
Lowes (NYSE:LOW) - 4
Archer Daniels Midland (NYSE:ADM) - 3
Of course, these are not the only factors to consider but it does make for an interesting study. It's interesting that 7 of the above stocks all finish in the top ten of Growth Rate %, Total Return, Forward P/E and Modified PEG.
If, for example, you invested $10,000 in each of these stocks 10 years ago, your $100,000 account would now be worth $224,941 (including DRIP), a 224.94% return. Total DJIA Return (including DRIP), amounts to a return of 202.19%. Nothing amazing here, but it does show that they outperformed the DOW.
It's also interesting that only 2 of the top ten stocks were in the top ten for dividend yield. This shows that dividend yield is not the only factor to consider when making a decision on your dividend stock purchases.
Is this the end-all-be-all for choosing the best dividend stocks for your portfolio? No, but it is a good way to help you make a decision among the most consistent, long-paying dividend stocks.
For more of my articles, please go here. There are published articles on seekingalpha.com as well as regular blog posts.
Thanks and happy trading!
Dan Gaskell