Vintage cars, fine wine, stamps, and gold coins (NYSEARCA:GLD) are among the collectibles that have yielded higher returns than stocks over the past decade, according to The Economist.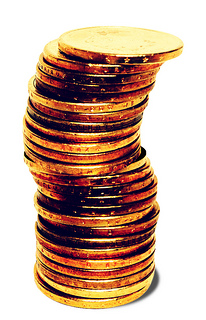 Photo by Maura Teague
The Economist has created a so-called "valuables index" for collectibles over the past decade, and the results are impressive. Among the big gainers: fine art jumped 36%, classic cars rose 25%, coins climbed 17%, and wine gained 10%.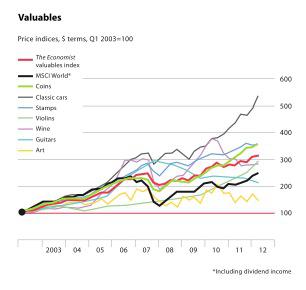 Coins (green line) compared against MSCI World, The Economist valuables index, and individual valuables. Image courtesy Blanchard and Company, Inc. based on data from The Economist.
Big Gain for Valuables Index
"Our index has shot up by 211% in nominal terms since 2003 and by 54% since the first quarter of 2009," The Economist says. "In comparison, the MSCI World, a rich world stock market index, has increased by 147% since 2003, including income from dividends."
Even so, the comparisons may be skewed by the fact that stocks plummeted during the financial crisis in 2008 and 2009 and have only recently recovered to hit fresh records.
Shying Away From Stocks
The Economist notes that distrust of financial markets is what helped spur more buying of collectibles in the first place.
There's another factor that investors should consider as well. Buying and selling stocks is easy to do and relatively inexpensive. Investing in collectibles adds a host of other costs.
"Valuables have high transaction costs and need to be insured, stored, and maintained," The Economist says.
Tying up Your Money
"Illiquidity is another problem," The Economist says. "Most funds lock in investors' money for at least five years. Those wine funds that do allow quick redemptions invest in the most traded grapes, like Bordeaux."
Still, collectibles can be a good way to diversify your portfolio -- and can pay off over the long run.
Source: "Fruits of passion: Investing in luxury items can yield high returns. The risks are commensurate," The Economist, August 17th 2013.
Disclosure: I have no positions in any stocks mentioned, and no plans to initiate any positions within the next 72 hours.
Additional disclosure: Blanchard and Company, Inc. is the largest and most respected retail dealer in rare coins and precious metals in the United States.