GlobeImmune (NASDAQ:GBIM) shares surged 144% in the space of just 2 days between 15-17 June. Rising from $1.35 (when my first articleon the company was submitted to Seeking Alpha) to $3.30 by the end of the week. More than the share price rise however, what has been particularly pertinent is the sheer volume of exchanged shares. On Friday alone 14.5 million shares exchanged hands, equivalent to the entire float of 5.75 million shares rotating through 2.5 times. Something is clearly afoot.
Background
For those who haven't yet had a chance to read my previous article which really lays out the background leading to GlobeImmune's recent price action, please do take a quick read. As a quick recap here is what we know so far:
1. GlobeImmune a micro-cap stock valued at ~$19m as of 17 June currently has 5 trials currently operating either in Phases 1 or 2 and a further 4 in pre-clinical testing.
2. Celgene (NASDAQ:CELG) has entered into contractual agreements with GlobeImmune for GI-6100, GI-6200 and GI-6300. Full success in these trials would result in milestone payments of $410m with further royalty rates in the teens upon commercialization. All development and sales costs are to be borne by Celgene.
3. Gilead (NASDAQ:GILD) will pay GlobeImmune up to $170m in regulatory and sales milestones dependent on the success of GS-4774.
4. Cantor Fitzgerald has been retained by GlobeImmune since August 2015 as it actively seeks "transactions involving the merger or sale of all or part of our assets" (10Q page 6).
5. Resolution of its search is highly probable by July 1st due to a NASDAQ compliancy notice (details of why this particular eventuality is so likely are listed in the previous article). GlobeImmune's shares have started to rise in anticipation of this resolution.
So now we've established the background, what do the next 2 weeks hold for the company? Despite many requests from readers across social media, I can only state the obvious. Like everyone, I do not know what the future holds. We do however have a number of key facts at our disposal to analyze the company.
Valuing GlobeImmune
The nature of regression to the mean is a principle that is applied in most fields in hard sciences such as physics and medicine. For companies such as GlobeImmune it can even help provide a more solid foundation to glean whether novel compounds genuinely outperform placebos in clinical trials. What it cannot do however, is provide a foundation to stock market analysis for our needs. Yet I find this is a mistake that traders who solely concentrate on technical analysis often make. Of course, it is possible that GlobeImmune may regress back from $3.30 all the way to $1.30 and beyond. However, a fundamental analysis of the company suggests something different.
Let's start with the chief determinant of GlobeImmune's value: its ongoing clinical trials. Thankfully, unlike many other promising biotechs who only have hypothesized peak revenue sales through which to derive oft-tortured DCF valuations we have a much simpler route with GlobeImmune. Namely through appropriately valuing the likelihood or failure of achieving its appropriate milestone payments.
Milestone Payments
If GlobeImmune hits all targeted research, developmental and sales milestones it will receive $580m, an undeniably transformative figure equivalent to just over $100 per share. This is of course unlikely in its totality. As is the nature of clinical trials, only a limited percentage succeed. A highly authoritative study published by Nature and McKinsey (subscription required) in just the past month provides an excellent overview however which we can extrapolate from.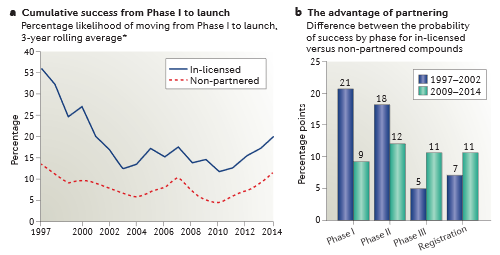 Figure 1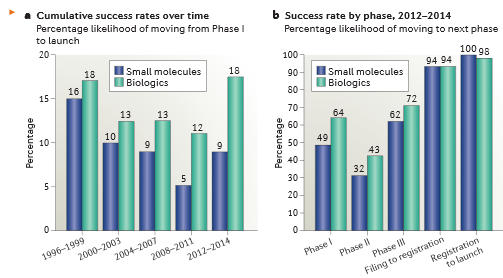 Figure 2
As can be clearly seen, there is a sizable percentage increase in success across all phases when biotech firms engage in drug partnerships (as GlobeImmune has done with Celgene and Gilead). As the numbers provided in figure 2 are for both in-licensed and non-partnered compounds, it can be assumed that the calculations below are conservative and likely understate the true value of milestone payments to GlobeImmune.

*Celgene can be assumed to begin P1 trials with GI-6100 shortly which it selected as a strong drug candidate in July 2015.
**P1 for Advanced Cancers, P2 for Chordoma, figures provided are hybridized
This is where real fundamental analysis often wildly differs from pure technical analysis. On a fundamental basis, extrapolating from McKinsey analyzed trial results with over several thousand data-points, the value per share of $26.12 seems reasonable and justifiable. Whether the market alone will choose to ever fairly ascribe such a value to GlobeImmune is of course up for debate. Personally, I do continue to believe that in the short term, this pricing mismatch presents a strong and compelling potential acquisition to any opportunistic party seeking to maximize returns. With GlobeImmune retaining Cantor to actively seek strategic alternatives and open to offers, the window to make a mutually beneficial deal is clearly open.
Revisiting NOLs
On a side note, based on my previous article, I have been reliably informed by close watchers of GlobeImmune that the usable number of Net Operating Loss carry forwards is $125million. If the company receives a reverse merger, the acquiring party will therefore be able to derive a tax benefit of $55m equivalent to $9.56 per share.
Run Up to July 1st
The price action for GlobeImmune has been tremendously volatile over the last few recent days. I cannot state where I expect the price to be over the next couple of weeks. What I have found very interesting is the knee-jerk rise in short interest in this stock. I cannot understand why someone would choose to short here. I can only presume there is a component of algorithmic trading here and retail 'regression to the mean' shorts. The latter tread on dangerous ground and require extraordinary evidence as to why this company is fundamentally worth under $10m.
Nevertheless, I can completely understand if people choose to sit out this trade, as after all the price may indeed heavily drop. However, on a float of just 5.75m shares when any hostile bidder has up to 10 days to file a schedule 13D and 15 million shares were traded just on 17 June, I would certainly not short here.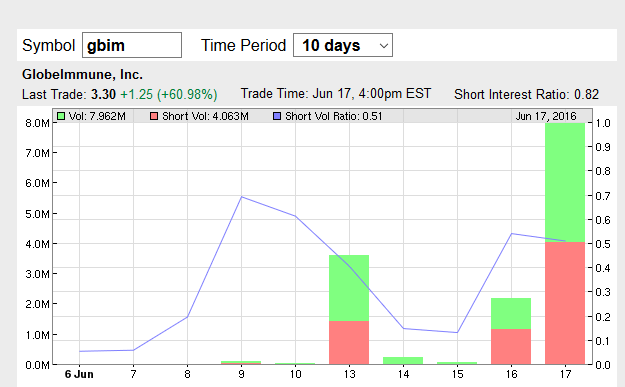 Source: Shortvolume.com
With such a small float also, any share price increase could lead to short covering and cause a genuine short squeeze. As always as with any micro-cap biotech company, I'd always advise readers to use only pure-risk capital and conduct their own due diligence before making any capital allocation.
Disclosure: I am/we are long GBIM.