Zosano Pharma (ZSAN), a company with a great drug application (M207) for treatment of acute migraine is I believe unjustly undervalued with a sharp correction upwards likely. I have conducted considerable due diligence and pardon the pun, I find it headache-inducing how this company has remained out of the spotlight for so long.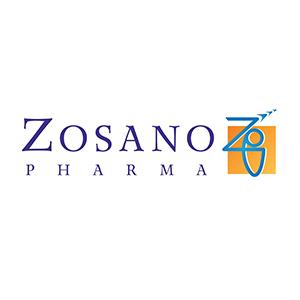 When we deal with large caps, companies like Apple (AAPL) or Gilead (GILD), the analytical coverage is so good, so detailed with added exposure from the news media and the like that we can safely say that the efficient market hypothesis (almost) works. Sure, there still tend to be 30-40% swings from 52-week highs to lows, but by and large, we understand how the price is derived.
When we start delving however into the micro-cap space, analytical coverage starts dropping off. Furthermore, bigger hedge funds just don't care (when you're managing $1bn plus, dealing with a $50m company like Zosano causes problems of scale mismatch). In this space, what we are left with are the most intriguing companies possible. This is where I personally believe we can actually achieve 'Seeking Alpha'. Sure, some of these micro-caps raise numerous red-flags. Yet others, you try to find the red-flags and all you see are positives, yet they remain undervalued for a short while till the investment community belatedly catches up.
I genuinely feel this is the case with Zosano Pharma, I've taken a large long position after conducting my own due diligence. I felt the same with Aurinia (AUPH), which similarly to Zosano despite a successful trial dropped and stayed low for a few weeks. In that instance, I bought at $2.54 (average price), I sold too early but I made a very healthy profit with the price still currently above $6. I also felt the same about Relypsa (RLYP), which I first bought at ~$13 and stayed with until the company was taken over at $32. I'd always advise readers also to conduct their own research, but here are some of the reasons why I've taken a position in Zosano.
The Drug Works
This of course has to be the first and primary reason to own any biotech stock. I'm so used to seeing tortured data analysis by some biotechs that it is a real genuine pleasure to see measurably great results.
The company press release in February 2017 published the following data:
"The 3.8mg dose of M207 achieved statistical significance for both co-primary endpoints at two hours:

Furthermore, secondary endpoints measuring pain freedom at additional time points for the 3.8mg dose of M207 showed M207 superior to placebo with a nominal p-value less than 0.05."

Key Opinion Leaders Agree the Drug Works
As an investor and day/swing trader, I am not a doctor or a medical researcher. So, I naturally look for expert opinion to help inform my own research and due diligence. In this case, Slingshot Insights (Subject Matter Expert interviewers) have already published an article on Seeking Alpha which indicate how impressive the results were. A subscription is required to access this service but one I'd highly recommend to larger biotech investors.
Suffice to say, the KOL interviewed by Slingshot Insights, Dr. Peter Goadsby described as the "World's Leading Headache Expert" felt the results were "very impressive" in Zosano's "large, well powered phase 3 study". Perhaps more accessible to general investors, Dr. Bhavneesh Sharma for Seeking Alpha has a similarly bullish view of the drug and its prospects (1. free to view; 2. subscription required).
The drug has a great safety profile with positive commercial implications
Sometimes, the obvious can seem too simple and gets unfairly overlooked. However, in this case M207's safety profile (and Zosano's delivery system in general) could be a very valuable asset to the right big pharma company looking for a takeover. Teva (TEVA) last year for instance had to shelve a migraine patch that it bought for $144m (with CVRs worth up to an additional $100m+) which is rather intriguingly up to 5 times the current market capitalization of Zosano.

Teva had to recall NuPathe due to "severe redness, pain, skin discoloration, blistering, and cracked skin". Zosano's M207 on the other hand has had zero Serious Adverse Events (SAEs). There was minor resolvable redness observed (18.3%), which is tolerable considering the remarkable pain freedom scores observed.

Personally, I am not sure that Teva will purchase Zosano as it has already had a negative experience with NuPathe. However, it does provide a useful insight into the real commercial value of Zosano's safer delivery system. Once again, this to me parallels the experience of Relypsa which had its inferior competitor ZS Pharma bought out by Astra Zeneca (AZN) prior to its own takeover. Sometimes, superior companies are bought out after their competitors, but in biotechs, the truly compelling propositions tend to be ultimately rewarded in the end.
Chart technicals provide a solid base
Moving onto the share-price performance, the stock has moved from treating the $1.20-$1.30 range as a resistance pre-February to a strong support.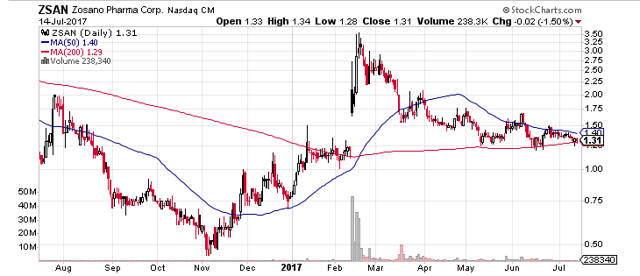 As can be seen the Simple Moving Averages (50,200 etc) are also heavily narrowing. When this occurs, it is quite typical for there to be a sharp movement either up or down to establish a new equilibrium. Personally, as the company is in a much stronger position today than it was pre-February, I believe the new equilibrium will be somewhere north of $2 once the company gets some deserved exposure. This is further buttressed by the fact it conducted a large offering at $1.50 for $25.5 million in March. Not only does this lead to the company having an absurdly low enterprise value of ~$40m but in my experience large institutions don't participate in these offerings unless they expect a decent return.
Insiders bought large in May 2017
CEO John Walker purchased 73k shares at $1.36 and Chief Business Officer bought 68k shares at $1.32. The share price remains around this level today meaning newer investors can purchase at a similar price to insiders. Insider purchases are normally a bullish signal as they naturally have much more information than outside investors. I am therefore treating this as a bullish signal here also.
Lazy short interest has reached a record high at 12.6%
Short interest hit nearly 5 million shares by the end of June. An increase from 3.6 million at the end of May. This rather sizable spike of 1.4 million shares that has flooded the market has not actually caused an appreciable decline in ZSAN share price. Instead support holds firm at $1.30. Personally, I don't understand why a hedge fund could take an active short interest in the company. So, I am therefore inclined to believe this is lazy algorithmic short interest which is falsely presuming the stock will stay out of the spotlight. Algorithmic shorts such as these are more prone to automatically covering once their stop losses are hit. This is likely to assist any boost in volume and interest in the stock and make it more achievable to hold above the $2 mark.
There are both near term catalysts for swing traders and long term for position investors
Zosano has already announced a positive meeting with the FDA and is on track to commence a new long term safety study this quarter (Q3 2017). Considering the drug itself is tried and tested and therefore eligible for the 505 (b) (2) pathway one can be 'cautiously optimistic' in the CEO's words that this trial will succeed and lead to a favourable PDUFA for M207. Zosano will also present at 2 leading industry conferences in September. I suspect these particular dates have been chosen as they will coincide with the commencement of their Phase 3 trial and will help generate more interest in the company.
Longer term, Zosano has a decent pipeline, all using its transdermal delivery platform.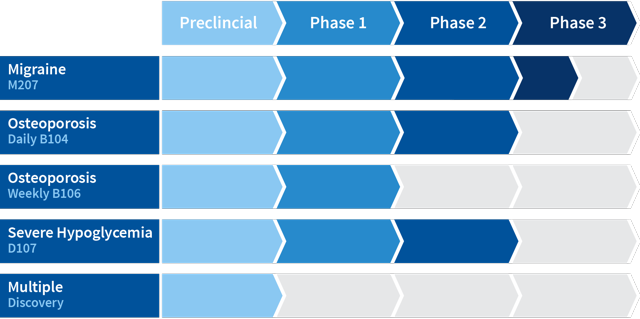 My personal feeling is that a buyout will occur before this entire pipeline comes to fruition. If it does occur, it is likely to happen anytime from now to shortly after a successful conclusion of its Phase 3 trial for M207.
My Personal Price Targets are $2 short term and $4+ medium to long term
Based on my personal due diligence: looking at Piper Jaffray's price target of $4; at Zecuity being bought by Teva for $144m+ (equivalent to $6+ for ZSAN); fellow contributor Bhavneesh Sharma's pre dilution $12 price target, I think my price targets of $2 in the near term and $4+ in the long term are entirely reasonable. This would represent a ~50% increase over the share price on 14th July in the short term and up to a 300% increase over the longer term.
On a final note - A fellow contributor decided to cut his modest losses on ZSAN over the last week because it was under-performing. I understand and completely appreciate his reasoning. But I humbly disagree. I believe stocks such as ZSAN do not behave linearly but are prone to rapid changes in price after periods of relative calm. I still think his initial call was right. ZSAN could still be a runner of the year, it's fundamentals remain solid and if anything, I believe every day forward brings us closer to a positive ultimate outcome to the stock.

As ever, please conduct your own due diligence. I write these pieces to partially help me with my own thought processes and as part of my own research. All the best in your own trades.
Disclosure: I am/we are long ZSAN.