At the beginning of this month Samsung (OTC:SSNLF) launched its online banking application - Samsung Pay in Europe. The move represents an attempt to increase its presence in the FinTech space and fight Apple (NASDAQ:AAPL) with its Apple Pay for the place under the sun.
The app previously was released last year in Samsung's home country South Korea and in the US. It was very successful among consumers and plans to expand into the European markets are reasonable. Samsung Pay is currently comparable with the following devices from the Galaxy ecosystem: Galaxy Note, Galaxy S6, Galaxy S6 Edge, Galaxy S6 Edge Plus. But the company said that it will make it available for the users of other smartphones outside of Galaxy ecosystem later this year.
Market Overview
In the last few years online banking services quickly gained traction. In 2015, more Americans have used mobile banking for booking air tickets, paying for a taxi and booking tables at a restaurant. But the real growth the industry will experience in the next few years. BI Intelligence estimates that in 2018 the industry will reach a market cap of $189 billion with comparison of $1.8 billion in 2013, making it a CAGR of 154%: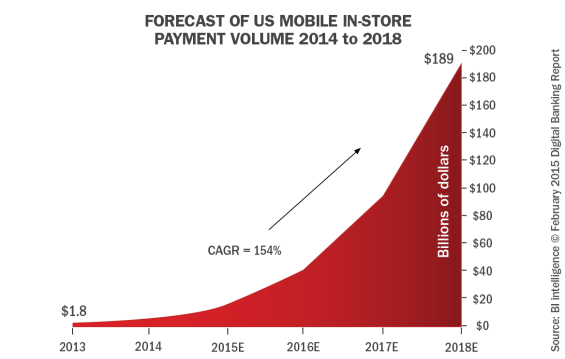 (Source : BI Intelligence)
And if we look at the mobile banking market, we would see that there're two different kinds of applications. The first category of apps is available for any smartphone with Android, iOs and Windows operating systems. The examples are services like Google Wallet and PayPal.
And on the other hand we have apps like Apple Pay and Samsung Pay that are only available for their own ecosystems and you cannot use them on other devices. Here's the comparison between them: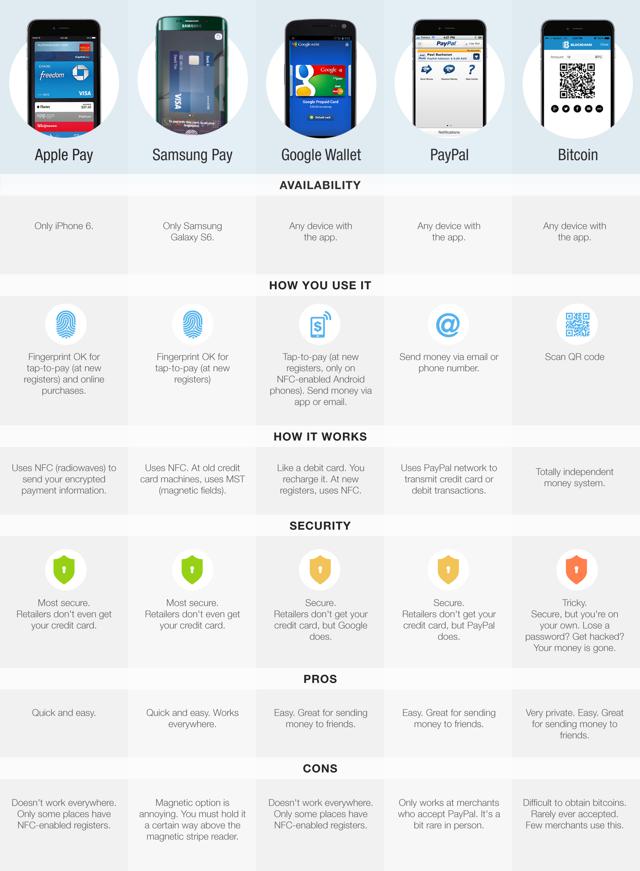 (Infographic: Gwen Sung / CNNMoney)
And as the smartphone market grows, all of the competitors along with Samsung will see a demand for the kind of banking services that they're offering.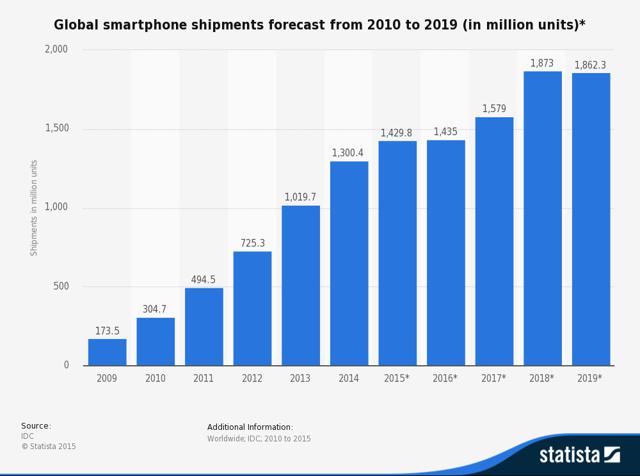 (Source: Statista)
Conclusion
Today banks are becoming friendlier to online transactions and the list of services that offer online payments are increasing each year. Given the enormous potential of online banking industry, more and more companies will be eager to join the race and take some chunk of the market. But unlike others, Samsung has a reputation for being an honest company with years of experience of doing business worldwide. And given fact that in online banking companies are dealing with others people personal information, the brand name will play an important role for consumers in choosing to whom to trust their account.
The only competition that Samsung is facing is coming from Apple with its Apple Pay service. And that's why to win the battle the company is trying to increase its presence in the European markets as fast as possible and strengthen its position in US and Asia.
Given the industry perspectives and the resources that Samsung has, 2016 is promising to be the year of online banking and the company will do everything it can to dominate the field and crash its competition with releasing app for consumer outside of its main Galaxy ecosystem.
Disclosure: I/we have no positions in any stocks mentioned, and no plans to initiate any positions within the next 72 hours.
I wrote this article myself, and it expresses my own opinions. I am not receiving compensation for it (other than from Seeking Alpha). I have no business relationship with any company whose stock is mentioned in this article.