Lately, there is new regulation concerning recreational use of medical cannabis. Many small companies that were lacking investors are now growing in a fast rate. BreedIT Corp (OTCMKTS:BRDT) is a new company that has entered into the unmet field of breeding medical Marijuana. Although there are several big seed companies like Monsanto, Syngenta, and the Israeli company Evogene, (that have self breeding capabilities) BreedIT is targeting the small and medium seed companies and independent breeders and researchers. BreedIT has both the knowledge and the software to bring science to the growth of medical Marijuana. As Mark Twain said: "When everyone is looking for gold, it's a good time to be in the pick and shovel business."
The medical cannabis field has grown in the recent years as more states in the USA are willing to allow Marijuana for recreational use. Recently, Colorado and Washington have sanctioned the purchase of Marijuana for recreational use. Furthermore, there are already twenty states, including Massachusetts and California, that have legalized the use of medical Marijuana. Also, there are six new states considering legalizing the use of medical cannabis, including New York, Kentucky, Minnesota, Ohio, Pennsylvania and Tennessee. This new development concerning Marijuana emphasizes the need of new technologies for more efficient growth of improved Marijuana. Efficient growth can be achieved by breeding Marijuana. Breeding can help in controlling the concentration of the active compounds Tetrahydrocannabinol (THC) and Cannabidiol (CBD), in raising the resistance to plant disease and in increasing the crop yield. BreedIT Corp has the ability to be a game changer in this field. By using its "Intelligent Decision Support System" (IDSS) and its experience in plant breeding, it can become the leading breeding company in the Marijuana field.
BreedIT Corp, through its Israeli subsidiary BreedIT Ltd, is the exclusive worldwide license holder and distributor of the "Intelligent Decision Support System" (IDSS) that is a highly sophisticated agro-breeding solutions software for plant breeders and researchers. BreedIT Corp acquired a 67% stake of BreedIT Ltd in August 2013. The remaining 33% stake currently belongs to BreedIT Ltd founder and CEO Dr. Oded Sagee, an agronomist with outstanding managerial and business experience. Recently BreedIT Corp has appointed new experienced executives, including Oded Gilboa as the CFO, Mr. Itschak Shrem as its new chairman, Yoel Yogev as the CEO, and Dr. Ben Zion Weiner as BOD member.
The management of BreedIT, led by Dr. Oded Sagee, is impressive. Among other positions, he served as the manager of Business Development and as chief scientist at "Gaon Agro Industries" and also served there as technology advisor. The addition of Mr. Itschak Shrem as chairman of BreedIT Corp raised the team to new heights. Mr. Shrem is one of the most experienced funders and mangers in Israel. His achievements are impressive and include: Principal of "Dash Securities and Investments Ltd"; in 1993 Mr. Shrem founded "Pitango Venture Capital Fund"; managing partner of "TechnoPlus Ventures Ltd"; chairman of "Leader Holdings and Investments Ltd." and "Polar Communications Ltd.". Mr. Shrem served for 15 years at "Clal Israel". He serves as chairman of "Sphera Funds Management Ltd". This is only half of the impressive CV of Mr. Shrem`s record. And this is not all: Recently, Dr. Ben Zion Weiner joined the management team. Dr. Ben-Zion Weiner, BSc, MSc, PhD, was the Chief Research and Development Officer of "Teva Pharmaceutical Industries Ltd". Dr. Weiner served as the Group Vice President of global products of "Teva Pharmaceutical Industries Limited" and "Teva Pharmaceutical Finance LLC" from April 2002 to January 2006.
This management team has the experience and knowledge to make BreedIT a leading player in the field of medicinal Cannabis breeding.
One might ask why Mr. Shrem is interested in BreedIT? In a shareholders note he commented: "We have complete trust and confidence in our subsidiary's management team led by CEO Dr. Oded Sagee, supported by Chief Scientist Consultant Professor Haim Rabinowitch, Chief Technology Officer Mr. Yahali Sherman, and Product Manager Agr. Drora Balga, and their ability to execute on defined strategic growth objectives. It is our belief that this team can succeed in implementing Dr. Sagee's vision and business plan initiatives effectively. Initiatives include offering our technology to seed company breeders and researchers including recurrent revenues model for related services; leveraging our technological advantages to sign JV agreements in an effort to acquire seed rights; selling academic courses for professional breeding; becoming a leading player in the field of medicinal Cannabis breeding "heal the world"; participating in "feed the world" global projects to improve agriculture in third world countries, and lastly, establishing a "high end" scientific advisory board to support all of our business initiatives."
I believe Mr. Shrem aims mostly at two goals: "heal the world" and "feed the world".
The strategy of BreedIT
The company`s marketing strategy has 3 arms:
1. The basis of their operation is selling the "Intelligent Decision Support System" (IDSS) software. The company is aiming to market IDSS to small and medium growers, estimating that there are 50,000 potential customers who need this software to help them breed their own plants. The company also aims to market IDSS to developing countries that need to breed plants in order to achieve more efficient growth of food. The company not only supplies the software but will provide academic courses for professional breeding.
2. The company will help seed companies, breeders and researchers to breed new and improved crop. In this area the company will help in planning and breeding and may keep some percentage of the revenue. In the field of medical Marijuana, this new breeding with the help of IDSS, should lead to a new and improved brand of Marijuana. As part of their strategy, and since there are different needs for different concentration of the active compounds THC and CBD or other compounds, BreedIT is aiming to breed Marijuana according to the researchers or company request.
3. The company will invest with the grower. BreedIT will enjoy an agreed percentage of the revenue.
Intelligent Decision Support System" (IDSS) software
IDSS was developed at The Robert H. Smith Faculty of Agriculture, Food & Environment of the Hebrew University of Jerusalem by a team led by Professor Haim Rabinowitch. The advantage of IDSS is that it was designed by breeders for the purpose of optimizing their breeding procedures. The purpose is to generate and disseminate breeding information, allowing breeders to plan, manage and analyze breeding data, as well as to perform research quickly and effectively. IDSS is tailor-made according to a breeder's specific needs, crop, and breeding goals. There are many genes that control the appearance and taste of crop. The software aids seed companies, breeders and researchers in arranging the large data and recommends which plant to breed according to the breeder`s and researcher`s demand. The IDSS simply helps shortening the time to market and securing better results, this is the economic advantage of using the software. The company will offer the IDSS technology and academic courses for professional breeding.
IDSS covers all fields of activity involved in breeding, assists the breeder at every stage of the breeding process, including planning, field work, harvesting, and data analysis. It facilitates communication between all related disciplines, including phytopathology, molecular biology, agronomy, field and laboratory trials. It significantly improves the planning, execution and management of the trial or growing process. IDSS was designed by breeders for breeders and this is the advantage over software that was designed by software engineers for breeders.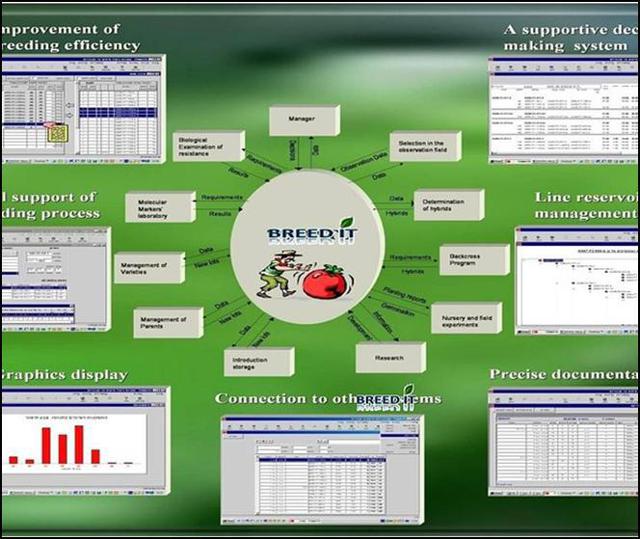 IDSS has already been sold to three customers. The current use of IDSS is in the tomato and paper breeding. The tomato breeding that was led by Professor Haim Rabinowitch is with the use of IDSS the world's most popular hybrids cocktail for greenhouse production. It offers improved shelf-life, yield, and quality, and has revolutionized the fresh market industry, both indoors and in open fields. This tomato has outstanding sales of the cherry tomatoes and has led to the success of Israel's top two seed companies. The paper breeding is led by Dr. Yonatan Elkind from the Hebrew University with the use of IDSS. The hybrid peppers bred at the Hebrew University have a broad ecological adaptability and a high yield and are suitable for cultivation in passive greenhouses and in mild winter areas. The peppers are produced in collaboration with Zeraim Gedera (owned by Syngenta). According to the company, IDSS can help in plant breeding but in the future it will theoretically might also assist in animal breeding.
In the field of medical Marijuana, BreedIT is currently in advanced negotiations with an Israeli company (customer) which is developing a new medical device for the medical Cannabis market. Should the negotiation will mature, BreedIT will license the IDSS for optimizing the breeding of Cannabis varieties. BreedIT has stated: "The medical device maker is considering a purchase of BreedIT's licensed technology to help determine which Cannabis varieties are better suited for use with its new medical device. Also under consideration is the potential cooperation between the customer and BreedIT to utilize its IDSS in the development of new medical Cannabis varieties, with mutual ownership on the products."
Valuation
BreedIt balance sheet consist of around 300-400 K $ of cash. In addition, since its income sheet should be quite simple and most profits will yield free cash flow, a complete DCF approach is not required. As mentioned, there are approximately 50,000 breeders around the world which are potential customers for BreedIt solution. Many of them are too small to pay the license for the IDSS, however few thousands of them surely can, and will become costumers. Therefore, I forecast sell of at least 10 IDSS software's until the end of this year. These sales will give approximately 1M $ in revenue, not including optional support and courses. BreedIt has low annual operating costs of about 400 K $, which could lead to a positive EPS even this year. Altogether, this money alone with the expected new sales will be sufficient until the end of 2014.
The company is aiming higher in the next few years. According to its recent publications, one of its main targets for the coming year is to recruit more marketing agents to help market the IDSS software around the world, targeting 20M-30M $ revenues in 2016. Moreover, in the longer term, deals concerning medical Marijuana will include rights/% of the seeds they help to breed. These seeds will have the potential to increase the revenue. Remembering the large number of breeders out there and BreedIt competitive advantage, this is not too optimistic. Even with a much more conservative near-term sales growth and valuation based on lower multiples, this company is worth at least 60-70 M $, 2-4 times its current Enterprise Value.
This is obviously a rational fundamental view, but in this case one has to take into account also the stock-momentum and psychological aspects. Medical Marijuana stocks are traded these days at high 2 to 3-figures price multiples, giving market caps of 100's of millions of dollars to companies without revenue or earnings. Obviously, the medical Marijuana companies are much smaller than the average seed company, thus BreedIt entrance into the field won't dramatically change its short term revenue stream. But, its announcement of operating in the field will probably continue to positively affect its stock price, increasing its current attractiveness.
Risks
There is no investment without a risk attached to it: Being a young company, part of BreedIT`s risk is that our expected sales forecasts might not be met. Also, BreedIT is traded at the OTC market, and it is always risky to invest in OTC-companies. Nevertheless, there is no success without taking chances. As to competition, other companies may compete with BreedIt, however, BreedIt`s software was proved to be efficient, which is a big advantage over others.
Conclusion
Today BreedIT is a small company aiming to change the way seed companies, breeders and researchers are breeding and help improve crop. BreedIT is making the first steps in the OTC where it is traded. The company shares rose in the last two months by 400%. Given the BreedIT`s potential and given the buzz that cannabis stocks are enjoying in the last year, I think BreedIT will continue to rise. BreedIT`s market cap is around 30M $ and the share price is 0.44 $ at time of writing. Given the growing potential of the cannabis market and the potential of BreedIT, I believe BreedIT`s shares will hit the 1$ within the next month and 1.5$ per share until the end of 2014.
Disclosure: I am long BRDT.