BioLineRx (NASDAQ:BLRX) is a clinical stage biopharmaceutical development company dedicated to identifying, in-licensing and developing therapeutic candidates that have advantages over currently available therapies or that address unmet medical needs. BioLineRx's pipeline is developed usually through Phase II proof of concept in humans, afterwards the company partners with medium size and large pharmaceutical companies to complete the clinical development and bring the product to the market.
As described in the table below, BioLineRx's pipeline currently consists of seven clinical stage therapeutic candidates with several potential blockbuster products. BioLineRx has one of the most catalyst-rich programs in 2014 of any small-cap biopharmaceutical company with top line results in Acute Myocardial Infarction (AMI), Acute Myeloid leukemia (AML), Celiac Disease, Hepatitis C Virus (HCV), Stem Cell Mobilization and Skin Lesions. In this review I present BioLineRx's rich and diverse pipeline and argue why BioLineRx is extremely undervalued and could be a huge winner in 2014.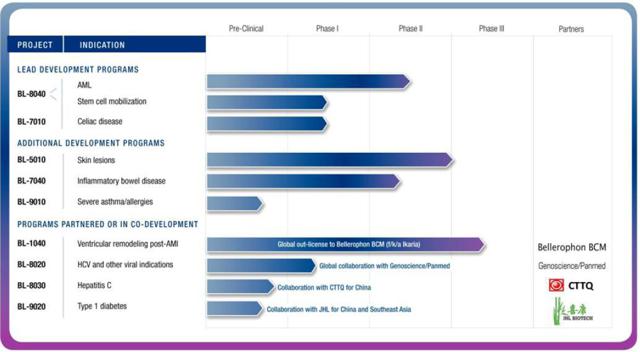 BioLineRx's pipeline currently consists of seven clinical stage therapeutic candidates:
BL-1040
This technology represents a unique approach to supporting cardiac tissue damaged as a result of ischemia. This agent is administered as a liquid via intra-coronary injection, which, upon contact with damaged cardiac tissue, transforms into a gel. This gel provides mechanical support allowing the damaged tissue to heal as a more compact, less dilated and "tighter" scar, which results in improved long-term cardiac function. The gel is later absorbed naturally and is excreted from the body within six weeks. Safety and biocompatibility studies revealed no evidence of local or systemic toxicity at equivalent, and significant, multiples of the anticipated human dosage. The results of these studies show that BL-1040, administered at up to 7 days post acute myocardial infarction (AMI), improves survival, prevents the dilation of left ventricular end systolic and diastolic volume, prevents fractional shortening deterioration and improves mitral regurgitation. The treatment also minimizes the systolic wall thinning, a finding consistent with the prevention of progressive infarct expansion.
BL-1040 was out-licensed in July 2009 to Ikaria Inc. for continuation of development and commercialization (under the name IK-5001). Total deal structure $282.5 million; $17 million already received; 11-15% royalties. All program costs are funded by Ikaria. Ikaria recently announced the sale of commercial operations to Madison Dearborn and the spinoff of R&D operations (including BL-1040) into a separate entity, showing the confidence in this program.
BioLineRx has completed a phase I/II pilot clinical trial designed to assess the safety and feasibility of BL-1040 in patients who have experienced a significant AMI. An Independent Safety Monitoring Board (ISMB) reviewed the data from the study and concluded that the treatment is safe and clinical development of the agent may continue.
BL-1040's first pivotal trial, examining safety and efficacy, is expected to be completed this year. This trial aims to evaluate the safety and effectiveness of BL-1040 in the prevention of ventricular remodeling and congestive heart failure when administered following AMI. The trial is a placebo-controlled, double-blind trial including approximately 306 patients who will be treated with BL-1040 following AMI and will then be monitored for six months. Endpoints: End diastolic volume, QLQ, six-minute walk test. BL-1040 is being developed as a class III medical device under the FDA's pre marketing approval, or PMA, regulatory pathway. The company CFO and COO, Mr. Philip Serlin says: "We believe BL-1040 represents an annual market opportunity of $1-billion." The results are expected in H2 2014.
BL-8020
BL-8020, an orally available, interferon-free treatment for Hepatitis C (HCV). BL-8020 is a potent antiviral composition which acts synergistically when combined with other HCV inhibitors. BL-8020 acts via a unique mode of action, inhibition of HCV-induced autophagy. This approach differs from the mode of action of current anti-HCV agents and therefore substantially improves their effect in the treatment of HVC infection. BL-8020 is currently in a Phase I/II clinical trial. The study is an open-label trial to evaluate the efficacy, safety and tolerability of BL-8020 in patients infected with HCV.
The HCV market represents a vast commercial opportunity for BioLineRx. As per data from a 2011 report from Decision Resources, approximately 180 million people are suffering from chronic HCV globally. The global HCV market is expected to be worth $20 billion by 2020 as opposed to $6 billion in 2011. BL-8020 is being developed by BioLineRx Ltd. under a worldwide exclusive license agreement with Genoscience. In January 2014, BioLineRx agreed with the licensor's, Genoscience and Panmed Inc., or Panmed, that as of April 1, 2014, the license agreement would be terminated and that BioLineRx would enter into a collaboration agreement. Pursuant to the collaboration agreement, the licensors agreed to take over development of the drug and pay BioLineRx a percentage of future revenues from the product, and BioLineRx agreed to supply, at the licensors' request and cost, the drug needed for a clinical trial to be administered by the licensor's. In the near future Genoscience and Panmed will be deciding on the direction of the current phase 1/2 study and will assess potential additional indications. Top line partial results are expected until the end of Q1 2014 and the full results during H2 2014.
BL-8040
BL-8040 is a short peptide that functions as a high-affinity antagonist of CXCR4, a chemokine receptor that is directly involved in tumor progression, angiogenesis, metastasis, and cell survival. CXCR4 is over-expressed in more than 70% of human cancers and its expression often correlates with disease severity. BL-8040 binds to CXCR4 on tumor cells and blocks its availability to the ligand CXCL12; this binding leads to apoptosis (programmed cell death) or release of the tumor cells from the protective microenvironment of the bone marrow, thus exposing the cells to chemo anti-cancer therapy.
BL-8040 is undergoing a Phase II multicenter, open-label study under an IND, designed to evaluate the safety and efficacy profile of repeated escalating doses of BL-8040 in adult subjects with relapsed or refractory acute myeloid leukemia (AML). Up to 50 patients are expected to be enrolled in the study, which is expected to be conducted at eight sites in the U.S. and Israel. The primary endpoints of the study are the safety and tolerability of BL-8040. The study is also designed in a way that will enable the investigators to evaluate the capabilities of BL-8040 in mobilizing cancer cells from the bone marrow to the peripheral blood, and in inducing their cell death. Initial results from the Phase II clinical trial for patients with relapsed or refractory AML show that BL-8040, in combination with high-dose Cytarabine (Ara-C), is safe at all doses tested to date, and triggers substantial mobilization of cancer cells from the bone marrow to the peripheral blood. Also, BL-8040 causes robust apoptosis of cancer cells that were observed following administration of the higher doses. The U.S. Food & Drug Administration (FDA) has granted an Orphan Drug Designation to BL-8040 as a therapeutic for the treatment of AML.

BioLineRx plans to commence a Phase I trial for BL-8040, for the mobilization of stem cells from the bone marrow to the peripheral blood circulation. Also, BioLineRx recently enhanced the acceptance of a notice from the FDA confirming an Orphan Drug Designation of BL-8040 as a treatment for stem cell mobilization, in addition to the Orphan Drug Designation previously granted to BL-8040 as a treatment for AML. It is not so common to have two orphan drug designations for one drug.
BL-5010
BL-5010 is a novel aqueous formulation composed of approved components for the non-surgical removal of benign and pre-cancerous skin lesions, such as seborrheic keratosis (SK) and actinic keratosis (AK). This treatment offers an alternative to painful, invasive and expensive removal treatments including surgery, cryotherapy and laser treatment. The formulation is applied topically to the lesion for a few seconds and causes it to gradually dry out and fall off within one to four weeks. BL-5010P is a disposable, non-invasive, pen-like applicator containing the BL-5010 solution which aims to increase the safety and accuracy of the treatment. Both BL-5010 and BL-5010P have received approval in Europe for the regulatory pathway classification as a Class IIa medical device. A Phase 1/2 pilot study, performed on 60 patients with SK, demonstrated that a single topical application of BL-5010 was effective in 96.7% of the cases for removal of the target lesion within 30 days.
BioLineRx has received approval from the German Federal Institute for Drugs and Medical Devices (BfArM) and the Ethical Committee in Germany to commence a pivotal, CE Mark registration trial for BL-5010P (State-of-the-art applicator). BioLineRx pivotal multi-center study is a single-arm, open-label, bridging study of BL-5010P. This study will aim to re-confirm the efficacy, safety and tolerability observed in the earlier clinical study using the BL-5010P applicator in patients with SK. Twenty patients at up to three leading sites in Germany will be enrolled. The primary study endpoint is the complete lesion removal rate at Days 30, 90 and 180 after treatment.
According to a work done by Edison, the expected net sales are between 50-70M$, while the market was estimated to be 0.5B$. This trial is planned to commence in H1 2014. Study results are expected during H2 2014.
BL-7040
BL-7040 is an orally available, synthetic oligonucleotide with unique dual activity, being developed for the treatment of inflammatory bowel disease (NYSEARCA:IBD). It has a specific agonist effect on a receptor involved in the immune system and inflammatory reactions called Toll-Like Receptor 9 (TLR-9). It also acts as a specific suppressor of acetylcholinesterase, a key enzyme involved in neurological pathways. BL-7040 has an indirect effect on the production of pro-inflammatory cytokines as well as anti-inflammatory properties via modulation of macrophages.
BL-7040 was found to be safe and effective in treating ulcerative colitis, a form of IBD, in a Phase IIa study. The Phase IIa trial was an open-label trial to evaluate the efficacy, pharmacodynamics, safety and tolerability of the drug in patients with moderately active ulcerative colitis. These results were summarized by Dr. Kinneret Savitsky, Chief Executive Officer of BioLineRx: "Ulcerative colitis and Crohn's disease are prevalent conditions that affect the quality of life of millions across the globe. It is estimated that as many as 1.4 million individuals in the U.S. suffer from these diseases. In addition to discomfort, which can be quite extreme, IBD can cause significant complications, including anemia, intestinal abscesses, intestinal perforation and more. Current treatments are far from satisfactory, and many people stand to benefit from a new and effective treatment." Furthermore, IBD has few specific treatment options available. Sales of existing drugs are estimated at $1.8 billion annually; however, current treatment options do not fully address the patients' needs.
BL-7010
BL-7010 is a novel, high molecular weight, non-absorbable, orally available polymer intended for the treatment of celiac disease. It has a high affinity for gliadins, the immunogenic proteins present in gluten that cause celiac disease. By sequestering gliadins, BL-7010 effectively masks them from enzymatic degradation and prevents the formation of immunogenic peptides that trigger the immune system. BL-7010 is excreted with gliadin from the digestive tract, preventing the absorption of gliadin into the blood.
This designation has a target market estimated by $8 billion. Approximately 1% of the world's population suffers from celiac disease. The number is underestimated due to lack of awareness/diagnostic tools. There are no current pharmacological agents approved for celiac. The only treatment option is life-long, strict gluten-free diet (GFD). Two studies in celiac disease patients are planned in 2014:
1. Phase I/II study in celiac patients (ongoing). It is a single and repeated ascending dose study. Safety endpoints, no efficacy endpoints assessment of systemic exposure and Top-line results expected in mid-2014
2. Efficacy study in celiac patients. Including 6-week repeated oral administration. The results will include efficacy endpoints (primary and secondary) and safety endpoints.
Pre-clinical programs include BL-8030, BL-9010, BL-9020.
1. BL-8030 is a very potent and selective HCV NS3/4A inhibitor which has demonstrated a high genetic barrier to development of resistant variants. It is a second generation HCV NS3/4A inhibitor, has favorable in vitro characteristics including potency, selectivity, activity against resistant mutants, reduced P450 enzyme inhibition and a wide therapeutic index. BL-8030 has been out-licensed to Jiangsu Chia-tai Tianqing Pharmaceutical Co., Ltd. (CTTQ), the leading Chinese pharmaceutical company in the liver disease therapeutic area, for the development and commercialization exclusively in China and Hong Kong. BioLineRx retains the right to develop and commercialize BL-8030 in other parts of the world.
2. BL-9010 (previously called EDP-14) is a novel bispecific antibody treatment for severe and persistent asthma that targets and links together two immunological modulators IgE and CD300a. BioLineRx deffined this antibody as a first-in-class inhibitor of mast cell degranulation. Mast cells are major modulators of allergy in response to allergen stimulation of IgE. BL-9010 targets this effect by down-regulating IgE activation with the aid of the inhibitory CD300a molecule.
3. BL-9020 is a novel antibody treatment for prevention of the development of Type 1 diabetes. It was developed to treat Type 1 diabetes in early stage patients, during what is known as the "honeymoon period.". The insulin-producing pancreatic cells are not completely destroyed at this stage, and BL-9020 can preserve surviving cells, thus preventing full maturation of the disease. BL-9020 is an inhibitor of the Natural Killer (NASDAQ:NK) receptor NKp46. It was shown that NKp46 specifically recognizes pancreatic beta cells, leading to their destruction. Thus, supporting anti-NKp46 monoclonal antibodies can be seen as a new treatment modality for Type 1 diabetes. In January 2014 BioLineRx enhanced an agreement with JHL Biotech to collaborate in the development and commercialization of BL-9020.
BioLineRx Financial Position:
BioLineRx ended their third quarter with approximately $20.3 million in available cash. On March 7th, 2014 BioLineRx announced the closing of Public Offering for gross proceeds of approximately $24.1 million. According to this financial data, BioLineRx has approximately $44.4 million in available cash, not including the money the company has spent between September and now. BioLineRx`s annual burn rate is only ~$12 million, therefore the company has more than enough cash to fund operations through 2017 which is always a great advantage for a developmental biotechnology company.
2014 Major Milestones:
· BL-9020 (Type 1 Diabetes) collaboration with JHL
· BL-8040 (AML) phase 2 partial results- Q2 2014
· BL-5010 (Skin Lesions) pivotal EU study initiation- H1 2014
· BL-8020 (HCV) phase 1/2 partial results- H1 2014
· BL-8040 (Stem Cell Mobilization) phase 1 initiation- H1 2014
· BL-7010 (Celiac Disease) phase 1/2 top line results- MID 2014
· BL-5010 (Skin Lesions) pivotal EU study results- H2 2014
· BL-8020 (HCV) phase 1/2 topline results- H2 2014
· BL-8040 (Stem Cell Mobilization) phase 1 results- H2 2014
· BL-1040 (AMI) pivotal CE mark study results- H2 2014
· BL-8040 (AML) phase 2 topline results- H2 2014
Analyst coverage of BioLineRx
BioLineRx Ltd. is followed by the analysts; Edison at 9 December 2013, valued BioLineRx at $210m ahead of key catalysts, equivalent to $8.9/ADR (basic) or $7.9/ADR (fully diluted). Aegis Capital at December 2013 had a $7 price target. ROTH Capital Partners had a $5 in October.
Summary and Conclusion:
With market capitalization of only $80 million and more than ~$40 million in cash, BioLineRx's entire pipeline is valued by the market at only ~$40m. As such I see BioLineRx as an extremely undervalued company, presenting a great investment opportunity for the short and the long term. Positive data from any of the Multiple Near-Term Clinical Catalysts in 2014 could substantially increase the firm's valuation. In addition, after its recent successful financing the company has a very strong balance sheet with no current financial constrains for the next three years. This will also help the company in any future negotiations for a buyout or partnership.
My short term catalyst trade target opinion is around 4$, with a one year target opinion of 7$-9$ a share, or roughly 350M$, based on positive results from only several indications from the trials in Acute Myocardial Infarction (AMI), Acute Myeloid leukemia (AML), Celiac Disease, Hepatitis C Virus (HCV), Stem Cell Mobilization and Skin Lesions.
Disclosure: I am long BLRX. I wrote this article myself, and it expresses my own opinions. I am not receiving compensation for it. I have no business relationship with any company whose stock is mentioned in this article.