FEIC, FEI Company
** For the third quarter ended September 30, 2012, FEIC posted record revenue of $221.8 million, an 8% increase year over year, GAAP net income of $29.2 million, compared with $26.2 in the same period the prior year, and record net bookings of $223.3 million, up 20% compared to the third quarter of 2011.
According to FEIC's guidance, for the fourth quarter of 2012, revenue is expected to be in the range of $223 million to $233 million, and bookings are expected to be another record of at least $225 million.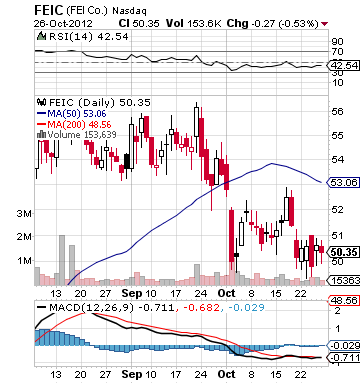 FEIC is a leading supplier of scientific instruments for nanoscale applications across many industries: materials science, life sciences, semiconductors, data storage, natural resources and more.
More about FEIC at www.fei.com.
******************
Read Full Disclaimer at http://CRWENews.com/disclaimer
www.crwenews.com/3357/stock-alerts/fei-c.../
Disclosure: I have no positions in any stocks mentioned, and no plans to initiate any positions within the next 72 hours.