CAR, Avis Budget Group, Inc.
** On its third quarter 2012, CAR posted revenue of $2.2 billion, a 34% increase year over year, and adjusted EBITDA, excluding certain items, of $377 million, a 39% increase compared to the same period the prior year, which represents CAR's highest-ever quarterly earnings.
According to its financial outlook, CAR expects its full-year 2012 revenue to be approximately $7.3 billion, a 24% increase compared to 2011.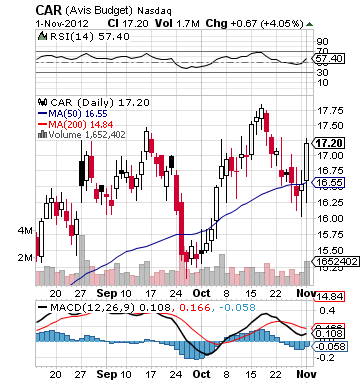 CAR is a leading global provider of vehicle rental services through its Avis and Budget brands, with 10,000 rental locations in approximately 175 countries around the world.
More about CAR at www.avisbudgetgroup.com.
******************
Read Full Disclaimer at http://CRWENews.com/disclaimer
www.crwenews.com/3360/stock-alerts/avis-.../
Disclosure: I have no positions in any stocks mentioned, and no plans to initiate any positions within the next 72 hours.