EZPW, EZCORP, Inc.
** On its fourth quarter fiscal 2012, EZPW posted total revenues of $258.4 million, net income of $38.6 million and earnings per share of $0.75, all records for EZPW's fourth fiscal quarter.
EZPW also generated record-setting performance for the full fiscal year 2012. Compared with the prior year, total revenues increased 14% to $992.5 million, net income increased 18% to $143.7 million and earnings per share increased 16% to $2.81, all records for EZPW.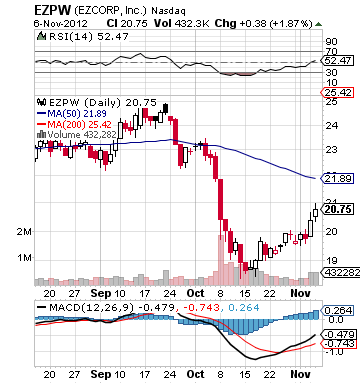 EZPW is a leading provider of instant cash solutions, including pawn loans, consumer loans, and fee-based credit services to customers seeking loans.
More about EZPW at www.ezcorp.com
******************
Read Full Disclaimer at http://CRWENews.com/disclaimer
www.crwenews.com/3364/stock-alerts/allia.../
Disclosure: I have no positions in any stocks mentioned, and no plans to initiate any positions within the next 72 hours.