SPEX, Spherix Incorporated
** SPEX reported that it has entered into definitive agreements to sell $2.6 million of shares of its common stock together with warrants to purchase additional shares of its common stock in a private placement transaction.
Under the terms of the offering, SPEX will sell an aggregate of 483,657 shares of common stock at a price of $5.324 per share along with warrants to purchase an additional 483,657 shares of common stock at an exercise price of $6.53 per share. The warrants shall be exercisable for a period of five years, but will not be effective until approved by the shareholders of SPEX.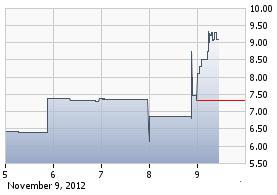 SPEX leverages its scientific and technical expertise and experience through its two subsidiaries, Biospherics Incorporated and Spherix Consulting, Inc.
Biospherics is dedicated to developing and licensing/marketing proprietary therapeutic products for treatment of diabetes, metabolic syndrome and atherosclerosis. Biospherics is exploring new drugs and combinations for treatment of high triglycerides, a risk factor for atherosclerosis, myocardial infarction, and stroke.
Spherix's Consulting subsidiary provides scientific and strategic support for suppliers, manufacturers, distributors and retailers of conventional foods, biotechnology-derived foods, medical foods, infant formulas, food ingredients, dietary supplements, food contact substances, pharmaceuticals, medical devices, consumer products and industrial chemicals and pesticides.
More about SPEX at www.spherix.com.
******************
Read Full Disclaimer at http://CRWENews.com/disclaimer
www.crwenews.com/3366/stock-alerts/spher.../
Disclosure: I have no positions in any stocks mentioned, and no plans to initiate any positions within the next 72 hours.