HIL, Hill International, Inc.
** HIL reported that it has received a contract from S.C. Aquacaras S.A. to provide design management and construction supervision services in connection with the modernization of water and wastewater infrastructure throughout Caras Severin County, Romania.
The three-and-a-half-year contract has an estimated value to HIL of approximately €3.4 million ($4.4 million).
The €92.0 million ($117.5 million) project entails the modernization of more than 122 kilometers (76 miles) of water infrastructure and more than 185 kilometers (115 miles) of wastewater infrastructure.
HIL's role is to supervise the execution of twelve separate design and construction contracts associated with the modernization program.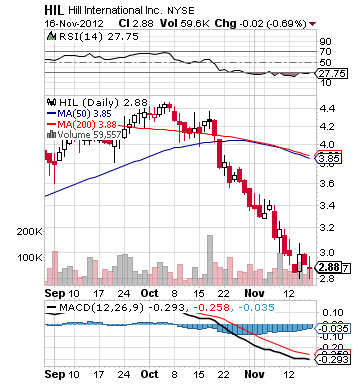 HIL provides program management, project management, construction management and construction claims and consulting services.
More about HIL at www.hillintl.com.
**********

Target web users based on demographic attributes such as gender, age or income. Reach a specific market segment with custom ad copy for powerful results. The targeted audience is more likely to be interested in the products/services offered and have an affinity with the brand.
Crown Equity Holdings Inc., (OTCPK:CRWE) offers advertising branding and marketing services as a worldwide online multi-media publisher with its digital network of websites and focuses on the distribution of information for the purpose of bringing together a targeted audience and the advertisers that want to reach them.
CRWE's advertising services cover and connect a range of marketing specialties, as well as provide search engine optimization for clients interested in online media awareness.

CRWE's division CRWE AD-Services (www.crwe-adservices.com), is a full service multimedia advertising company specializing in internet marketing. It provides modern and unique advertising campaigns, dedicated to offering the most cost effective advertising solutions.
More about CRWE at www.crownequityholdings.com.
******************
Read Full Disclaimer at http://CRWENews.com/disclaimer
www.crwenews.com/3373/stock-alerts/hill-.../
Disclosure: I have no positions in any stocks mentioned, and no plans to initiate any positions within the next 72 hours.