DAKT, Daktronics, Inc.
** On its second qurter fiscal 2013, DAKT posted net sales of $149.9 million and net income of $11.5 million, or $0.27 per diluted share, compared to net sales of $135.9 million and net income of $4.0 million, or $0.09 per diluted share, in the same period the prior year.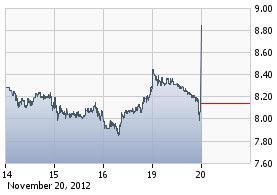 DAKT has strong leadership positions in, and is the world's largest supplier of, large screen video displays, electronic scoreboards, LED text and graphics displays, and related control systems.
More about DAKT at www.daktronics.com
******************
Read Full Disclaimer at http://CRWENews.com/disclaimer
www.crwenews.com/3374/stock-alerts/daktr.../
Disclosure: I have no positions in any stocks mentioned, and no plans to initiate any positions within the next 72 hours.