VSNT, Versant Corporation
** Actian Corporation and VSNT, both industry leaders in real-time information management, reported that they have entered into a definitive merger agreement pursuant to which Actian will acquire all of the outstanding common shares of VSNT for $13.00 per share in cash for an aggregate purchase price of approximately $37 million.
Board of Directors unanimously approved the Actian Acquisition Agreement and authorized termination of VSNT's previously announced merger agreement with UNICOM Systems, Inc. ("Unicom") in accordance with the terms of that agreement.
Actian's $13.00 per share cash purchase price represents a premium of approximately 13% over the $11.50 per share price contemplated by the prior merger agreement with Unicom.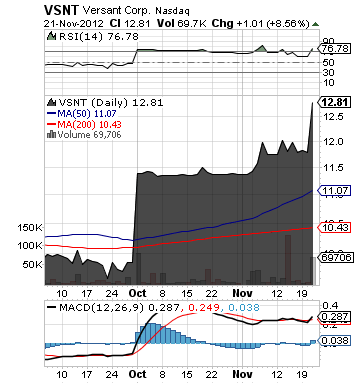 VSNT is an industry leader in building specialized NoSQL data management systems to enable the real-time enterprise.
More about VSNT at www.versant.com.
******************
Read Full Disclaimer at http://CRWENews.com/disclaimer
www.crwenews.com/3376/stock-alerts/actia.../
Disclosure: I have no positions in any stocks mentioned, and no plans to initiate any positions within the next 72 hours.