Relypsa is an undervalued bargain.
$RLYP has traded in the high $30s to low $40s range in early 2015, with the high being $42.26. These aren't unexplored waters for the company. Relypsa, while limiting its followers to monthly sales updates, has forecasted $1 billion in sales for Veltassa with only 5% market penetration. This could put potential buy out offers around the $60-$70 (per share) range. With names like Merck & Co. ($MRK) and Astra Zeneca ($AZN) being thrown into buyout rumors, there have been significant movements in Q4 of 2015. With the New Year bringing a choppy market and roller coaster like ride for biotech investors, NOW is the time to make your value play on ($RLYP).
Sanofi's sales force has partnered with Relypsa's exemplary drug, Veltassa.
"Hyperkalemia, or abnormally elevated levels of potassium in the blood, is a condition, which can lead to life-threatening cardiac arrhythmia and sudden death."
John Orwin, President and CEO of Relypsa Inc., on their partnership with Sanofi:
"Hyperkalemia is a serious and potentially fatal medical complication. We are continuing to work toward our goal of bringing hyperkalemia patients the first new medicine in more than 50 years," said Orwin, "We believe this agreement will support a strong start for Patiromer FOS in the United States, if approved. Sanofi's experienced nephrology sales force can be mobilized immediately upon potential approval and, combined with our own representatives, will enable more frequent and comprehensive outreach to nephrologists and cardiologists."
Veltassa is an underrated catalyst for Relypsa that could catapult their stock price in this first year of sales. With an army of Sanofi's sales force pushing through an impressive pipeline, Orwin has positioned his company with a great foundation for 2016. With a reported 8,000 calls from Sanofi's team since the approval of Veltassa, the Sanofi team has already made a huge impact, which should be reported in the first update from Relypsa at the end of January.
Relypsa is currently OVERSOLD - RSI of 33 & Breaking Lower Bollinger Band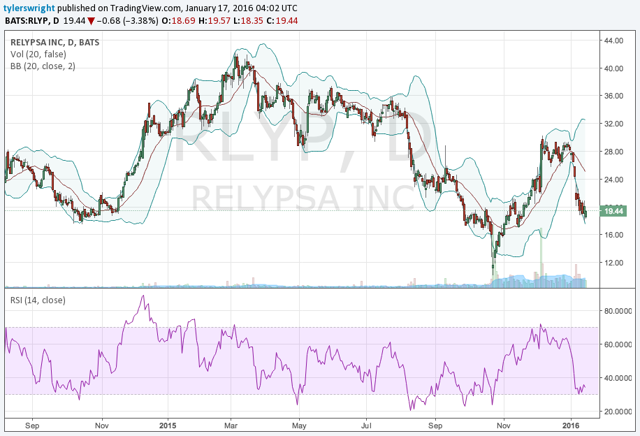 With all things in consideration, I believe NOW is the time to make a value play in $RLYP.
Disclosure: I am/we are long RLYP.
I wrote this article myself, and it expresses my own opinions. I am not receiving compensation for it (other than from Seeking Alpha). I have no business relationship with any company whose stock is mentioned in this article.