Pressure continues to mount in the high yield bond market. Below we can see the latest data from the BofA Merrill Lynch High Yield Spread Index. A clear increase in the spread between high yield bonds and lower risk bonds. This shows pressure on the bond market related to distressed oil producers such as Midstates Petroleum Co.,Linn Energy and Sandridge Energy; today these producers utilized the remainder of their credit line totaling $1.5 billion, according to Matt Jarzemsky of the Wall Street Journal.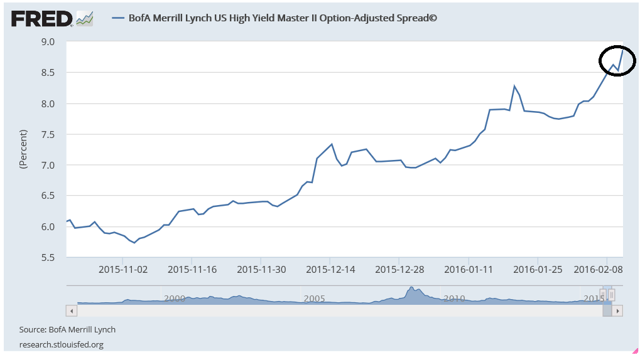 Also, we can see that the Cleveland Financial Stress Index continues to creep up with a current reading of 1.64. To frame the discussion, the index neared a reading of 2 during the Long Term Capital management bail out in the late 1990s, went well above 2 during the financial crisis in late 2008 and went above 2 during the Greek debt crisis.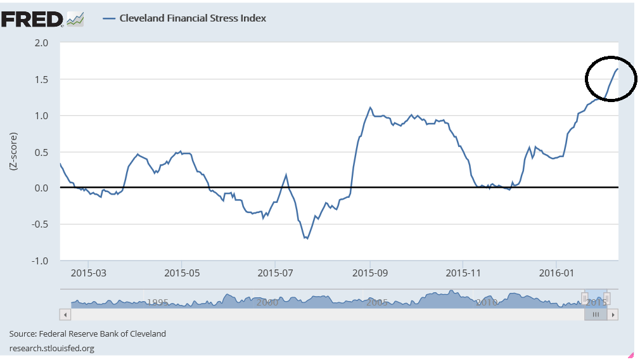 Both of these charts illustrate continued stress created by the energy sector on the high yield bond market and the financial markets more generally. I plan to continue to track this data especially in light of slowing growth in the US and overseas. I also plan to dig a bit deeper into this data in coming articles.
In the interim please see my recent Seeking Alpha article Is A Bear Market Upon Us? It Depends On Where You Look which takes a look at commodity prices as they relate to a n increasing risk of a US equity bear market. In addition, my most recent article Difficulties In The Oil Patch: Investment Opportunities Might Be All About Patience And Diversified Quality which is an indepth analysis of the oil patch in the context of Saudi Arabia's war off attrition on small oil producers.
Disclosure: I/we have no positions in any stocks mentioned, and no plans to initiate any positions within the next 72 hours.
Additional disclosure: Disclaimer:
This article is a publication intended to give information in the form of opinion to the investment community within Seeking Alpha. As such, the article is not rendering individual investment advice based on your personal financial situation. The information in this report has been proofread and every effort has been made to validate all data. However, no representation is made that every data point in this article is error free. If there are errors brought to the attention of the author, an effort will be made to correct them. This article is for informational purposes only and is not intended as primary research or individualized advice. You should conduct your own research with the assistance of your own personal qualified investment advisor prior to initiating any investment strategy mentioned in this article. Only a you and your personal advisor can review your individual situation to decide whether or not an individual strategy is right for your portfolio.