Within my network of investors, I come across so many companies that I would consider "good" and "real." The problem is that I have to sift through them and select the companies I think will provide me with the biggest returns; all while assuming the risk that comes along. This is much like all of you.
At any given time, I will own less than 5 companies - usually 2 or 3, and they'll be from different sectors. I'm not saying that my "style" is right or wrong, it's just how I do things. I feel like I can responsibly research and pay attention to what is actually happening, rather than spread my self thin and "half-ass" my Due Diligence. Last year (2015) when more than 80% of investors lost money - I did well. So I'm not going to change my ways anytime soon.

Yesterday (Thursday February 05, 2016) I had a chance to sit down with the CEO of Select Sands, Rasool Mohammed. We met for coffee and one could almost say we got to know each other. We talked about our families and about our personal lives - which is a rare quality to find within the busy life of a CEO. I am already a shareholder of SNS.V, so meeting the CEO was the icing on the cake. After our meeting, I was confident in my decision to increase the size of my investment.
I sat there and blasted him with questions, as I tried to piece it all together. I tend to look at every investment as a puzzle. I'll never have all the pieces, but the more pieces I collect will give me the best chance at seeing the overall picture.
The most important thing investors need to know about Select Sands, is that they do not rely on the Oil & Gas sector to be successful. Frac sand may one day be the biggest use, but their product (Silica sand) can be used in so many different things, it's actually astounding. Whole grain commercial silica products account for approximately 85% of the projected sales. This could include the use in Solar Panels.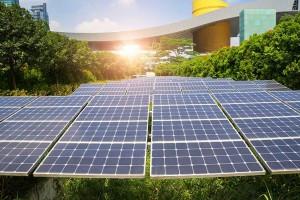 You will also see it used in glass products (like your cell phone), plastics, rubber, polishes, cleansers, paints, glazes, textile fiberglass, precision castings, premium paints, specialty coatings, sealants, silicone rubber, and epoxies just to name a few.
The decline of the Oil & Gas market has caused a ripple effect throughout the entire investment world, with the businesses most closely associated taking on the most damage. Select Sands has not gone unscathed, but depending on which angle you look at this from, is where the opportunity can be realized -in my opinion.
Here's how I see it:
$3 Million + cash in the bank
$0 debt
$160 Million dollar property
18 years of mine life / $767 Million (on only 40% of the property)
650 Miles closer to Clients than competitors
Excellent base of dedicated long term Investors
Huge Insider participation in last financing at $0.40
Currently establishing Industrial clients (not reliant on energy!)
Hard-working, Honest, Dependable, Intelligent CEO
Business minded Directors with proven track records
Only $50k/month burn rate
If Oil was gone forever tomorrow, I think Select Sands would carry on business and do alright. However we all know we're still driving our gas guzzlers around, eating imported food and ordering stuff from Amazon that's made in China.
The Energy sector will be back eventually.
This is the opportunity I am speaking of - "Having two fat kids fighting over one Smartie."
Stay tuned for an Interview with Rasool Mohammed in the near future.
Select Sands (SNS.V CLICF)
Joe Bleackley
TradersBoardroom.com
Disclaimer: At the time of publishing this article, I am a shareholder of Select Sands SNS.V
Please Read our Legal Here.
Disclosure: I am/we are long CLICF.