Update 4/4/14 Breach of Technicals-A Tad Below Early February Support
Glut of Biotech IPOs Causing Indigestion?
Momentum Days Are So Over
NASDAQ Down 1.34%
The volatile and speculative SPDR S&P Biotech XBI hit $136 in early trading down 2.28%. After a brief rally early this week to the $148 level volume picked up with sellers. The IBB ($230.94) focused more in larger cap biopharmas is also down over 2% and is now only up 1% YTD after hitting a FEB 25 high of $273. Another red screen day with many widely held stocks down 3%. Abbvie (NYSE:ABBV) and Bristol Myers (NYSE:BMY) are holding the green.
Red Screen after Three Day Rally-February Lows Still Holding
Many widely held biopharmaceutical stocks are down today as NASDAQ turns negative down 0.38% or 16 points. Here are selected quotes as of 11 am EDT:
Aegerion (AEGR $42.56) down 4%
Alexion (ALXN $150) down 2.9%
Celgene (CELG $143.70) down 2.5%
Gilead (GILD $72.60) down 1.87%
IBB ($235) down 2.73%
Illumina (ILMN $151) down 3.53%
Incyte (INCY $52) down 4.3%
Seattle Genetics (SGEN $42) down 4%
Vertex (NASDAQ:VRTX) down 3.83%
XBI ($139.26) down 3.57%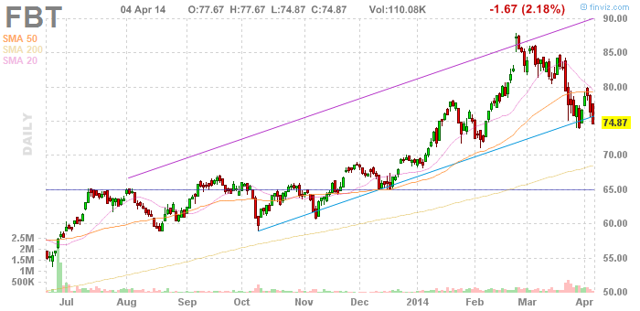 Disclosure: I am long GILD, ABBV.
Additional disclosure: Long FBIOX Fidelity Biotech and short XBI as a hedge.