FBT Is The ETF Leader Up 9% YTD and 291% Over 5 Years
Biotechnology stocks are consolidating with more upside trading days prompting us to look at sector plays with major indices now 7%higher than the mid-April bottom. Short covering and bargain hunting broke the lackluster trading of the past week. Large cap stocks are outperforming but smaller caps show good volume on the upside. Many of our top picks have been strong lately:Alexion (NASDAQ:ALXN),Alkermes (NASDAQ:ALKS), Biogen Idec, Inc. (NASDAQ:BIIB), Cubist (CBST),Gilead Sciences (NASDAQ:GILD) and Roche Holdings (OTCQX:RHHBY). Review the Rayno Biopharmaceutical Portfolio as of the end of Q1.
To get a bigger picture of the risk and momentum in this volatile year we can break it down by ETFs and selected portfolios.
First have a look at four of the major ETFs: First Trust NYSE Arca Biotechnology Indexup 9% YTD and up 291% over 5 years, iShares NASDAQ Biotechnology Index(IBB) up 1.5% YTD and up 251% over 5 years, Power Shares Dynamic Biotech and Genome up 4.24% YTD and up 191% over 5 years, and SPDR S&P Biotech(NYSEARCA:XBI) down 2.27% YTD and up 172% over 5 years.
FBT holdings are quite different with more mid-caps and diagnostic stocks so complement other ETFs well.
Chart- Four ETFs Off February highs: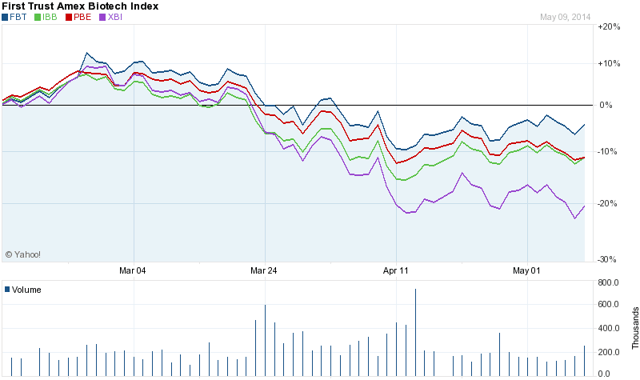 Then look at the top six Rayno large cap biopharma picks YTD:
AbbVie, Inc. (NYSE:ABBV) down 1%, Alexion up 20.7%, Amgen (NASDAQ:AMGN) down 2%,Biogen Idec up 5.8%, Gilead Sciences up 7% and Regeneron up 3%.We have always recommended a portfolio approach to investing so if you played it safe and bought only these six large cap stocks you would be up at least 6% YTD with the more speculative high growth ALXN more than covering the small losses on AMGN and ABBV, both of which are more value oriented but pay a dividend.
Chart- Three Month performance off April bottom: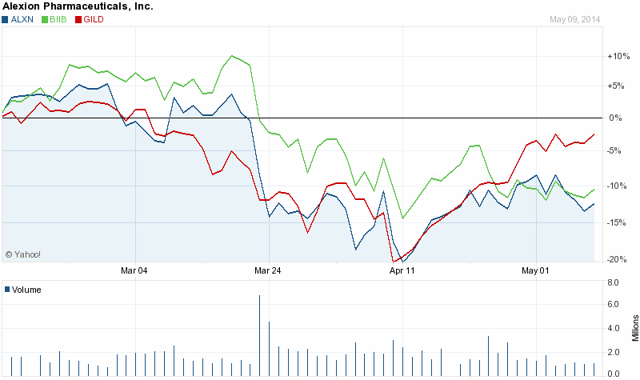 Now compare the major ETFs to three leading life science funds Fidelity Select Biotech Portfolio,Four Star,expense ratio 0.76%(MUTF:FBIOX), Franklin Biotechnology Discovery A Fund,Three Star,expense ratio 1.22% (MUTF:FBDIX) and T.Rowe Price Health and Sciences Fund,Five Star,(MUTF:PRHSX). FBIOX and FBDIX underperformed most ETFS except XBI. The unusual volatility may have made rebalancing more difficult especially when momentum was peaking in February. All of these funds have a high turnover and all are heavily weighted in ALXN, BIIB and GILD. The T.Rowe Price Fund has more diversified holdings in healthcare and life sciences.
Mutual Fund Returns* % YTD 1 Year 3 Years
FBIOX 0 30 31.26
FBDIX (1.36) 23 24.68
PRHSX 2.75 30.94 24.37
*Ave. annual returns
In summary you had several options for investing in biotechnology despite the Q1 bubble and a 25% downturn that rattled investors.
A portfolio of well known large cap biotech growth stockswas a safe play YTD that also gave you a huge upside trading opportunity at peak values in February. All remain strong holds.
The combination of one or more funds(PRHSX) and(FBIOX) plus one ETF(FBT) gave a diversified portfolio and a return of about 5% YTD.
Two smaller ETFs surprisingly gave the best returns YTD- FBT and PBE- but results can vary quarter to quarter. Use these two ETFs for re-balancing life science portfolios. In general ETFs beat managed funds which was not the case in 2013.
Traders in small and MoMo stocks either lost a lot of money or made huge returns if you sold before the Q1 peak in February.The XBI ETF has more small cap and speculative stocks among its holdings. At its peak valuation of $172.56 in February it was up 32% !
The bull market in biotechnology is intact and has outperformed both the NASDAQ and S&P YTD but more volatility lies ahead for mid and small cap life science stocks.
The upcoming ASCO Meeting on May 30 should provide a boost to many oncology drug development stocks because clinical data will be presented.
Disclosure: I am long ABBV, GILD.
Additional disclosure: Long FBIOX