Update 1/28 After the Close Amgen Beats- But Stock Lags
As of 11 am trading on 1/28 Speculative biotech stiocks are getting hit hard: AGIO JUNO KITE KPTI PBYI etc
Amgen, Inc (NASDAQ:AMGN) fourth quarter earnings and sales beat estimates on strong sales of Enbrel, an arthritis drug.Revenue for Q4 was $5,33B a 6% increase over Q4 2013, The stock was up slightly after hours to $159.40. Sales growth was also driven by Kyprolis and Prolia. The P/S is still a modest 6.12 and the forward PE is 17.11.
Next large cap earnings this week: Alexion (NASDAQ:ALXN), Biogen Idec (NASDAQ:BIIB), Celgene (NASDAQ:CELG), Vertex (NASDAQ:VRTX).
As earnings from large cap and mid cap biopharmaceutical companies roll in we can compare stock market action to the speculative fever of the class of 2014 IPOs which are soaring. Note the paradox of biotech investing in a momentum bull market: if a Company has no sales and no clinical data it is more likely to move to the upside if the technology value is highly regarded.
Amgen was an early Rayno Life Science pick in 2008 at a price of $47.
Speculation Is Back in Emerging Biotechs
However Earnings and Revenue Dependent Stocks Are Subdued
On a day when earnings, Greece, the FED, housing, the strong dollar and a 3.4% durable goods decline spook the market , biotech stocks roll on to new highs. The overall market is down over 1% but well off the lows.
Our top ETF pick (FBT) has hit new highs up 0.84% to $112.32. All other ETFs appear to be in step with the XBI leading up 1.1% to an all time high of $206.73. Healthcare is the leading sector today up 0.2%.
Immuno-oncology stocks are running again led by ZIOP up 15% presumably on the MD Anderson licensing deal and BLUE, JUNO, and KITE up. NB: no clinical data is available on CAR-T platforms. Earnings dependent large cap biopharmaceuticals are more subdued barely eking out a gain with ALXN BIIB GILD and REGN in the RED. AMGN earnings are tonite. Mid caps were also mixed.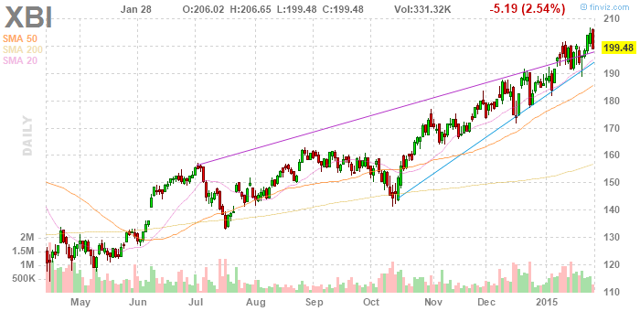 Disclosure: The author is long GILD.
Additional disclosure: Long Fidelity Biotech (FBIOX) and short mid-cap biotechs as a hedge on a daily basis