Biotech Bear Market: Lackluster Tape Says Wait Until Next Week For Market Direction
Year-End Rally Fizzles in New Year
Biotech stocks (IBB) are off 5% from year-end 2015 highs and up only 6.73% from 2015 levels on January 6, 2015, the launch date for the great Q1 2015 rally. The small cap weighted XBI had the same general pattern. However there were plenty of green stocks today possibly anticipating a new move up coinciding with the J.P.Morgan Conference next week when we should get news on selected stocks and a direction for the market near term. The bear market is still intact but plenty of trading opportunities lie ahead with robust oncology product pipelines and innovative technologies in immuno-oncology,rare diseases, RNAi, gene editing and CAR-T. Big moves are more likely in mid and small caps more so than large caps because of clinical news and revenue growth.
We will update our product portfolio in mid-January and expect that individual stock picks will be more important in 2016 compared to funds or ETFs. In 2015 one ETF and one mutual fund was sufficient for a 10% return. And unlike in 2015 the biotech sector rose despite NASDAQ weakness but lately the two indices are trading in tandem.
Fundamental issues have arisen in 2015 that will dominate the biopharmaceutical industry in 2016 the most pervasive being costly medicines. Specialty drugs now consume 16.2% of the Medicare Part-D program. Moreover healthcare costs are rising possibly provoking political action. Most recently there were a few high profile clinical failures which also may curb bullish attitudes among retail investors. M&A should continue to offer a boost to selected mid and small caps. Stock valuations have been cut drastically from two bubbles in 2015 so balance sheet strength is critical because risk has ratcheted up.
In the meantime note that we are once again at the cusp of breaking technical support near the SMA 50 line with a toppy pattern: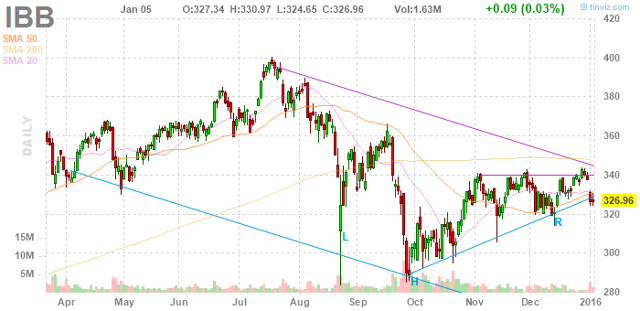 Disclosure: I/we have no positions in any stocks mentioned, and no plans to initiate any positions within the next 72 hours.
Additional disclosure: Long FBIOX and other biotech stocks.