Update-1 12N EDT Broad Rally with Indices at New Highs for the Day
NASDAQ up 1.62%. The energy sector is strong up 2.6%.
Biotechs lead the way up: ABBV BIIB BMY INCY MDVN RHHBY SGEN
-------
BRexit Bottom-A Buying Opportunity
Biotech stocks soared yesterday getting relief from the brutal BRexit bashing that scared away all buyers. BRexit has little to do with biopharma but the"risk-off" pall brings caution and a move to cash.We have entered a phase of the market where everything trades together driven by the macro news of the day. Eventually this macro uncertainty will wane and offer trading set-ups in life science stocks. Keep in mind we are in a biotech bear market and for now it is day-to-day trading or holding large cap quality stocks that pay dividends. The IBB was up 3.8% to $250.66 and the XBI soared 4.67% to $52 both briefly touching the February 11 lows and both showing double tops for H1 2016. We have mentioned several times before that the XBI has become a good trading vehicle for weighting portfolios long and short.
On the positive side the tape shows good volume for the sector especially on a day like today when everything was green. The healthcare sector is perceived to be less impacted by global risk and was up over 2.17% on Tuesday. While M&A may be on the back burner until fall the usual suspects among the mid-caps were movers: Incyte Pharmaceuticals (NASDAQ:INCY), Medivation (NASDAQ:MDVN), Vertex Pharmaceuticals (NASDAQ:VRTX) and others.
Despite this vicious sell-off the Rayno core portfolio has held up well over 5 days and although performance is mixed many are in the money since first selected (BOLD):
Abbvie (NYSE:ABBV) flat, $60, up 6.2%
bluebird bio (NASDAQ:BLUE) flat,$39.72, down 9%
Bristol-Myers Squibb (NYSE:BMY) up 1.88%, $72, up 18%
Gilead Sciences (NASDAQ:GILD) flat, $82.31, down 3.5%
Roche ADR (OTCQX:RHHBY) flat, $31.64, up 4.2%
If you are a long-term investor this could be a good entry point for selected stocks such as ABBV GILD or the large cap IBB. More picks to come positioning for Q4 gains.
Here are some key parameters to consider keeping in mind that late summer and early fall can be weak for biotech.
Technicals are weak bouncing at the lows YTD- need to hold the BRexit bottom. But we have a double top and a triple bottom in 2016 so let's shoot for the middle a rally taking the IBB to 270.
Large Caps are down YTD but are looking better; look at our valuation models that will be updated in early July. Bellwether Celgene (NASDAQ:CELG) needs to break $100 .
Mid Caps are the momentum leaders when the market is hot: ALNY, ALKS, INCY, MDVN, SGEN, VRTX.
Healthcare (NYSEARCA:XLV) at $69.77 is down 3.22% YTD.
Update at the close or as of mid-day trading if market is volatile.
Disclosure: long ABBV BLUE BMY GILD RHHBY and FBIOX. Short hedges covered Tuesday.
Triple bottom at $240 level for 2016.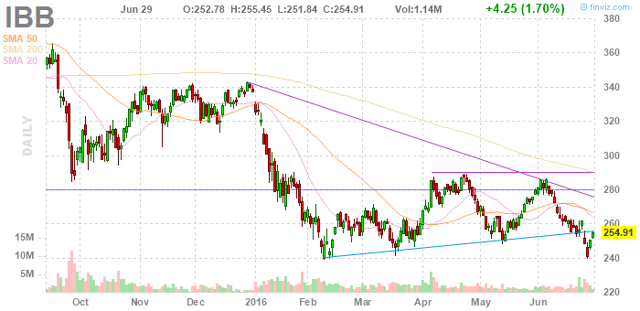 Disclosure: I am/we are long ABBV, BMY, RHHBY, GILD, FBIOX.