Biotech Bear Market Rally Headed Toward Triple Top
The biotech rally has wobbly legs moving briskly from the Brexit lows but with choppy action recently.This would be the third time biotech stocks will try to gain momentum toward higher highs although lows are holding. While technicals will give you the navigation for weighting in the sector we will look at various vehicles to trade and position a biotech portfolio for the long-term. And as always we provide our own picks for profits both for trades and longer term portfolio. Three of our picks: ABBV,BMY,FMI are beating the market and we still believe Gilead Sciences (NASDAQ:GILD) has good value despite weak stock action. In late April we took a look at major biotech and healthcare ETFs and provided a comparison to the best performing diversified health science funds. The major biotech ETF (NASDAQ:IBB) is still 9 points lower than the two recent tops on April 27 and June 6.We called a move from lows to the $270 mark now $280 is within range. The XBI is near the triple top near $60.
The broader healthcare XLV is the leader up 3.67% YTD. However the healthcare sector underperforms the S&P which is up 6.4% YTD. NASDAQ is lagging up only about 1.64% YTD. Biotech performance correlates with the NASDAQ. Health science funds that are large cap and more diversified outperform biotech.
Here are some key take-aways and trends to watch:
Until we get Q2 earnings technicals rule. Global uncertainty has curbed overall risk in the market but the US economic data is improving and the FED is on hold.
Disclosure Long ABBV,BMY,FBIOX,FMI,GILD other small caps.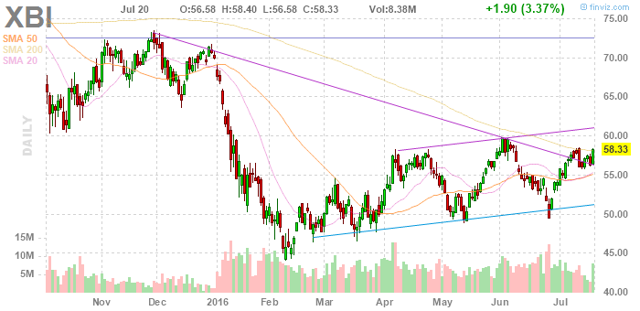 Disclosure: I am/we are long ABBV, BMY, GILD, FMI.