Update-1...More Fallout from Mylan (NASDAQ:MYL) EpiPen Drug Pricing
MYL stock was down over 4% today on news that the EpiPen was mis-classified as a generic drug and that Medicaid was overcharged. The media firestorm continued and lawmakers promised (once again) to scrutinize drug prices. Sen. Klobuchar was on CNBC today making the case that Mylan overpriced the EpiPen in the State of MN because of generic classification.
The healthcare sector is languishing since early August so we will need time to digest the negative news. Compare sector stock rotation to see when generalist investors add to healthcare holdings.
NASDAQ was up about 0.40 % today but the IBB was off 0.5% holding $280 support and the XBI was off 0.25% holding support at $60.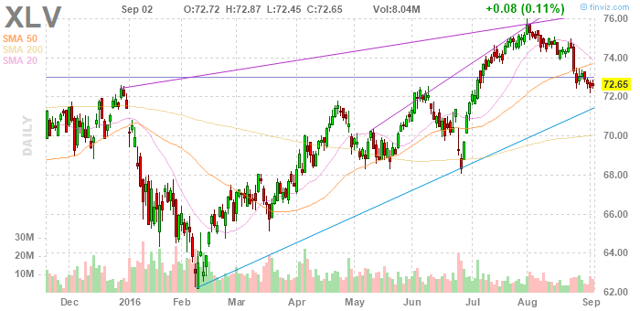 ----------
Healthcare Stocks Lag the Market
Hangover from EpiPen Pricing May Take Time to Clear
The healthcare sector was one of the worse performers YTD and down 3.24% in August as tracked by the XLV Health Care SPDR ETF. This underperformance lowers the YTD to only a 1% gain. Among the leading sectors YTD are Telecom (BATS:IYZ) up 11%, Energy (NYSEARCA:XLE) up 13.6%, Utilities (up 11%) and Materials (NYSEARCA:XLB) up 12%.
Biotech stocks (NASDAQ:IBB) were also down 2.94% for the month despite a nice recovery through most of Q3 until getting hit as collateral damage by the Mylan (MYL) EpiPen media downdraft. The IBB rallied from $250 to the $300 resistance level settling today at $280 near term support.
The XBI tracked the IBB down 3.19% for August and down 14.4% YTD.
Drug pricing is a recurrent theme in the healthcare sector and was in the background until the Mylan story hit.
Disclosure long: BLUE,FBIOX
Disclosure: I am/we are long BLUE, FBIOX.
Additional disclosure: Long over 15 other biotech stocks