In previous posts over the past two months we have emphasized mid-caps for momentum investing and trading and the XBI (or even the FBT) for weighting of small and mid-cap positions. A watch list of important mid-cap companies was provided. Our bullish stance continues and many of our top pickshave done well over the years although large cap stocks (see IBB) have lagged. Yesterday the XBI hit a new highabove $101 soaring all the way from $84 in early April when we posted our last Rayno BioBeat article.
Here are some key trends that have driven biotech investing over the past few months:
A general market focus on NASDAQ (QQQ) and smaller cap stocks in a sector where emerging biotechnology companies thrive.
A gradual realization that ASCO would provide important data for oncology drugs and support use of genomic profilingand biomarkers for personalized medicine.
Innovative technology such as gene editing and CAR-T that could revolutionize therapeutics potentially providing longer term cures.
Lack of new definitive drug pricing policies from the Trump Administration that would damage the industry business model.
M&A and licensing deals that would provide financing and anticipation for stock momentum.
Some of the mid-caps moves in 2018have been phenomenal but if one had sufficient funds you could buy a basket of them or get lucky owning a few. Or you could take 20 of these picks, apply technically driven software based on MACD and RSI to pick winners. For example among the biggest winners in this mid-cap group near their 52 week highs are: AGIO,ARRY,FMI,FOLD,LGND,IMMU,LOXO and SRPT. The hard part tho is picking the winner and holding for the long term amidst all the volatility.
We will review ETFs by the end of the month as we have in the past and try to explain why the FBT and XBI outperforms other ETFs and funds but primarily their key is equal weighting of mid and small caps.However in a bull market the average investor can do well simply by buying an ETF especially if they want a balanced portfolio including other sectors.
The momentum has been so strong that we expect a pullback and profit taking near term. Follow technicals.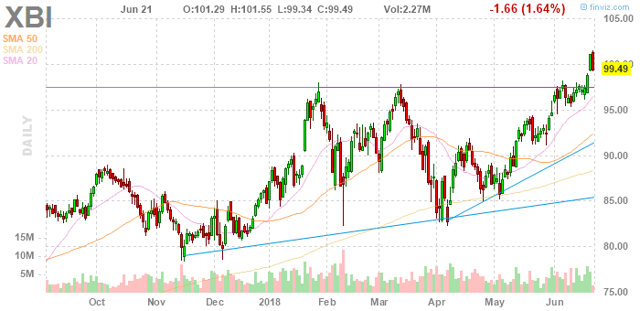 Disclosure: I am/we are long ABBV QQQ.
Additional disclosure: Long many other stocks and FBIOX.