I will try to underline the ongoing issues in the video game industry that will be a key for long term growth and then highlight the key points that make ATVI a long term strong buy over EA in the video game industry.
ATVI's situation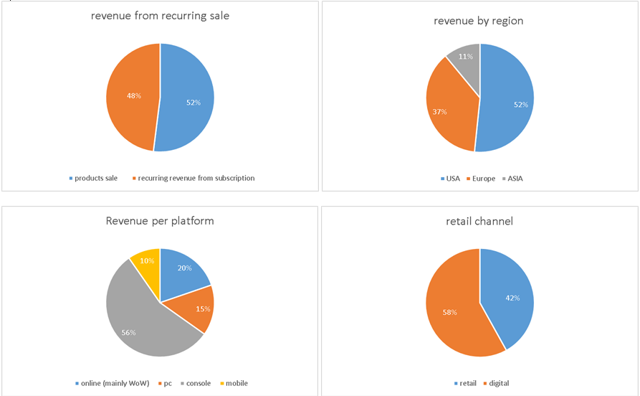 source: company data
ongoing issues:
1)Digital distribution:
The video game industry is facing ongoing issues that are critical to the firms' development and profitability.
First of all, the shift from the traditional retail channel to the digital channel. This issue is one of the most important in term of profitability. This shift is a critical issue as retailers cut a lot in the video games publishers' margins, (about 20% of the final price is capture by the retailers).
the shift from traditional retail channel to the digital channel could improve the publisher's gross margin from 70% to 90% ( on a 60$ video game ,retailers take a cut of 12 to 15$) . Through this monetization method, the video game publishers could not only improve their profitability but also improve the units sold as the publishers could cut the selling prices. Currently, the selling prices in retail store is on average 60$ for a new game. If on the digital side, the video game costs around 50$, on the longer term up to 5$ dollars from this difference would directly fund the OP margin.
However, on a short term perspective, the publishers might have pressure from gamestop (largest video retailers, about 50% of market share) to keep the price as high as on the digital side than on the retail side. This pressure might slower the shift to the digitization and the margin improvement that could trigger this change.
Moreover, thanks to this digitization of the product offering, the firm could add some monetization option through its online terminal. As the firm is offering game online, the firm can also offer others additional services and products to improve the gamer's experience. This improvement can take different form:
-additional equipment for gamer's characters
-new maps
-additional "life"
By offering additional products this digitization is a must to deliver the best video game experience to gamers. The publishers are able to create recurring revenue, but also to drive higher retention and engagement to increase the life span of games.
2)Mobile opportunity:
During the last few years Mobile became one of the most used platform for gaming thanks to the improvement of the Mobile capacity and the growing time used to commute.
Despite this high engagement metrics, King is still under monetize: only 2% of the king's users are paying for its games. Up to now the firm has not monetize a lot through advertising methods as EA in most of its games.
EA is advertising on its madden NFL mobile game and plan to do the same for its other games.

sources: company data and estimation from statistics institutes
Then it seems that ATVI has a higher leverage than EA for its mobility games as the firm is not monetizing yet its games and it has higher MAU than EA.
3)E-sport:
E-sport is a growing business but also a way to advertise for its game.
E-Sports have traditionally focused around the Strategy, First Person Shooter, and Multi-Player Online Battle Arena genres. Key Games in eSports include ATVI's Starcraft (particularly in South Korea), Call of Duty, Hearthstones, and Overwatch, while Tencent's League of Legends is also very popular in E-Sports.
Like traditional professional sports, E-Sports professional players compete against one another in a tournament to win prize money.
Competitions are broadcasted on the Internet via viewing services such as Twitch (owned by Amazon), Youtube Gaming, Major League Gaming and Battlenet (owned by ATVI), ESL, and Azubu.
In addition to watch the best players and learn from them, many spectators watch for entertainment reasons.
eSports tournaments are held globally and compete with traditional sports leagues in terms of viewers. The League of Legends World Championship held in 2015reported 36mn viewers. This compares with 31mn for the NBA Finals and 112mn for the Super bowl. Importantly, E-Sports is ahead of traditional sports in methods of distribution as viewers have the option to view content in multiple ways (mobile, tablet, TV, PC, etc.) ATVI is a leader in the field and has reported over 1 billion hours in audience viewing in 1H 2016.
During the Last twelve months, E-sport generated 460 million $ in revenue (+40% YOY). In addition to generate revenue E-sport is also a way to promote some video games and get awareness from future gamers.
ATVI's valuation: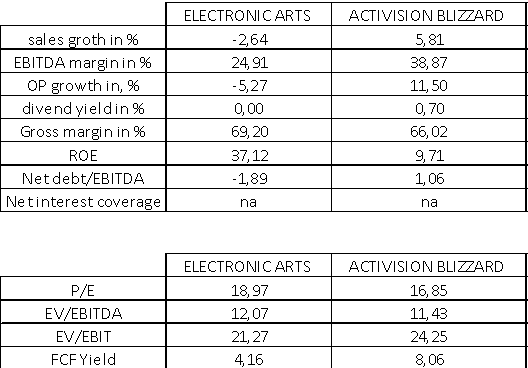 source: personal calculation from company data
ATVI offers a higher profitability and stable cash flow but is still underpriced compared to EA. Worries about the sales of the last COD version have de-rated the stock, whereas the long term growth and profitability story stays the same for ATVI.
fair P/E would be around 20/21x current earnings or 47 USD (25% upside)
ATVI over EA:
In my point of view, ATVI offers the most stable profitability in the gaming industry thanks to its recurring income through mobile gaming and monthly fees for the online games from blizzard portfolio (WOW, Hearth stone, etc).
EA have already take advantage of the mobile gaming monetization opportunity through commercial advertisement on some games, and intents to extend this practice to all its portfolio. This monetization creates recurring revenues through the most growing segment that is mobile gaming. However, MAU from EA are more limited than ATVI mobile games as ATVI games do not require that much time to play on, whereas EA's games require more time and more "concentration" (look around you when commuting in the subway/bus, people are playing king's games not the EA's games!). Then growing commuting time is more likely to boost ATVI games and enable mobile leverage from ATVI's games.
Moreover, the creation of monetization opportunities and the recurring profit through monthly fees for online games have been a huge opportunity for the gaming industry to de-risk its activity. In this transformation, ATVI always had an historic advantage thanks to its blizzard activity, which represents 50% of its total revenue. Even though, EA has less advantage in the recurring revenue from monthly fees, the firm has been able to get a smoother growth through franchise sport games as FIFA. These games are very popular among millennial and are subject to recurring unit sales as millennial see updates on players and teams are highly important, triggering a high turnover.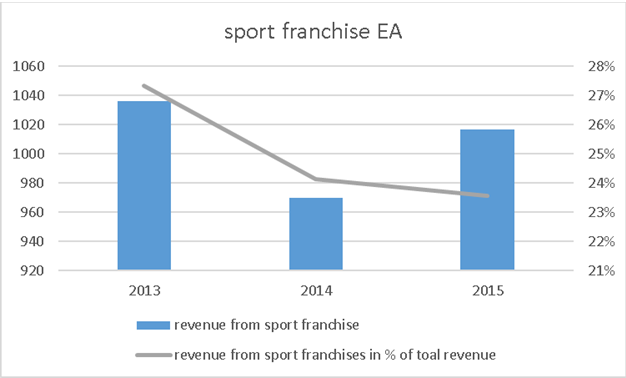 source: company data
Finally, EA offers a larger range of products (about 150 different games on PC, XBOX One, and PS4), whereas ATVI only offers about 80 on the 3 main platforms. In this product offer, EA has fewer sales concentrated on few big hits, whereas ATVI has most of its sale driven by only3/4 franchises. The only main risk we see in the range of products from EA is the concentration of the sales on FIFA games, which would bring a lot of uncertainty if the license would be at risk (not very likely though) … Despite lower number of game offer by ATVI, World Of Warcraft is surely the most stable game ever created, and the shift from "one time fee" in china to recurring a revenue from subscription base pay, should offer higher upside in one of the most growing market for online Game.
N.B: on the short term ATVI should be negatively impacted by the low sales from the last COD game which is not fully priced by the market. I am looking for an entry point a bit lower than the current price of 37 USD after lower sales on COD are fully priced.
in a nutshell, ATVI offers:
-more stable OP than EA
-higher leverage for its mobility opportunity
-a drop in its stock price, whereas no change on the long term story
-the advantage in the E-sport, which is a future key matter for new way to advertize and new revenues.
Disclosure: I/we have no positions in any stocks mentioned, and no plans to initiate any positions within the next 72 hours.