I often use Jan 21 as one of my first market checkpoints.  "Normally," all things being equal (they never are), I expect the market to rally on "better than expected" 4Q earnings into or around that date.
Then, when the market's reaction often becomes more clear around that date, if the market is particularly strong that year, the rally usually seems to continue; if not, it takes a respite. I try to watch the market reaction to key earnings and news (such as the Mass. election tonight) for clues as to which way it will go.
In 2010, I currently intend on posting many more short items to my
Seeking Alpha Instablog
than I did in 2009, usually a mix of very brief market commentary and charts interspersed with very short economics views.  I've put six items on my blog today. This article is partially intended to notify readers and followers of my intention.
I currently feel that 2010 is likely to be more of a trading year than 2009, so posting frequently in real-time on my Instablog may hopefully provide more value-added for readers than the 23 mainly lengthy weekly articles that I had published in the second half of 2009. 
In my last weekly article on Seeking Alpha, all the way back on
Nov 16
, I wrote: "The big issue for traders simply remains whether SPX finally clears last week's high around 1105, kicking off the usual year-end seasonal strength." That market resistance level was cleared, the usual seasonal strength kicked in right on schedule, on low volume that annoyed many, so here we are, up near 1150.
In 2009, there was only one investment decision to be made, to go long near the Mar low and to stay long. So my weekly
Seeking Alpha articles
often tried to show that there was in fact a recovery, however subpar by historical standards, often heavily relying upon ECRI's WLI, and other leading indicators, to try to make that point (e.g. I won't go into the very large positive GDP swing from smaller inventory reductions in 4Q here, since that has long been well known).
Many investors seemed to fight, even deny, the nascent recovery and very strong market rally all the way up. But this site is called "Seeking Alpha," which to me means trying to stay in sync with major market trends, regardless of one's strong personal opinions and feelings about those trends and their sustainability (I have mine too, we all do).
It has seemed to me that Seeking Alpa articles with the words "Crash" and "Depression" often generate a lot of new followers and readers' comments.  Most people do not use those two terms lighty, they are very sincere about very deep problems facing this country.

I hope that, in discussing investing trend following, I don't come across as being unaware of the problems that bother many investors and Americans. Very high on the list is the huge increase in debt, which simply was barely addressed during the crisis and recession, and so still remains the key long-term issue.
In the past year, exploding government debt has become the focus point of much investor and populist anger. That's understandable. But it was the vast increase the past few decades in financial debt and leverage, to essentially finance gambling for Wall Street's benefit, that landed the global economy in deep trouble.
Just to try to indicate that, despite my attempts to ride market trends, I am well aware of that overriding debt issue,
below are three recent charts that clearly show the key long historical debt trends that the market still needs to deal with, at some point
. 
I have no idea when that point will be, nor how we will get there, I doubt that anyone really does, since these charts make absolutely clear that the economy remains in historically unprecedented waters. So all I can do is try to stay in line with market trends, especially when they significantly change (the latter easier said than done).
Since these are long historical charts, going all the way back to 1870, 1929, and 1990, and the vertical scale is huge, in hundreds of percent of GDP (i.e. currently tens of trillions of dolalrs), I suggest that readers take long enough to really let the trends in the chart sink in, once again most especially the huge increase in financial sector debt as percent of GDP.
So again, my current intention is try to communicate much more frequently in 2010 on my
Seeking Alpha Instablog
.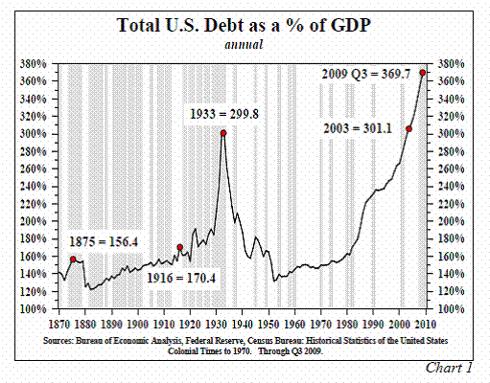 Source: Hoisington "Quarterly Review and Outlook Fourth Quarter 2009"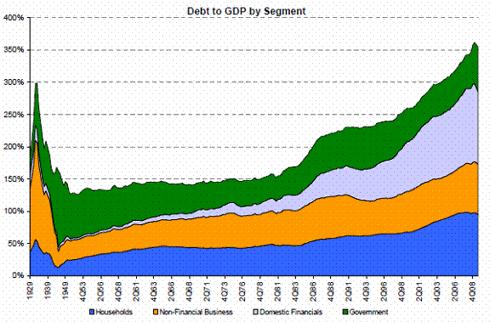 Source:  Morgan Stanley.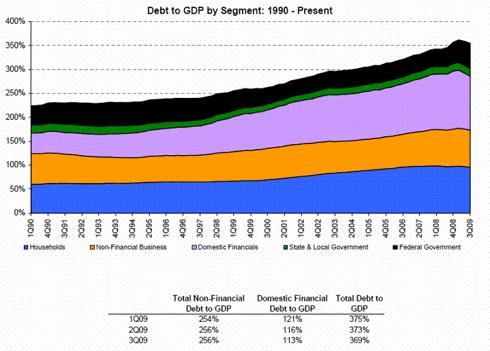 Source:  Morgan Stanley.
Disclosure:
none mentioned